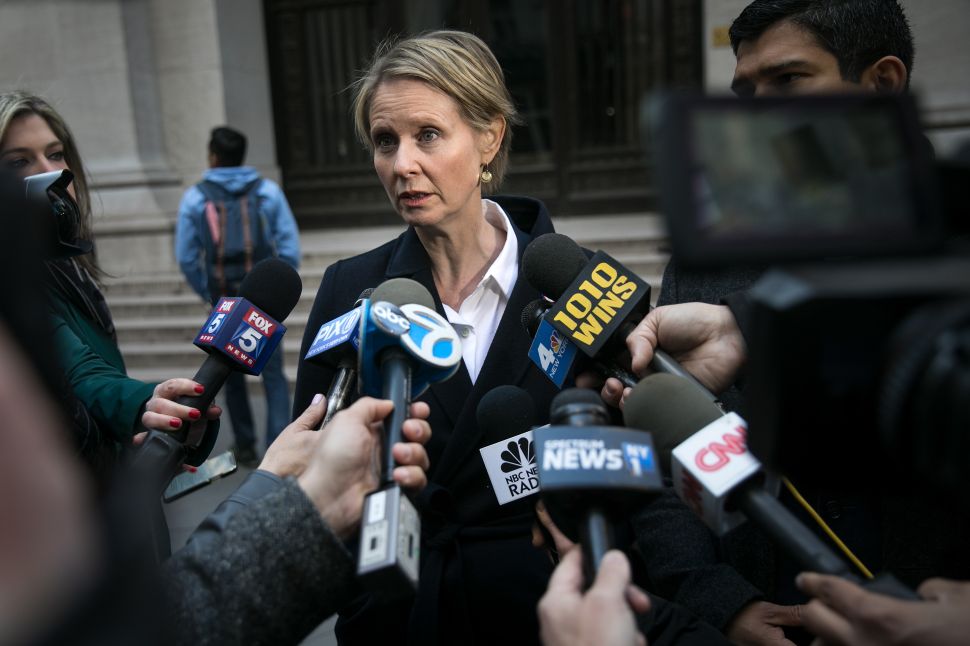 Gubernatorial candidate Cynthia Nixon, a staunch ally of Mayor Bill de Blasio who is challenging his frequent-foe Gov. Andrew Cuomo, says New York City can do "so much better" in the areas of mass incarceration, marijuana enforcement and police accountability—the latest sign that she is moving further to distance herself from her old bud.
At a Democratic candidates forum hosted by the Village Independent Democrats (VID), a Democratic club, on Tuesday night, Scott Caplan, police misconduct and corruption officer for the Jim Owles Liberal Democratic Club, asked Nixon to state in her own words whether she thinks de Blasio and the NYPD can do better in the areas of mass incarceration, marijuana, police accountability and police discipline.
Nixon responded in the affirmative.
"The answer is yes, I think we can do—I think New York City can do so much better in all those areas," she said.
Nixon, who has said that she supports marijuana legalization and that legalization could help end the "racist war on drugs," contended that the city's marijuana policy does not go far enough.
De Blasio and Gov. Andrew Cuomo are opposed to marijuana legalization, but Cuomo recently announced that the state would conduct a study to examine the impact of marijuana legalization in nearby states on New York—a study the mayor supports.
Nixon also blasted racial disparities in marijuana enforcement as the mayor and the NYPD face criticism for persisting disparities, despite the fact that the city revised its policy in 2014 to address them.
She also recently said the marijuana industry could be a "form of reparations" for communities of color which have been disproportionately targeted by marijuana possession arrests—a comment that upset the president of Black Lives Matter of Greater New York.
"We're not arresting people for it anymore, but we're stopping people, we're harassing them," Nixon continued.
And she pointed to the issue of individuals getting arrested for minor infractions, such as turnstile jumping, arguing that people should not be funneled into the criminal justice system.
In February, Manhattan District Attorney Cyrus Vance announced that his office would end prosecution of most turnstile jumpers. Police reform activists maintain that Vance's alternative of civil summonses and community service would still hurt communities of color.
When Vance made the announcement in February, de Blasio—who said there is "no evidence to my mind" that turnstile jumping is mainly a crime of poverty—and Police Commissioner James O'Neill blasted his plan.
"There are so many interactions between our police and our communities of color that we could take back, we could reduce, we could have not be arrestable offenses," Nixon added. "We have so many people who are, even if they are getting a summons or a ticket that then they have to show up for, if they miss that appointment for whatever reason, suddenly there is a warrant out for them."
And she maintained there are "too many people" incarcerated in every part of the state, calling for the notorious Rikers Island detention jail complex to be closed and noting that the way to achieve it is to reduce the prison population.
The mayor said he would close Rikers in 10 years, but advocates and elected officials have urged him to close it much sooner, arguing that it can be done faster.
"We need to reduce our jails, we need to close Rikers and the way that we're gonna do that is we have to do reduce the prison population," Nixon said. "Certainly, you know, legalizing marijuana would be a big thing in that direction, expunging people's records, there is so much more that we can do."
The mayor's office declined to comment.
Although Nixon's recent comments mark her most direct criticism of the mayor on police reform issues to date, she has spoken out against the mayor on other issues.
At the end of March, she blasted the mayor's timeline for fixing New York City Housing Authority (NYCHA) heaters and boiler systems and former NYCHA Chairwoman Shola Olatoye's handling of the lead paint scandal.
At the time, she also said that—if elected governor—she would disagree with de Blasio sometimes but would not get into the "pissing contest" that has played out between the current governor and the mayor.
De Blasio has yet to endorse anyone in the Democratic gubernatorial primary and has said he would comment on the race at some point in the future.
Nixon and her wife, Christine Marinoni—who worked for the city's Department of Education (DOE) before leaving ahead of Nixon announcing her gubernatorial bid—have been friends with de Blasio since 2001. Nixon campaigned heavily for de Blasio when he ran for mayor in 2013.
L. Joy Williams, Nixon's new senior adviser, recently told Observer that Nixon has presented herself as her own candidate. And Rebecca Katz, a de Blasio campaign veteran and Nixon's adviser, told POLITICO that she has made it "very clear" that "this is her race."