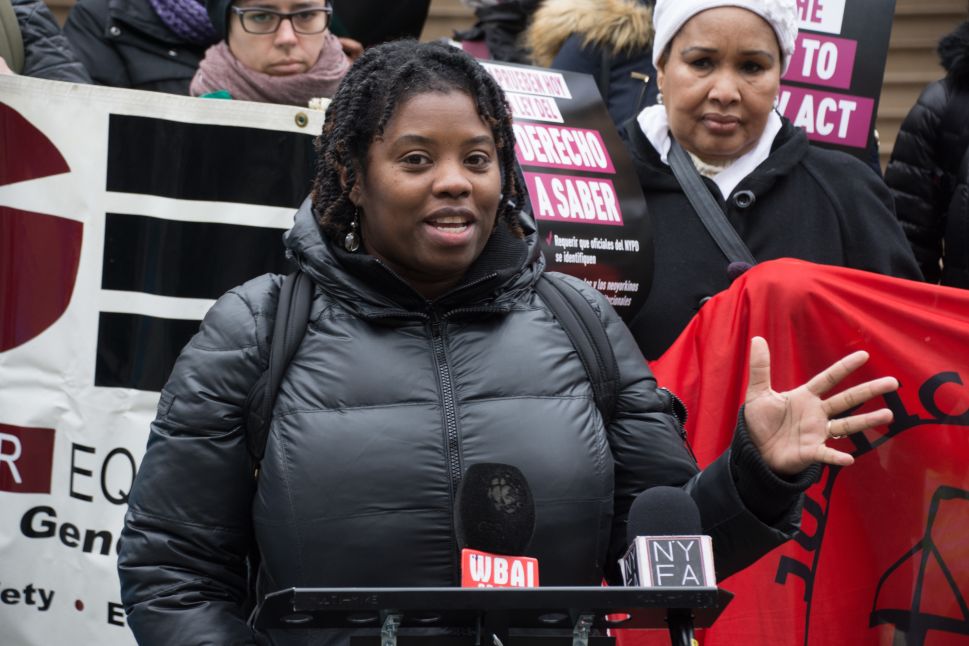 National political strategist L. Joy Williams, who was recently appointed as a senior adviser for education activist and actress Cynthia Nixon's gubernatorial campaign, weighed in on what made her join the Nixon campaign and her thoughts on Nixon's advocacy toward people of color and other marginalized groups, on Tuesday night.
The Root exclusively reported on Monday that Nixon had tapped Williams—president of the Brooklyn NAACP and founding chairwoman of Higher Heights for America, a Brooklyn-based national organization that works to build the political power and leadership of black women—to serve as her senior adviser.
"We had a very different conversation and for me, the first thing was making sure that this wasn't just a publicity stunt. And in my conversation with her and interaction with her, it's not," Williams said after a panel discussion on women in state government in Manhattan. "I mean, she's really passionate about the issues that she's bringing up in the campaign, starting from anything from education to infrastructure… we talked about criminal justice reform."
Indeed, she argued that the issues that she's "very passionate about" that affect people of color and marginalized groups have either been "largely ignored or done in a half-assed way" on the state level and by the governor.
"For me, the decision was why continue to support a governor, support leadership that is half-assed in its approach to addressing the issues that matter to my community and why not focus energy on a candidate who is prioritizing those issues," Williams continued.
She contended that people view issues affecting people of color and other marginalized groups that are "impactful to our everyday life" as "secondary, second-tier."
"We're talking about criminal justice reform, we're talking about accountability in terms of law enforcement, we're talking about housing access, we're talking about being able to afford [to live] in the city, to have infrastructure that you can actually travel in this city from home to your place of work," Williams added.
When Observer asked Williams what issues she will be working with Nixon on in respect to communities of color, she reiterated that her role is broad.
"As senior adviser, I'm helping on all aspects, right, so that's everything from the political operation, contributing to our communications piece, our field piece or whatever," Williams stressed. "So there's a lot, including every issue that comes across the campaign and trying to make sure that whatever issue that comes out from us speaks to the issues and concerns of all of the diverse constituency that we have in the state."
With respect to Cuomo's record, she said he "has a record that he is going to tout" and that he can talk about Raise the Age, legislation that raised the age of criminal responsibility from 17 to 18, for example. But she argued that the legislation was not "what we wanted it to be."
"So that's what I'm talking about in terms of doing things in a half-assed way," the strategist explained. "It's like, enough to get the headline but not enough to get the teeth and really get at the issue, right, and that's what I'm looking for."
She said she's "tired of half-ass" and that Cuomo had "two terms to figure it out."
"So now he has to prove to people of color, he has to prove to the marginalized groups who are voters in the state that he's going to do something different that he hasn't done already," Williams argued.
Recently, the governor restored voting rights for 35,000 parolees, most of whom are African-American and Hispanic. He also announced a comprehensive initiative to address maternal mortality rates and racial disparities in health outcomes, which includes a pilot program to expand Medicaid coverage for doulas.
He has also pointed to the $15 minimum wage, marriage equality, gun safety laws, free college tuition, paid family leave, banning fracking and $27 billion in funding for education as achievements.
And on Tuesday, he signed legislation that removes guns from domestic abusers and closes a loophole in state law that makes sure that domestic abusers are required to surrender all firearms as opposed to just handguns.
But the governor is not the only elected official Nixon seems to be distancing herself from—there's also Mayor Bill de Blasio, her ally.
She has backed marijuana legalization, which de Blasio opposes, although he has expressed support for Cuomo's study that would look at the legalization issue. She has also spoken out against racial disparities in marijuana enforcement, as the mayor and the NYPD face criticism for continued disparities.
And she has criticized de Blasio's timeline for fixing New York City Housing Authority (NYCHA) heaters and boiler systems, as well as former NYCHA Chairwoman Shola Olatoye's timeline over a lead paint scandal.
Williams told Observer that Nixon has presented herself as an independent candidate.
"I have no doubt that working with a candidate, of working so far with Cynthia, it's literally been like three or four days, right, but thus far, I've only seen her stand on her own," she continued. "I'm not seeing her have to call anybody and clear anything by anybody else. These are all issues that she has thought about, that she wants to talk to more people about… and be that champion of issues that have largely been ignored."
She maintained she believes Nixon "has her own views on issues" and stressed that Nixon is not tied to anyone—not even de Blasio.
"Certainly, when we succeed, the mayor will be a constituent, so if you wanna listen to a constituent in that aspect, but I believe the campaign is independent of the mayor, the campaign is independent of any other [of] these forces and really just being driven by those groups that have been largely unheard and want a candidate who is going to champion those issue," she added.
During the "Four Women in a Room" panel discussion, hosted by activist groups True Blue New York and Empire State Indivisible and moderated by POLITICO politics reporter Gloria Pazmino, Williams noted that New York has some of the worst voting laws in the country and addressed comments made by Melissa DeRosa, secretary to the governor, in which she said that most of the panelists do not have state government experience.
Williams—who hosts the weekly radio show Sunday Civics—said people are apathetic about being engaged in the political process because they "don't see an entry point" beyond elections.
She worked on the successful campaign of Public Advocate Letitia James—the first black woman elected citywide—in 2013, and as strategic advisor to Brooklyn State Senator Kevin Parker. And during the 2014 midterm election, she managed campaigns in Georgia and Ohio aimed at getting black women—whom Nixon has been targeting—to turn out for the federal midterm and state elections.
"It's important to those of us who actually serve in government in some capacity—which by the way it's easily Google-able that I did serve in government in some capacity—but it's easy for those of us that operate with that power to be dismissive of people if [we] have a public position or elected position," she contended. "But the most important part of our democracy is an engaged citizen, is someone who is watching and paying attention [to] what's happening in local politics, what's happening in your state government."
When reached for comment, Cuomo's campaign pointed to achievements such as Raise the Age, as well as support for intervention-based treatment for nonviolent young adults and appointing the country's first and only special prosecutor in cases pertaining to the deaths of unarmed civilians caused by law enforcement. The campaign also referred to the passage of legislation that requires law enforcement to record custodial interrogations (questioning of a detained person by police) for serious offenses on video and permitting the use of photo arrays to identify witnesses to be admissible at trial.
And the campaign added that the governor closed 24 prisons and juvenile detention centers, oversaw a decrease in the prison population by more than 6,000 and extended a landmark settlement mandating that the state pay for legal representation for those accused of crimes who can't afford a lawyer to the entire state.