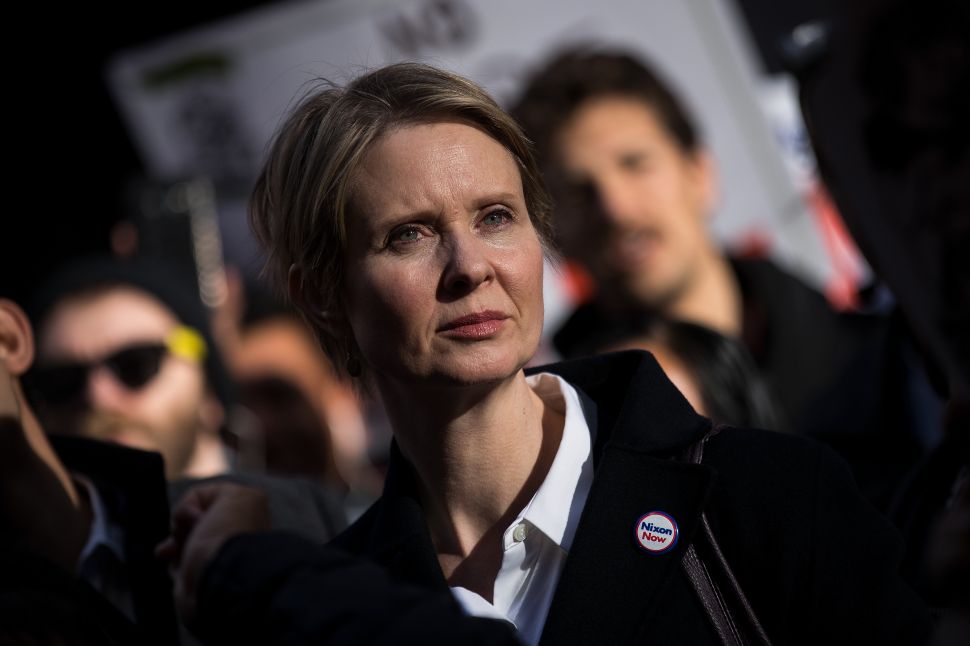 Democratic gubernatorial candidate Cynthia Nixon and her wife, Christine Marinoni, had a total income of more than $1 million in 2017, according to The Rochester Democratic and Chronicle.
Early Friday morning, Nixon—the Sex and the City actress and education activist who announced that she would run against Gov. Andrew Cuomo six weeks ago—said she would release her 2017 federal and state tax returns in Albany.
She said physical copies of her tax returns would be made available to the media from 11 a.m. to 1 p.m., but that copies would not be provided. Reporters were also prohibited from taking photos.
Nixon got $1 million in gross income for her work as an actress, Democrat and Chronicle reported.
She received a $400,000 salary from a New York-based S Corporation called Fickle Mermaid, which also wrote off $911,486 in expenditures. The corporation was established to oversee Nixon's acting career, according to State of Politics.
Nixon's federal adjusted gross income was $619,799, and the couple's state and city taxes came out to $62,866, Democrat and Chronicle reported.
Nixon and Marinoni also contributed more than $44,000 to charitable organizations via a family foundation they established to give out grants to organizations, according to the Democrat and Chronicle.
That amount included $15,000 for the Public Policy and Education Fund, the not-for-profit research and public education affiliate of Citizen Action of New York, which endorsed Nixon.
Nixon recently came under fire for not releasing her tax returns. Last month, the Nixon campaign said Nixon and Marinoni had filed for an extension. Cuomo released his tax returns in April on Tax Day.
On Friday, the governor blasted Nixon and his Republican opponent, Duchess County Executive Marc Molinaro, for not disclosing enough of their financial information. Molinaro released his tax return on Thursday.
"The transparency to me is the main issue," he said. "And nobody has released one year."
The Democratic primary will take place on Sept. 13.