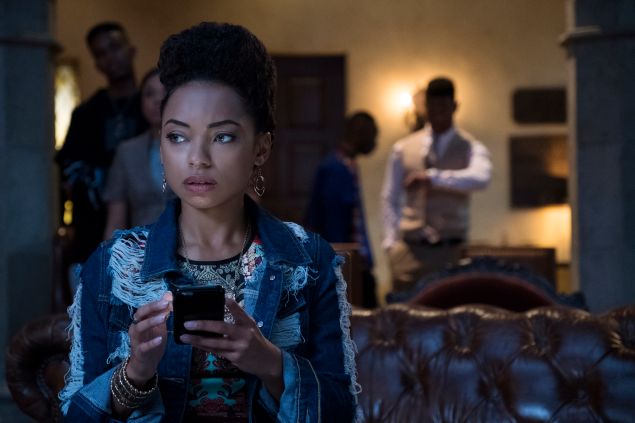 Dear White People has returned! Season two landed this week on Netflix (NFLX), picking up just a few short weeks after the emotionally charged finale. When we left, a peaceful protest had gotten out of hand, someone had been arrested, hearts had been broken, and a newspaper expose revealing how one family's donations had shaped racist school policies had just dropped. 
For costume designer Ceci (who goes only by her first name), her job doesn't just involve dressing the students of contemporary fictional Winchester University, a predominantly white Ivy League institution, she also has a whole world to create. As with season one, there will be shows-within-the-show, like Empire and Oprah spoofs, and the Lena Waithe-starring Trap-House Tricks, which is Dear White People's answer to Love & Hip Hop. Not only that, but Ceci has a number of flashbacks to contend with, including looking as far into the past as the 1800s. All of this adds to the dense visual landscape of Dear White People, which, this season, also has a color scheme imposed on it by creator Justin Simien.
Observer spoke to Ceci about how characters' costumes have evolved since the first season, what it was like working with an imposed color code, and how her work on A Different World in the early '90s inspired the looks in Dear White People.
What can audeinces expect from the costuming in season two?
Justin did something interesting as far as wardrobe is concerned; he decided to do a color story. The color green and any shade of color green represents wealth, real wealth like old school money. Black people aren't allowed to wear green; the few exceptions are background actors—if I put a Rastafarian red, yellow and green or maybe some camouflage.
Red means aggression. When Reggie is wearing red plaid pants, he's pissed. That's the height of his "I'm still really seething over what happened."
What ended up happening is I started feeling what that represented. Green is out there, but I don't have access to it. There are a lot of people of color who don't have access to that type of wealth.
Red, white and blue is like the establishment. Coco and Troy are trying to climb up the social-political ladder, their wardrobe is a lot of nuances of red, white and blue. White signifies truth-telling.
You mention Reggie's plaid red pants. In the show, he is referred to as "Che Guevera at Fashion Week." Who did you look to for inspiration when creating the look of the most outspoken character?
Reggie has a militant background, he's very smart and intelligent. His father used to be a Black Panther. He is evolving into more "I'm not going to take any shit" kind of a character. The inspiration comes from who they are. I try to—for all of them—embrace their personalities.
For Reggie, I'm looking for something that has a little hard edge, some toughness. There's a sweater that has deep texture to it. This is not just a fresh nice knit sweater, it's rough. The pants were red because he was at the height of his anger. He's wearing the combat boots, which represents his militancy.
Is Reggie using fashion as armor?
I think so. It's an armor and a reflection of what's going on inside. We'll have some flashbacks to freshman year. It's hilarious. He's all bright-eyed and bushy-tailed, wearing an Oxford shirt and some corny jeans. Now he's firmly entrenched in what he believes. He has a stance.
Another character who had an evolution in terms of a big story arc last year was Lionel. He came out, he cut his hair. Will he become more self-assured?
You'll see Lionel subtly polish up. He's still not fashion forward, but you will see him progress. A little bit more coordinated, a little nicer, more polished.
He's not going to be Troy; Troy is more fashionable, a little more dapper. Even he has an evolution, he started off in season one very put together, very Ivy League, very traditional, like his dad. This season Troy is experiencing a downward spiral, and that's also reflected in his wardrobe. He starts losing the tie, losing the jacket, putting on more deconstructed clothing. Instead of a blazer, [he's wearing] maybe a bomber jacket. He's still fashionable, but he's dressed down.
Joelle is queen of the graphic tee. Are we going to see anymore of these in season two?
Joelle is bringing it. I think this season she is my favorite because the wardrobe is so eclectic in terms of just being colorful, real and bold.
She's going to be a trendsetter. Her look. Forget the graphic tees. I did a few on her, but that is not going to be the hallmark. The hallmark of her is just her total look. Everything is super unique, super colorful.
How much is custom? How much is from stores? Do you mix with vintage?
I am a thrift store, vintage devotee. I love the treasure hunt. I love going to a vintage store, I love going to a yard sale, I love going to a flea market. A lot of shows you can't do that, because the characters don't suggest they would shop at those places. So you sometimes have to do retail. I did very little retail.
I did a lot of scavenging and putting together pieces, that is why I think they come off so real, genuine and interesting.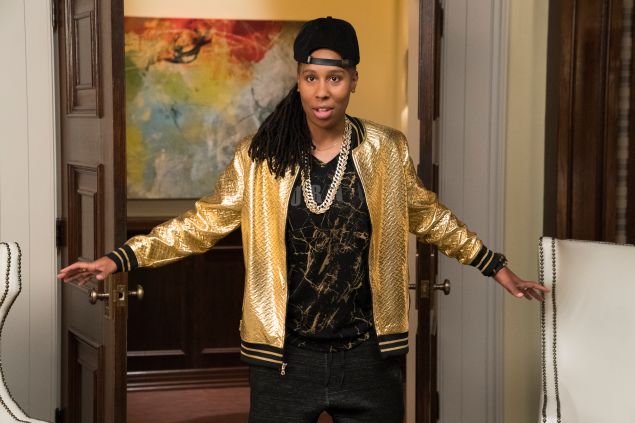 Sam's style is quite eclectic. What can you tell me about her in season two?
Sam's storyline this season is emotional. She goes through a lot of stuff. We see her family life. The storyline for her digs deeper into who she is and why she is.  
You got your start on A Different World, they are both college set shows, but set thirty years apart. How did the '90s revival impact the trends you were seeing?
A lot of the looks for even Joelle and Sam were inspired by what I created for Freddie [Cree Summer in A Different World]. A lot of that is what I do for Sam, but on a different level. Freddie was more hippyish, Sam is a little more sophisticated in her eclectic approach. And Joelle, I got some inspiration from Lisa Bonet.
Because it is 2018 and I'm drawing from inspiration sometimes from the '90s, it automatically is going to have another iteration of the look. It is not exactly the same, but there's a nod.
Have real-life events in our world today impacted the costume work? Is this impact more on a subconscious level?
I think on a subconscious level. Maybe some of the T-shirts; everybody is being woke. What is going on in the world influences what is out in fashion. Especially for the BSU students, they have more of a political edge, so I tried to incorporate those fashions for them.
This interview has been edited and condensed