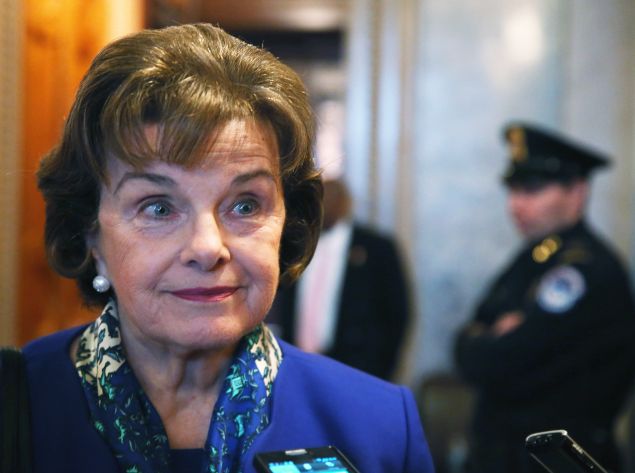 Last week, U.S. Sen. Dianne Feinstein completed a remarkable 180-degree turnaround. The longtime opponent of marijuana legalization—who represents California, the state with America's largest and oldest legal cannabis economy—is a prohibitionist no longer. The prevailing explanation behind this flip is that good things happen when longtime incumbents have to actually worry about reelection.
It is true that Feinstein, the 84-year old former San Francisco mayor and one of the wealthiest members of Congress, hasn't really had to run a political campaign since 1992. And it's also true that she may still be stinging from her rebuke at the California Democratic Party convention in February, when her challenger, state Sen. Kevin de Leon, won enough support to deny Feinstein—supposedly one of the leaders of the party, the "lioness of the Senate," according to a glowing, mostly vacuous profile in Mother Jones—her party's official endorsement.
But it's also true that Dianne Feinstein remains a near-lock to be in the U.S. Senate until her tenth decade on earth, nobody knows who Kevin de Leon is (this writer sent a few emails to his campaign and has yet to receive a reply, not the best sign of life), and that the actual would-be runner-up in California's Senate election this fall, according to early polling, is a literal, Holocaust-denying Nazi.
Even that doesn't tell you much, aside from the fact that there are a lot of Republicans in California who would prefer to vote for a Nazi over anyone remotely progressive. It doesn't tell you the whole story, which is that the California Senate race resembles a democratic contest for our choice of feudal lord.
Like the governor contest in Illinois, and like so many other political races between competing members of America's landed gentry, this election boils down to a battle of the supremely wealthy, with a Nazi thrown in for Trump-era flavor.
De Leon—Feinstein's challenger who supposedly spurred her to embrace legal cannabis, almost two years after legal cannabis became a real thing that Dianne Feinstein could do nothing to stop—has a lot of positives. He's Latino, he's relatively young at 51, and he has left-leaning policy positions that play well with California's young voters—many of whom are sick of the usual Clinton-style triangulation practiced by centrist Democrats, of which Feinstein is a master. (Behold: Feinstein raised gobs of cash from the health care industry after telling a town hall audience that she didn't support single-payer like Medicare for all, before updating her campaign website to clarify that she "strongly supports universal health care for all Americans.) But de Leon also has a billionaire behind him.
Democratic mega-donor Tom Steyer announced his endorsement of the upstart on April 18. As POLITICO noted, if Steyer's checks follow Steyer's blessing, the dynamic of the race—in which de Leon is running a distant third behind the aforementioned neo-Nazi with an "R" next to his name—could be upended.
Note the chronology here. Feinstein's "major" marijuana announcement, itself nothing more than a nod toward the status quo, followed not De Leon's showing at the convention or any of his Bernie Sanders-esque policy positions, but the news that there was a billionaire behind him.
Similar dynamics are underway in other states. The most egregious example is probably Illinois, where the incumbent governor, a private equity tycoon who's spent $95 million of his own money on his political campaigns since 2014, is facing a challenge from a hotel fortune heir, who was a billionaire at birth—and who also just happens to like marijuana. J.B. Pritzker, whose family built the Hyatt chain of hotels, has so far spent $76.3 million on his campaign, which at this stage is entirely self-financed. This is refreshing insofar as there's no middle-man between political baron and the public—the man with the money is the man on the campaign posters—but it's also a sobering reminder of who constitutes the political class: obscenely wealthy people.
This is not to say that all billionaires are automatically or equally bad. Jeff Bezos may run his company like a Rockefeller, but at least he also cares enough about democracy to fund an aggressive news outlet—which is much, much more than you can say about Peter Thiel's bizarre, frightening admixture of authoritarian libertarianism.
And this is not to paint Dianne Feinstein as an amoral monster. She has values, most of which skew more closely to the capitalist class—like the billionaire backing her progressive challenger. She knows where all the levers of power are in Washington: at the bank.