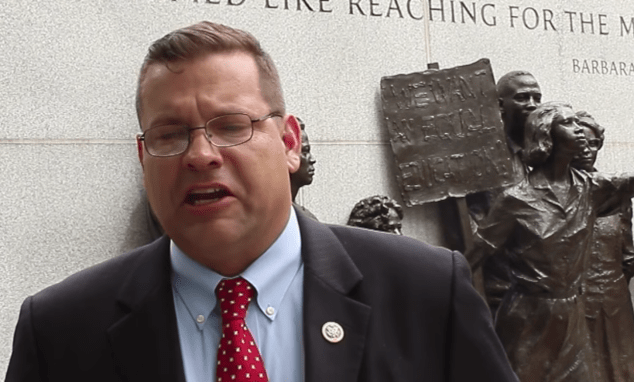 When we talk about our broken government and corrupt politicians, we keep confusing the symptoms with the disease.
A perfect example occurred this weekend when Congressman Thomas Garrett (R-VA) dropped out of his re-election contest due to multiple reports that he and his wife forced staff to perform personal chores like cleaning up after their dog. And just like how conservatives wagged a self-righteous finger when Democrats Al Franken and Anthony Weiner got into trouble, progressives delighted in the downfall of Garrett, a member of the far-right Freedom Caucus.
Both parties are filled with politicians who act like schmucks. The problem is endemic to both sides because we've created a system that attracts, rewards and retains people whose main desire isn't to pass laws or serve the public good. Instead, their motivation is to bask in—and never let go of—the validation that comes with winning and holding public office.
This doesn't just lead to abusive behavior by people like Garrett. It also results in politicians being slavishly devoted to a small number of partisans and handful of special interests that actually participate in primaries. As politicians know, serving this crowd is the best way to ensure they stay in office. But because these partisan interests punish compromising with the other side, it's also a surefire recipe for gridlock and dysfunction.
We fight, debate and rage incessantly about our inability to solve the problems destroying our society: broken schools, a dysfunctional health care system, endless gun violence, an illogical immigration system, a climate in chaos, the opioid crisis, and so much more. We argue over dinner and write angry columns. We fund SuperPACs, yell and scream on and at the TV, and mourn the demise of our country. But our outrage won't matter unless we change the way we elect politicians in the first place.
A lot of well-intentioned groups try to recruit good candidates for office, and sometimes this works. But most people willing to run for office have the same personality flaws and are motivated by the same factors, so they ultimately end up mimicking their colleagues' bad behavior.
Until we change politicians' incentives, we won't get different results—meaning we won't solve our nation's problems. Politicians will act rationally to win re-election, and because our system rewards loyalty to extremists, politicians don't take into account the totality of their constituency and enact sane public policy. To get them to do so, we need to change the system so they are forced to represent a broader swath of their constituents than they do now. To achieve such change, we could outlaw gerrymandering in order to create truly competitive legislative districts. We could also increase voter participation by making it easier for people to vote, perhaps by using blockchain so people could vote securely from their phones.
There are plenty of ways to change the way our government functions. But all of our hand-wringing and screaming isn't doing any good. The downfall of politicians like Garrett doesn't cure the disease rotting our government—it only addresses the most blatant symptom. It's like treating a vicious infection with Neosporin. At some point, you need antibiotics or amputation. We're at that point, but we hardly realize it.
Bradley Tusk is the founder and CEO of Tusk Holdings, the parent company of Tusk Strategies, Tusk Ventures, Kronos Archives, the Ivory Gaming Group and Tusk Montgomery Philanthropies.