 When he's not in Grimes' warm embrace, Elon Musk works on one crazy idea after another. But his latest project proves web security isn't one of his strong suits.
In January, Musk unveiled the Boring Company Flamethrower, a consumer version of the tool being used on his underground tunnel project. Thousands of people pre-ordered the $500 device, billed as the "world's safest flamethrower."
Despite legal challenges, Musk insisted that the device was not a joke. And now we have proof that he was telling the truth.
The terms and conditions for Musk's new toy—now called Not a Flamethrower—recently went viral on social media. Reporters and tech geeks alike posted screenshots on Twitter of the crazy things they had to agree to.
Like any good reporter, I wanted to see for myself if these terms were real. But I hadn't actually ordered a flamethrower.
It turns out that wasn't a problem.
I clicked on a link to the terms that I found on social media and was immediately prompted for the email address associated with my purchase.
Now, again, I hadn't purchased anything. But I put in my personal email just to see what would happen. And to my surprise, it worked.
The Google form started out with a bit of dry humor.
Then, Musk exercised his inner Dr. Seuss.
Next, The Boring Company absolved itself of responsibility in the most hilarious possible way. I had to click all six boxes in order to proceed.
Things got more boilerplate from there, as I agreed not to use the flamethrower if it's damaged. But then Musk exercised some legal gymnastics.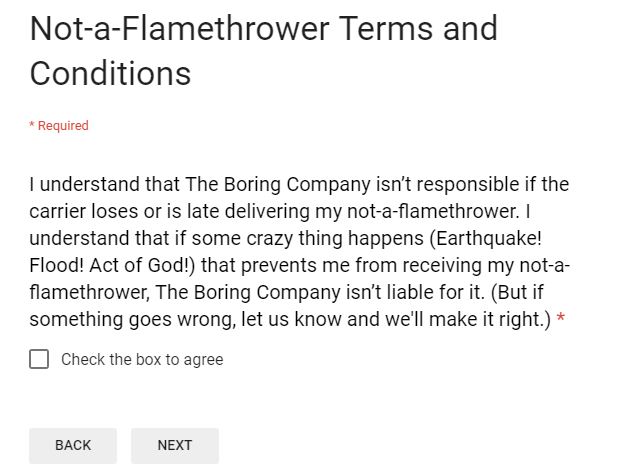 So The Boring Company isn't responsible if the flamethrower is late or never arrives thanks to an "act of God." But if something goes wrong, they'll still fix it? How does that work, Elon?
I then agreed not resell, refund or exchange the flamethrower even if "I'm not that into it."
The penultimate page—called "Technically, here's what we mean by all that"—resembled what terms and conditions actually look like. Except for the "Force Majeure" clause.
This French term for "unavoidable accident" basically means The Boring Company isn't responsible for events beyond their control. It's standard procedure in most terms and conditions.
But Musk's list of unforeseen events is much more exhaustive than other companies. It includes:
"acts of God, natural or artificial disaster, riot, war, strike, delay by carrier, shortage of Product, acts or omissions of other parties, acts or omissions of civil or military authority, changes in law, material shortages, fire, floods, epidemics, quarantine restrictions, acts of terrorism, or delays in transportation or inability to obtain labor, materials or Products through its regular sources."
What exactly is Musk worried about?
But anyway, I'd gotten this far and wasn't going to stop now. So I checked the box.
As a final step, I had to put in my order number. At this point, I thought Musk would finally find out I was just experimenting and there was no order to begin with.
But the terms said if I didn't have the order number handy, I could just type the number 0. So I did.
And lo and behold, I ended up on a thank you screen.
I have to admit, I was shocked by this: a tech genius like Musk shold have better security and identification measures in place for those buying his potentially dangerous object.
So were his terms just harmless fun, or did I end up on a list for the flamethrower? Does Musk know I'm a fraud and so he's just messing with me?
Let me take this opportunity to say: Elon, please don't send me a flamethrower. My family nickname isn't "hazmat" for nothing.