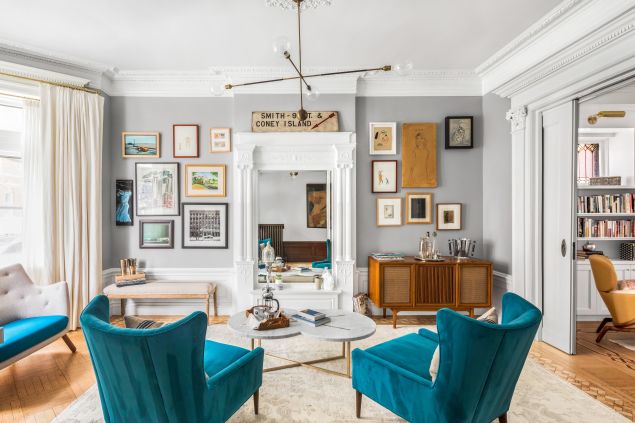 Emily Blunt and John Krasinski's brief tenure in Park Slope has come to an end. The couple found a buyer for their beautifully renovated Brooklyn townhouse, though they didn't earn near what they were hoping for.
Blunt and Krasinski purchased the 5,200-square-foot limestone for $6 million in December 2015, and reportedly spent somewhere between $300,000 and $500,000 remodeling it. Alas, by September 2017, the actors, who have two children, decided they didn't have much of a need for the abode due to their hectic travel schedules.
"The house is so special—someone who can spend every night there should have it," Krasinski told the Wall Street Journal, shortly after listing the seven-bedroom, 3.5-bathroom property for $8 million. The home didn't linger on the market for long—it went into contract at that price by March 2018. If the final sales price is any indication, however, Blunt and Krasinski were more than ready to leave the French Renaissance Revival-style residence behind.
Blunt and Krasinski, who recently starred together in A Quiet Place, accepted just $6.56 million for the house; the new owners are hidden behind the entity Sykim LLC. It's definitely not pocket change, but considering the hefty sum likely poured into it, it's possible the pair barely took a profit at all.
The four-story house at 586 4th Street was built in 1909, which was a big plus for Krasinski, who said he's a "history nerd, so it was really exciting to me."
The entry floor of the 20-foot-wide home is filled with crown moldings and millwork, with multiple sets of pocket doors that lead to different rooms. The living area includes a wood-burning fireplaces framed with built-in bookshelves, as well as leaded glass windows.
The kitchen has floor-to-ceiling windows and radiant heated floors, with custom white cabinetry, a black marble-topped island and a porcelain sink, as well as a skylight that encompasses the entire length of the room.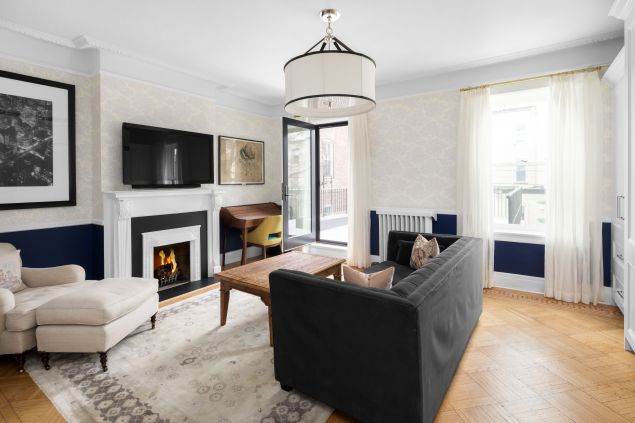 A formal dining room contains a gas fireplace, with stain glass windows and built-in cabinets.
The master suite takes over a complete floor of the townhouse, with bar windows and a marble fireplace. There is even more marble in the bathroom, including double sinks and a walk-in shower, all with Waterworks fixtures and gold accents.
A front guest suite is situated on the garden level, near a family room with exposed beamed ceilings, per the listing shared by Corcoran brokers Karen Talbott and Kyle Talbott; the brokerage declined to comment on the sale.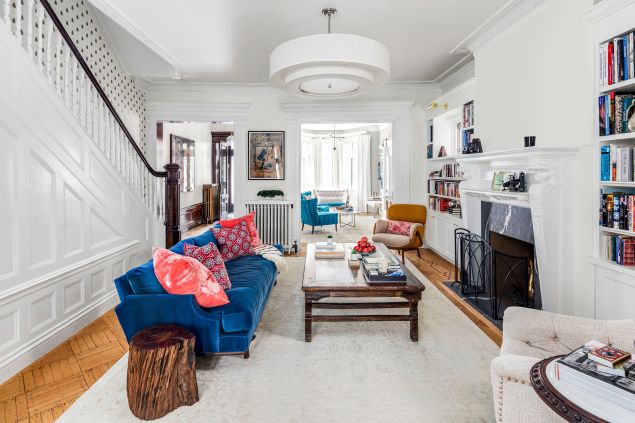 We don't know where Blunt and Krasinski will choose to put down roots next—they moved to New York after packing it up on the West Coast; they sold their Hollywood Hills abode to Kendall Jenner in 2016. We wouldn't recommend the couple pine for their former home, as the model and reality star subsequently sold that house following a stalking incident and burglary.
It seems like Blunt and Krasinski will stick with hotels and temporary lodgings for the time being. "We've been nomads for a while now, but that's the nature of the business," Krasinski said last year. No matter where they go, it'll definitely beat the basement in A Quiet Place.