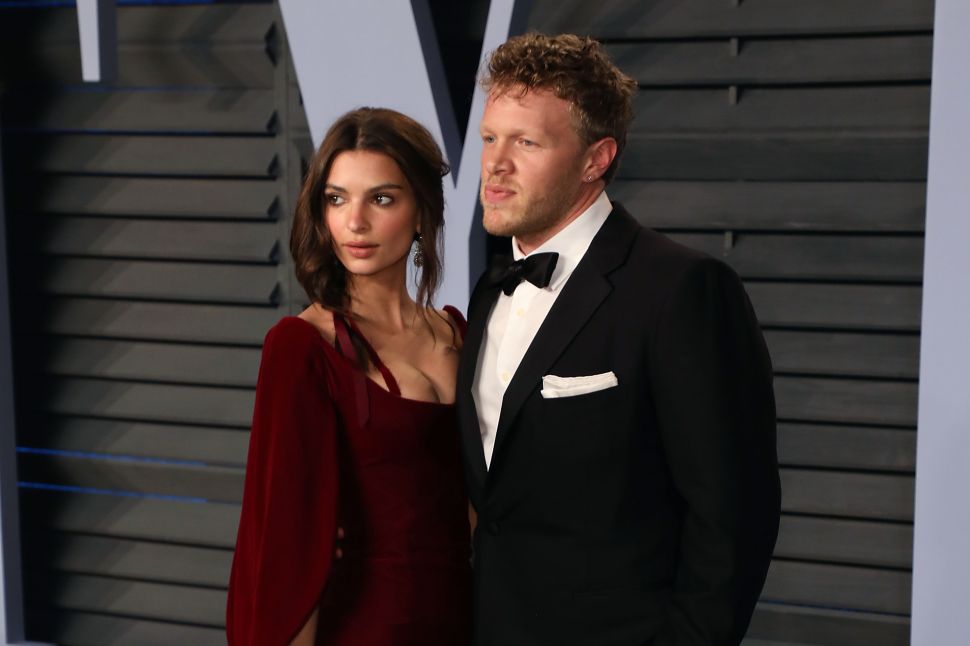 Emily Ratajkowski surprised just about everyone this year with her City Hall wedding. The model and actress married Sebastian Bear-McClard in New York in February, after just a few weeks of dating. She promptly informed her 17.5 million Instagram followers via the app, but she opted out of such a public announcement for some recent news.
Ratajkowski, who appears in the recently released I Feel Pretty with Amy Schumer (who also secretly married her new boyfriend in February), made what looks like her first Los Angeles real estate purchase. The swimsuit designer is the new owner of a 1,650-square-foot house in Echo Park, for which she paid $2 million.
Ratajkowski must have been determined to get this specific abode, as she doled out a sizable about more than the $1.595 million the home was listed for, and completed the deal in all cash. Indeed, there was a "fierce" bidding war, as Compass (COMP) broker Tori Horowitz, who held the listing, noted in an Instagram of the property.
[protected-iframe id="915c7fcc24448dc1d51c2d81c860c8bd-35584880-90368445″ info="//www.instagram.com/embed.js" class="instagram-media"]
Echo Park isn't the most celebrity-saturated neighborhood in Los Angeles—not by a long shot, actually—and Ratajkowski's transaction is one of the most expensive in the area. Per Yolanda's Little Black Book, the priciest amount was a $2.28 million deal last year.
Ratajowski is likely hoping her new acquisition continues to increase in value—the seller, musician Blake Sennett, paid a relatively paltry $335,000 for the property in 2010.
[protected-iframe id="54e6e953fa135c40e6c66bf8e4a94c84-35584880-90368445″ info="//www.instagram.com/embed.js" class="instagram-media"]
Ratajkowski and Bear-McClard's new home feature a main house that was built in 1963 and is composed of two bedrooms and two full bathrooms.
A loft-like den contains a 15-foot-high brick fireplace, wood-beamed ceilings and clerestory windows. The custom kitchen is equipped with wood cabinetry, a center island and stainless steel appliances, and is adjacent to a separate dining area.
[protected-iframe id="62b6dc1d5dfd5b6f9f6de1565daef33c-35584880-90368445″ info="//www.instagram.com/embed.js" class="instagram-media"]
The master suite features skylights, oversized windows, a walk-in closet and a bathroom with double sinks.
The 0.15-acre property also has a small guest cottage, which is connected to the main house by an open breezeway. It was built in 1946 and contains one bathroom, as well as a space that could be used as an additional bedroom or perhaps as a gym, studio or office.
[protected-iframe id="15e5d4f8ab289434faaad2bc4fe26af8-35584880-90368445″ info="//www.instagram.com/embed.js" class="instagram-media"]
Sadly for Ratajkowski and Bear-McClard, there is no pool, so the model will have to go elsewhere to find an adequate backdrop for her favorite à la piscine photos. There is, however, a hot tub, as well as a gas fire pit, terraces and a garden filled with succulents.
Ratajkowski previously resided in a loft in Downtown Los Angeles, but it's doubtful she has lived there in quite a while—she reportedly moved out of the apartment, which she was sharing with her then-boyfriend, Jeff Magid, around October 2017. We imagine, however, that she'll bring some of the eclectic mix of art she kept there. Or, at the very least, the blown-up Instagram selfie of Ratajowski, which was framed and on display in the living room.