Literal hours after graduating college, 21-year-old Eric Helms hitched a ride from his hometown in the Blue Ridge Mountains to New York City. It was 1991, he had $600 in his pocket, and "murder was king." Helms landed a job at TGI Friday's in Times Square. They made him buy black sneakers.
"It was a huge deal for me because they were $35—and when all you have is $600, $35 is a very big deal. Imagine, you've just moved to new York and you're scared, with no backup. I didn't have anybody to call and say, 'Can I have some money?' So it was a very big deal." He pauses. "And it was actually a really bad job!"
Now we're in this past April. Helms just opened his 19th Juice Generation in Astor Place, an increasingly glossy Manhattan sub-neighborhood where boutique fitness studios pop through the cracks like beautiful little weeds. But despite this Juice Generation being planted beside one with amenities like Cryotherapy and something called "The Red Zone," not even EV Grieve, the East Village's go-to news-and-snark bible, threw their usual shade. Perhaps this is because Helms has partnered with the Hetrick-Martin Institute, the organization behind the Harvey Milk High School, a public school for at-risk, non-heterosexual youth.
Mid-construction, while touring what is now the completed storefront, Helms stumbled upon the Harvey Milk School in what was, in his words, an accidental elevator ride to the third floor of the building.
"The elevator doors opened and there was just a roar of energy—it was so loud—and I was taken aback. A very small woman got on the elevator, and I asked her, 'What is that? What's up there?' and she said, 'Oh that's the Harvey Milk School.'"
While not all of the children who go to Harvey Milk School are homeless, many are—and, because of this, the school has what they call "The Pantry" for students in crisis. Essentially a locker-room, The Pantry is safe space to visit between coming in from, or heading back onto, the streets. There are showers, laundry facilities, a closet with clean socks, underwear, coats and gloves, and toiletries for students to freshen up, and begin their days with dignity.  
"When someone is feeling bad, you want to clean yourself, you want to get in clean clothes, you want to have something good like an organic juice—which is my answer to anyone who is in need of help. I always send juice to people. So we're putting a little refrigerator in the crisis room, and stocking it with green juice."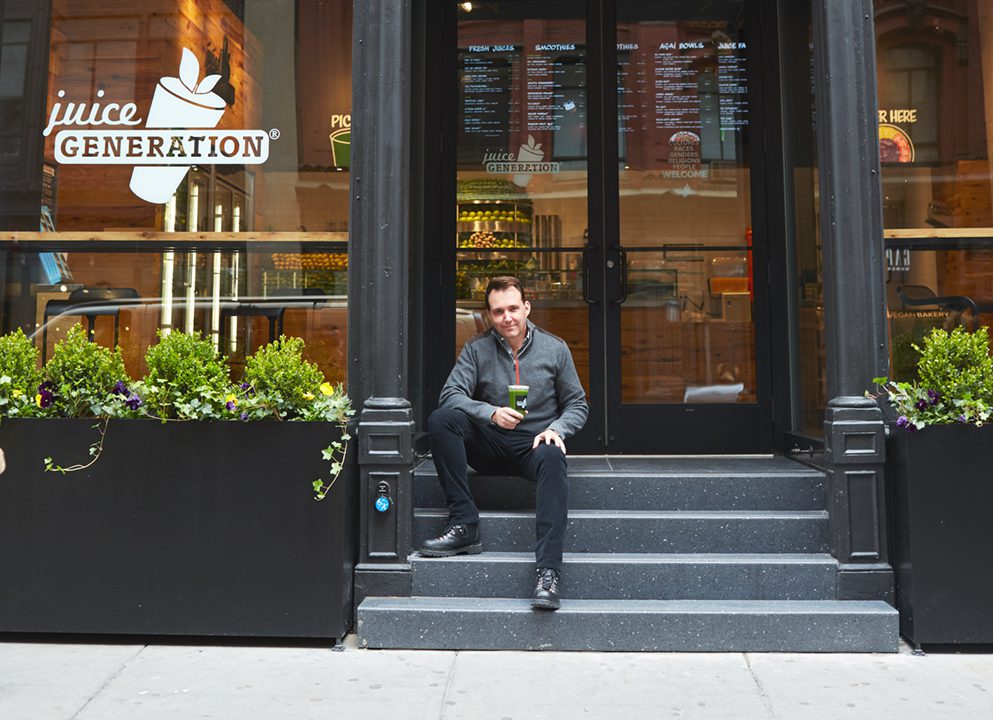 Helms is also leaving Juice Generation gift cards with the school, for students to use for salads or small meals before they leave for the night. "For someone who is homeless or doesn't have a place to go, at least it's something."
For Gay Pride month in June, Helms is working with Harvey Milk students to release a Local Pride juice. Students will partner with Juice Generation's commissary to develop the recipe from all local ingredients, design the packaging, and market, promote and distribute the drink. It will be sold in Juice Generation stores and all of the proceeds will go back to Harvey Milk High School.
"I read this article a couple years ago about a famous hamburger store—one that's very hot—and the owner was talking about the all different kind of meats they use to make their famous burger patties, and all the different kinds of cows they use, and how they get them from all over the country, and they combine these different kinds of cow meat to make this patty."
Helms catches his breath. "And I remember reading that and thinking, 'God, that is so repulsive to me. I'm so happy that, at least in the smallest way, I am putting a little good out into the world.'"