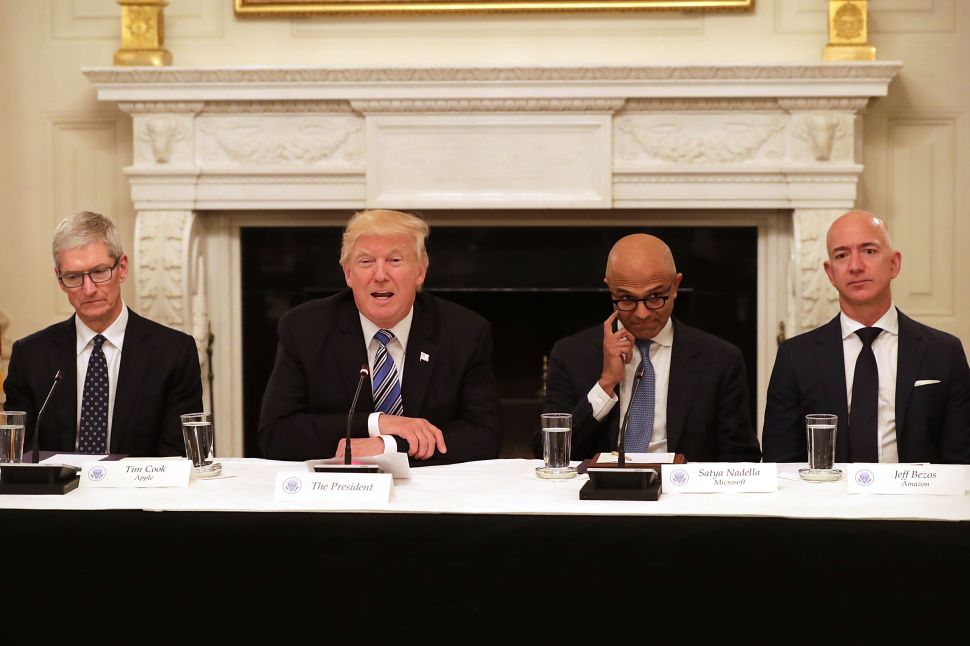 Almost half of the world's largest companies' CEOs say the president has done a good job since taking office.
According to a poll of every CEO of Fortune 500 companies, 49 percent think President Donald Trump has made "better than expected" policies since taking office in January 2017. Eighteen percent think his policies are worse than expected, and the rest (32 percent) say the president's performance is up to par.
For comparison, Trump's popularity with the general public sits at 42 percent as of today.
Just one percent shy of reaching 50 percent, this approval rating is great news for Trump. In Fortune't last CEO poll exactly one year ago, only 26 percent said his election would have a positive impact on their businesses.
Much of Trump's popularity with CEOs has to do with the tax reform his administration led, which slashed the federal corporate tax rate from 35 percent to 21 percent. An overwhelming majority (77 percent) of the CEOs surveyed expect the new tax law to reduce their companies' tax liability.
(It has already worked miracles for some. Warren Buffett's Berkshire Hathaway, for example, realized $29 billion in gain when Congress rewrote the tax code in December 2017. That alone represents 45 percent of Berkshire's total gain for the year.)
Half of the CEOs say they plan to use the tax savings to pay extra dividends to shareholders. Reinvestment in the company and expanding hiring are also listed as top priorities. Over 80 percent of CEOs expect to grow their total workforce in the next two years.
Overall outlook for the global economy has also improved from last year. Forty-eight percent of CEOs this year (versus 36 percent last year) expect the global economy will be better in the next 12 months.
That said, not everyone is blindly optimistic about the future.
A trade war with China, increased regulation from Washington and another recession are the three biggest concerns for CEOs right now. More than one-third (37 percent) of CEOs think the next recession is likely to come within the next two years.
Interestingly, though, a majority (63 percent) of these regulation-averse CEOs think Facebook needs more government oversight. Google parent company Alphabet and Amazon, due to their ownership of massive consumer data, are also viewed as companies that need to be regulated.
In contrast, Apple is apparently the best self-regulator so far. Only 13 percent of CEOs think it needs more government oversight than it has now.