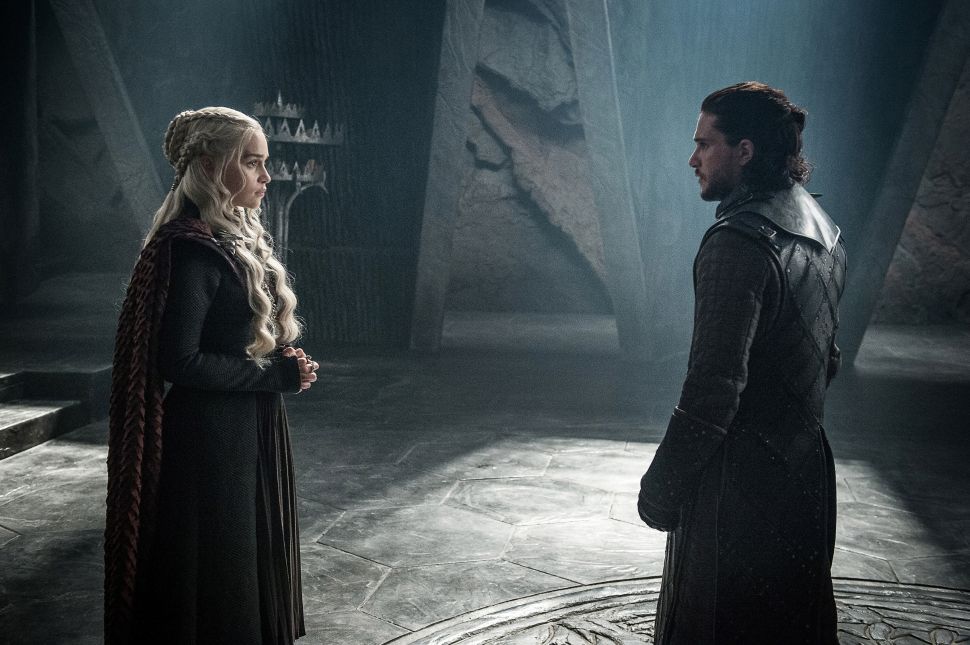 Look, I'm going to level with you guys. I have no idea if this information is legit or not (though I lean towards yes). The truth is, I'm a massive Game of Thrones fan, just like the rest of you, so I obsess over any and all details about the upcoming eighth and final season like an alcoholic detective in a crime drama who just can't let this one case go. One more lunch-time rant about GoT and my editor is going to ask for my sword and my sigil.
Given the enormity of the series and the fact that it's coming to a close, my stance is that everything is on the table to be discussed and dissected—even if it's not yet official.
So having said all of that: possible spoiler warning for season eight of HBO's Game of Thrones.
Both book readers and show-watchers eagerly awaited a glimpse at the fan favorite Rhaegar Targaryen ever since Bran started time-hopping into the past. Last season, the wish was granted as actor Wilf Scolding appeared in a flashback as the former Prince of Westeros who is the older brother of Daenerys and Jon Snow's birth father (he wed Ned's sister Lyanna Stark in a secret ceremony).
Now, Scolding has been spotted in Belfast, Ireland, where a big chunk of Game of Thrones films. Could the Welsh actor just be visiting friends or enjoying a vacation? Sure. But isn't it a lot more likely that he's filming additional flashback scenes for GoT?
"In a now deleted post on Instagram," reports the Belfast Telegraph, "the actor was seen posing in front of the Europa hotel in Belfast, sparking rumors his character could be returning—albeit in flashback scenes—for the new series."
Rhaegar, you may not have been the Prince that was Promised, but you seem to be promising us fans a return to the world of Thrones. Deleting the Instagram post sure does look like a cover up, otherwise why delete the picture at all?
Though the audience now knows Jon's true parentage thanks to Bran's Greensight, the people of Westeros do not. The blood connection makes the former Lord Commander the rightful heir to Westeros.
The truth will have to be revealed to Jon himself and likely the major players vying for the Iron Throne, especially if Jon is indeed Azor Ahai reborn (so nerdy yet so undeniably cool). The relationship between the two characters will also make for an awkward conversation between Jon and Dany, who got down in the season seven finale (ew, in retrospect).
Though the eighth season is only six episodes long, each episode will be well over an hour and jam packed with major happenings thanks to the final run's insane budget. It's reasonable to expect Rhaegar to reappear in order to fill in the missing blanks for key characters.
Game of Thrones will return in 2019. In the meantime, stay on top of the progress of the five potential spin-offs and don't hold your breath for George R.R. Martin's The Winds of Winter.