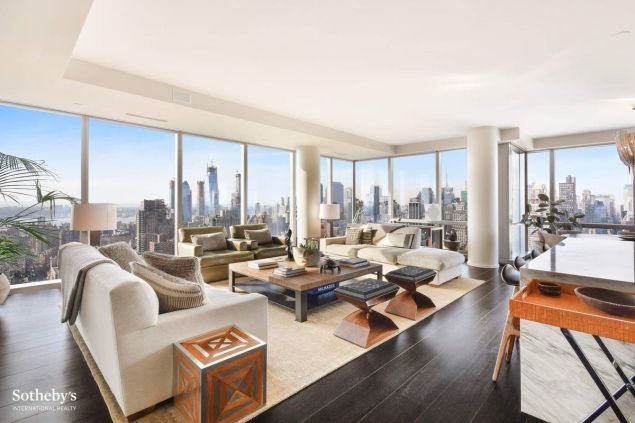 Gisele Bündchen and Tom Brady aren't giving up on their plans to leave One Madison. Despite the fact that the couple took a nine month break from marketing their sleek Flatiron apartment, they're still quite determined to sell the place.
It couldn't have been particularly easy for the Brazilian supermodel and five-time Super Bowl champion to admit any form of defeat, but they've chopped the price on their 3,310-square-foot condo from a high of $17.25 million down to a more buyer-friendly $13.95 million.
They also opted for a brokerage switch from Core to Michael Bolla at Sotheby's International Realty.
Bündchen and Brady purchased the 48th floor unit for $11.7 million in 2014, and brought in leather-loving architect Peter Marino to redesign the aerie. Marino left his more aggressive aesthetic behind for this particular project, as the apartment is filled with luxe, upholstered couches, wood tables and soft wall treatments.
A private elevator landing leads into the entry of the home at 23 East 22nd Street. Floor-to-ceiling windows throughout provide rather impressive 36-degree views from the sky-high perch.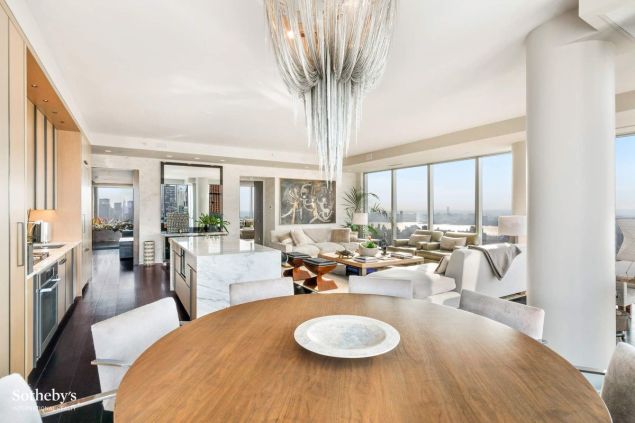 The kitchen features a white marble island, and is open to the living and dining spaces—perhaps where Bündchen and Brady's plant-based meals are prepared. But maybe hidden within those wood cabinets are the Dunkin' Donuts Munchkins that the model recently disclosed she has, in fact, eaten. Or so she says.
The apartment is currently configured in a three-bedroom, 3.5-bathroom layout, as a media room/den occupies a space that could potentially be a fourth bedroom. Sadly, there's no garden within the unit for the family to grow their own produce in, as they do at their larger spreads
During the NFL season, the whole family resides with the New England Patriots quarterback in a massive 15,000-square-foot mansion in the Chestnut Hill neighborhood of Boston—Bündchen and Brady have two children together, as well as Brady's son with Bridget Moynahan.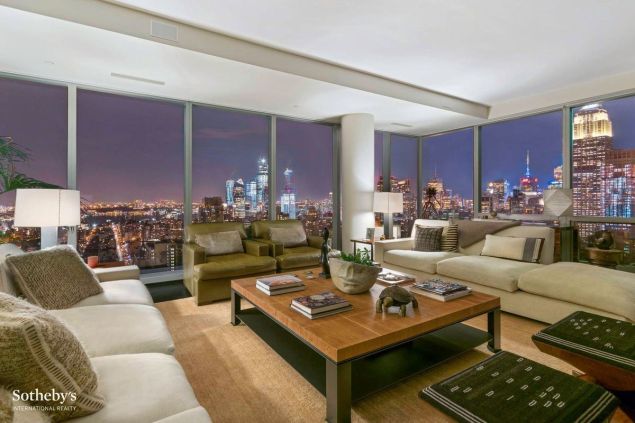 If anyone was concerned the pair is leaving New York behind, don't despair! They're simply upgrading their digs, and in a big way. Bündchen and Brady are buying a larger apartment at 70 Vestry in Tribeca, which will span at least 5,000 square feet. They were already in contract to buy a unit on the 11th floor of the condominium, but in April last year, Brady apparently decided he must live on the twelfth floor, which is the number he wears on his jersey.
As such, the couple reportedly switched to an apartment on lucky number 12; available units on that level were going for between $29.5 million and $32 million. Hopefully, Brady is still just as fond of his number following the Patriots' loss to the Philadelphia Eagles in the Super Bowl this year.