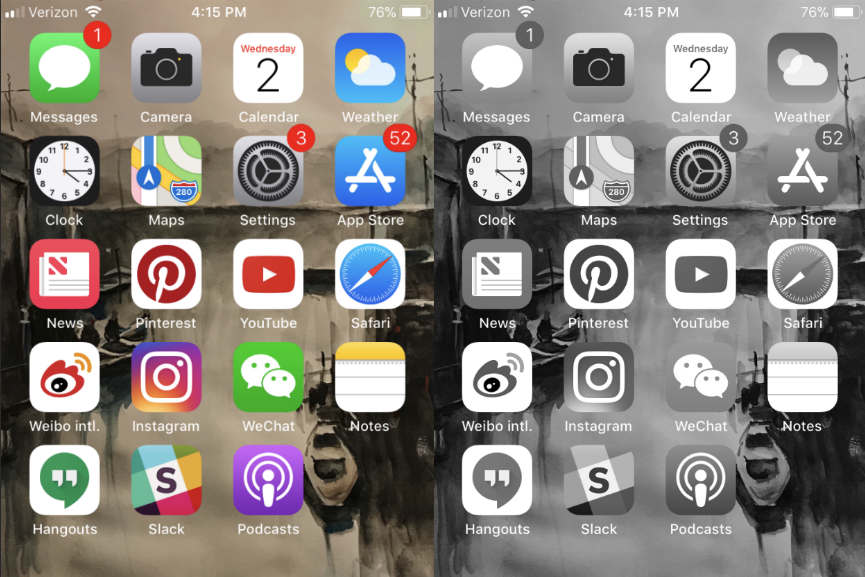 Smartphones are the new cigarette.
Too many people are wasting too much time constantly checking their smartphones, so much so that parents are beginning to worry about the mental health of their children if they grow up with these addictive little devices.
Is there any quick fix, besides returning to an old-time "dumb phone" (or a chic, smart-looking version of it), to slow down the smartphone epidemic that's ruining everyone's life?
Maybe.
One thing you can try is to set your phone screen to grayscale, according to Tristan Harris, a former design ethicist at Google who is now full-time advocating for putting our time to better use in the age of tech.
This approach is also scientifically proven. By stripping away all the neuron-stimulating colors on your phone, you are less motivated to check your phone even without any calls ringing or notifications buzzing.
"Looking at even just the colors of your screen activates a banana-like rewards [system] for chimpanzees. If you just turn that off, it makes a big difference," Harris said at the 2018 Milken Insitute Global Conference on Monday.
Erasing colors on your iPhone or Android is possible, but isn't easy.
For iPhones, you need to go down at least five layers of settings to find the toggle button (scroll down to the bottom of this article for step-by-step instructions). For Android phones, the process differs from model to model, but in general it's under the "accessibility" menu in general settings.
But there is one problem.
Of course, Apple doesn't want you to go gray, but they have to keep this option available to accommodate those who are colorblind. (It also helps developers understand the user experience of a visually impaired person when building the user interface.) So, instead of taking away the option, with newer operating systems, they are making coming back to color easier!
Before iOS 10, you could go gray by checking the "Grayscale" option under the "Accessibility" menu. But, to go back to color, you needed to go through all the setting menus again to uncheck it.
In more recent version of iOS, you only need to dive through the setting menus once to turn on "Color Filters." Then, all you need to do is tap the home button three times to go gray—and triple-tap again to go back to color. (For the iPhone X, triple-click the side button.)
Here's how to do it in iPhone (iOS 10 or above):