Hamptons season has begun, as the rosé-loving masses flock out east. Despite the hours you're sure to waste sitting in traffic on the LIE this summer, bemoaning why you ever thought it was a good idea to leave for the weekend at 5 pm, at least there will be an Instagram-worthy sunset upon arrival.
As always, there will be a number of new openings popping up throughout the east end, so here's a guide to the noteworthy spots so far that you won't want to miss.
Aerin
Aerin Lauder is opening her third brick and mortar boutique for her lifestyle brand. The original was in Southampton, and she then launched a Palm Beach shop. Her newest is this East Hampton store, which opens Memorial Day Weekend. As always, the shop's design is as fun to look at as the merchandise—Lauder worked with Daniel Romualdez to create the bright white interiors, filled with vintage wicker chairs, custom lighting and Lauder's own accents. It will stock Lauder's line as an edit of her favorite designers like Assouline, Cecile D and Sirenuse.
Everyone's favorite cool girl brand is coming to the Hamptons for the summer. The sustainable clothing company opened a pop-up last year in East Hampton, but now they've moved to a new location right across the street. The Reformation Beach House is a tad smaller than the old space, but still packed with all the summer frocks you could dream of. The only downside is that you're sure to spot someone else in your newly purchased crop top, slip dress or patterned two piece ensemble.
Sugarfina 
Similarly to Reformation, Insta-favorite candy brand Sugarfina popped up last summer, but in Southampton. If your sweet tooth was deeply saddened by the shuttering of the shop, you'll be thrilled to know Sugarfina is opening a whole new store this year, right across Main Street. Even better, this is permanent location. And FYI, last year, the store always handed out individual freebie gummie sweets, so keep your eyes open!
Monrow x Surf Lodge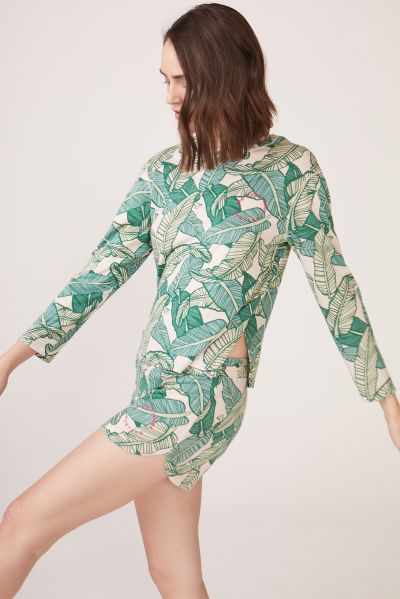 Surf Lodge is known for its music line-ups, lobster rolls and the hoards of people standing outside that resemble the crowds waiting for a peek at the newly married Duke and Duchess of Sussex, but they also always have epic collabs. This year, they're holding a season-long pop-up for the 24-piece Monrow x Surf Lodge lifestyle and wellness capsule collection. Think cozy cotton and fleece items, which you're sure to scoop up when the sun goes down.
You didn't think Surf Lodge only had one pop-up, right? A section of the upstairs accommodations have been transformed into curated wellness rooms, and celebrity facialist Thuyen Nguyen, known for his FaceXercise (he also has a full-time spa in Wainscott), will be there every Monday starting Memorial Day. The facial pop-up will offer detox services, because all that rosé comes at a price. "It's about making life easier and living well, inside and out," Nguyen, whose clients include Cindy Crawford, Katy Perry and Amal Clooney (he was in London to get her ready for the royal wedding), told Observer.
Agora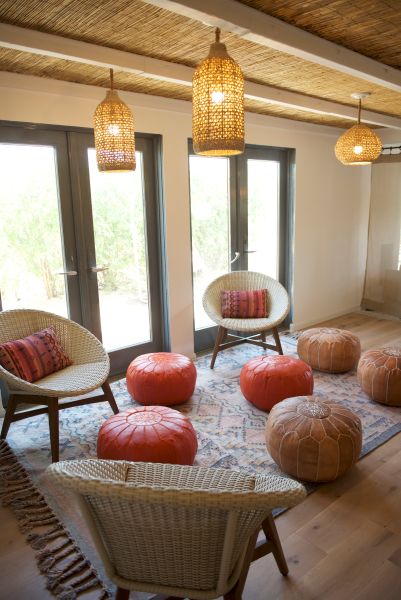 Calissa is a Greek restaurant in Water Mill that opened last summer, but this year they're expanding. Agora is a marketplace-esque space within the building, and it will host a series of designers in a Mykonos-themed atmosphere. So if you can't escape to the Aegean en été, at least you can shop brands like Stephanie Gottlieb, Pared Eyewear and Rochelle Sara in a dreamy setting.
Madewell Instant Summer Tour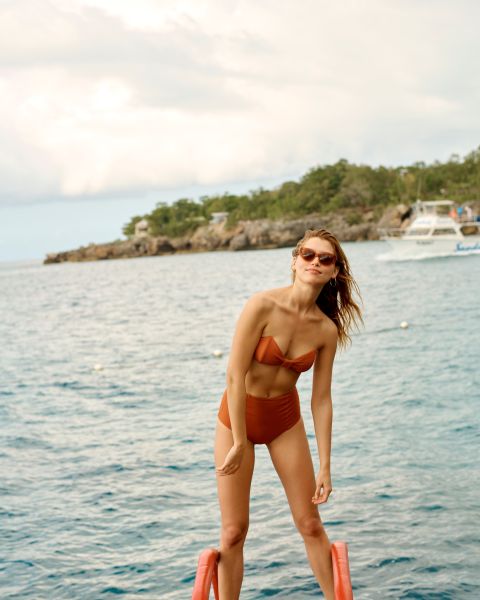 Madewell might have the most unique pop-up in the Hamptons this year. They're partnering with Jeni's Splendid Ice Creams and sending a branded "ice cream truck" to specific locations out east on set days this summer, where shoppers can scoop up sunglasses, beauty products, hats, bags and other items also available in the store. The 'Instant Summer Tour' starts on June 30 in Sag Harbor, before making its way to Amagansett and Montauk. Keep an eye on Instagram for the full schedule.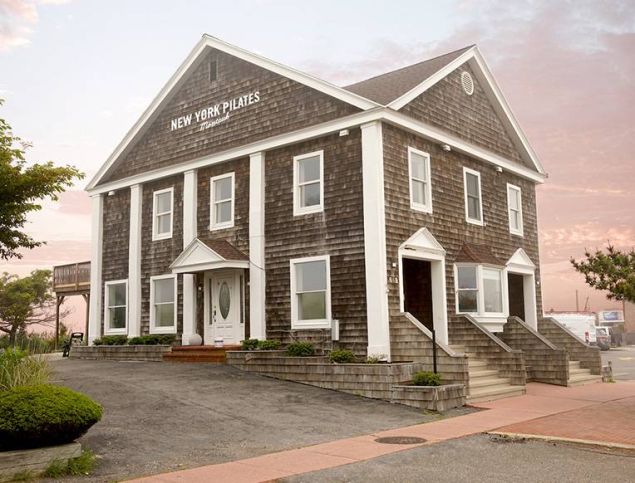 If you were worried Montauk was getting too cutesy, don't fret. This Soho-based gallery has a collection of rare books, art, photography and vintage posters all from the last half century, focusing on pop culture, underground art, punk, beatniks and the like. Founders Johan Kugelberg and Dr. Lila Wolfe launched a new pop-up this year, in a building they'll be sharing with with New York Pilates. Okay, so there's a little cutesy.
Sunset Beach Boutique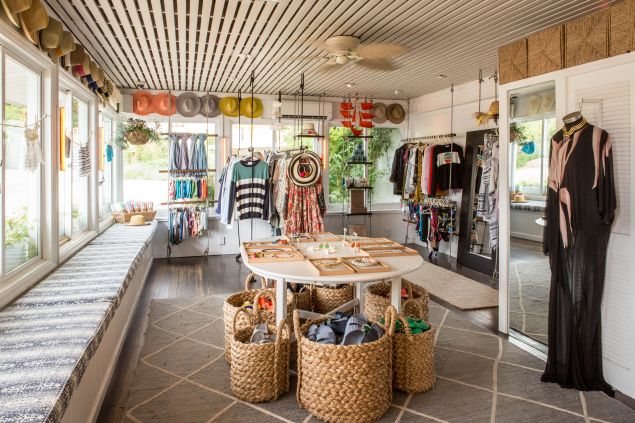 Andre Balazs' St. Tropez-inspired Sunset Beach has been around since 1997, and its meticulously edited beachy boutique isn't new to the scene. What is, however, are the pop-ups. It starts with Oliver Peoples x Marysia June 15 to 17, and Thaddeus O'Neil takes over June 22 to 24, before Merlette's is there July 27 and 29. And really, what's better than sipping rosé, watching the sunset and then perusing a south of France influenced shop? Nothing, really. To add even more French-ness to your summer, on August 11 to August 13, Maison Labiche is taking over. The brand is holding a custom embroidery pop-up, so you can have a custom shirt from the line stitched with your favorite words.
Bluestone Lane Beach Collective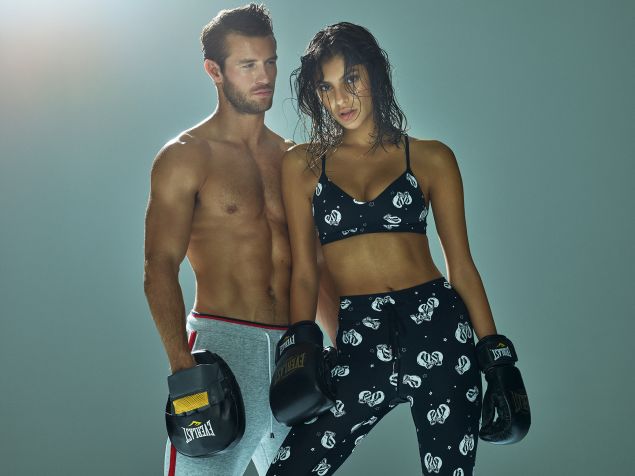 Bluestone is known for their Australian-style coffee and snacks, and this year they are launching a lifestyle concept, the Beach Collective. It's a selection of seven Aussie brands, including Matteau Swim, The Upside, P Johnson, Jasmine & Will, Pared Eyewear and The 5th and Chuchka, with items ranging from swimwear, accessories and everyday apparel.