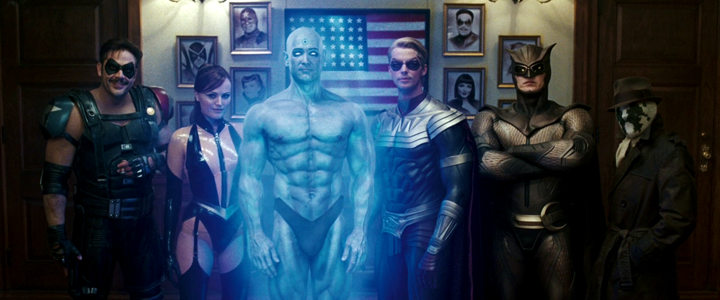 For those of you who have been following the development of HBO's Watchmen adaptation, we've got casting news for you. Get ready for arguments typed out in all caps over the internet!
TheWrap reports that creator and showrunner Damon Lindelof has cast The Leftovers alum Regina King as his lead. Also joining the anticipated but questionable project are Don Johnson (Miami Vice), Tim Blake Nelson (O Brother, Where Art Thou), Louis Gossett Jr. (An Officer and a Gentleman), Adelaide Clemens (Rectify) and Andrew Howard (Hatfields and McCoys).
Overall, that is an odd cast, but one full of talent.
Regina King is fantastic when given good material to work with, which Lindelof is expected to provide after the stellar and criminally unloved The Leftovers. Johnson is a star from yesteryear who has stayed busy but hasn't exactly headlined marquee projects in recent years. Nelson is a quality career character actor, and Gossett Jr., Clemens and Howard are all talented but not exactly "names."
We have no idea what Lindelof is going for here, but then again, we don't really know what his Watchmen series is going to be about either.
In a lengthy and heartfelt Instagram post, Lindelof provided the most detailed description of his adaptation of Alan Moore's classic graphic novel to date.
"We have no desire to 'adapt' the twelve issues Mr. Moore and Mr. [Dave] Gibbons created thirty years ago," Lindelof wrote. "Those issues are sacred ground and they will not be retread nor recreated nor reproduced nor rebooted. They will, however, be remixed."
He chooses "remixed," because "the bass lines in those familiar tracks are just too good and we'd be fools not to sample them."
His version will modernize the content with Lindelof referencing Donald Trump, Vladimir Putin and other current key global figures.
"This story will be set in the world its creators painstakingly built… but in the tradition of the work that inspired it, this new story must be original," he wrote. "It has to vibrate with the seismic unpredictability of its own tectonic plates. It must ask new questions and explore the world through a fresh lens."
While eloquent and descriptive, Lindelof's Instagram post told us jack about the actual meat and potatoes of his show.
Will original characters such as Dr. Manhattan, Ozymandias, Nite Owl, The Comedian and Rorschach appear? It doesn't sound like it, though that remains unknown. It also doesn't seem as if Lindelof is interested in adapting the Doomsday Clock story that saw the United States and the Soviet Union inch ever closer to World War III.
So what the hell will this TV show even be about?
Regardless of the unknowns, anticipation is high for this Watchmen. The source material is beloved, Lindelof is riding a critical high, and the superhero genre is the most popular lane in Hollywood.
Outside of FX's Legion, we haven't really been consistently impressed with any live-action superhero TV series over multiple seasons, so our hopes are high for this one. Bring it home, HBO.