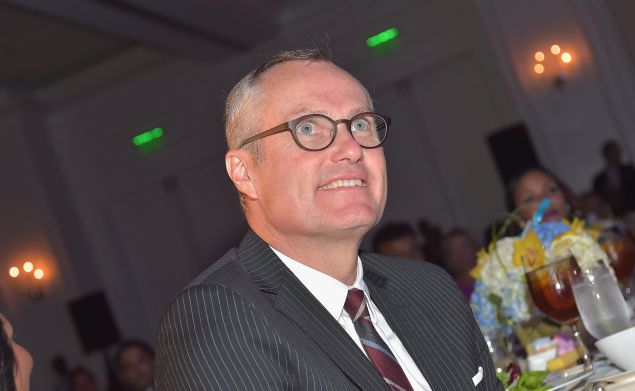 The hotly anticipated gubernatorial race in Georgia drew one step closer to its eventual November conclusion with the results of the primary on Tuesday.
Claiming a huge and impressive majority of the vote for the win, Hillary Clinton-endorsed Democrat Stacey Abrams will compete against an as-yet-to-be-decided Republican candidate. Abrams' challenger will be determined by a runoff in July between Lieutenant Governor Casey Cagle and the Republican primary runner up, Secretary of State Brian Kemp.
In beating out former Georgia House of Representatives member Stacey Evans for the Democratic slot, Abrams offers the prospect of historic change to a state, and a nation, that has never before chosen a black woman to be a major party nominee for governor. In a victory statement posted on Facebook, Abrams thanked her supporters and expressed her belief "that every part of Georgia is brimming with promise and untapped potential."
Cagle and Kemp, on the other hand, are just two of five Georgia GOP candidates who spent the months leading up to the primary using outrageously retrograde media tactics to broadcast their conservative agendas. As many outlets have reported, the gubernatorial primary in Georgia has been and continues to be polluted by Republican candidates who promote overtly racist, xenophobic and exclusionary policies in order to appeal to voters who harbor those same prejudices.
To better understand the conservative movement that has been gaining strength for years and which President Donald Trump's election granted irrefutable legitimacy, it's useful to dissect the ideological origins and media stratagems of this particularly noxious crop of Republican hopefuls for governor of Georgia. Even if Abrams prevails in November, the ideologies that granted her competitors national media attention are nowhere close to evaporating altogether.
Michael Williams, a state senator from Georgia's 27th district, entered the gubernatorial race last summer as an established Trump loyalist eager to further prove his allegiance. When a Cherokee County pre-calculus teacher requested that two of her students turn their "Make America Great Again" shirts inside-out in the aftermath of the deadly Charlottesville rally, Williams staged a protest and released a statement calling for the teacher's dismissal. Williams is also pro-NRA and states on his website that his ultimate goal is to ban all abortions, but his most notorious policy stance is on immigration, which he illustrated last week by kicking off a "deportation bus tour" and vowing to "fill this bus with illegals and get them back where they came from."  The deportation bus campaign video was temporarily removed from YouTube for violating the platform's hate speech policy, which of course prompted Williams to complain that his conservative views were being stifled by left-sympathetic corporations with a suspect agenda.
That Williams finished dead last in the Republican primary hardly matters. His sentiments about sanctuary cities, the right to bear arms, women's wombs, and the supposed suppression of traditionalist ideas can all be found reflected in the campaigns of his party's other candidates, each of whom found slightly different ways to articulate their devotion to conservatism.
This is an unfortunately striking feature of Georgia's gubernatorial primary: The insidious sameness of the men vying for the Republican slot. They represent a sensibility and an agenda that can be traced definitively back from insurgent Tea Party usurpers through to Trump, like DNA passed from parent to child: Bypass dog whistle racism in favor of overt racism, lie unabashedly, and pray at the altar of pure spectacle. Republican candidates across the country are deploying these sort of messages because this strategy often works, despite the growing, retaliatory opposition of an increasingly energized Left.
Williams wasn't the only Georgia gubernatorial candidate to include vehicular transport for "illegals" in his campaign ads. Brian Kemp, Georgia's current secretary of state and one of two Republican hopefuls still in the running, touted himself as the "politically incorrect conservative" choice for voters in his TV spots. In a clip called "So Conservative," he promised that no one would take away his guns and proffered his Ford F-350 to "round up criminal illegals." Candidate Hunter Hill also promised to get rid of sanctuary cities in his campaign.
Abrams' most likely opponent for the general election, Lieutenant Governor Casey Cagle, threatened to get rid of Delta airlines' tax exemption in March of this year after the company severed its relationship with the National Rifle Association. Almost immediately afterward, Cagle followed through on his threat, and the Georgia House and Senate pushed a bill through sans a provision that would have terminated a sales tax on jet fuel.
In other words, Cagle is an established incumbent with a dangerous amount of clout in Georgia politics who is clearly very familiar with the aforementioned prevailing Republican sensibility. Nothing says "pure spectacle" like spewing menacing policy threats and allowing your PR battles to play out on Twitter, Trump's microblogging platform of choice. Oh, and Cagle also says things like "criminal illegal aliens are spreading across the country."
To diminish Abrams' accomplishment would be both disingenuous and poisonously cynical. She won the pivotal Democratic nomination because she championed progressive policy change, focused on communicating with frequently-overlooked minority voters rather than attempting to woo still-on-the-fence Republican constituents, and made sure the tenor of her campaign matched the urgency expressed by those who no longer want to feel politically powerless.
If she becomes governor of Georgia in November, she will have defeated a racist clown car of Republican competitors, each more determined than the last to appeal to voters' meanest, most fearful instincts. The war for the souls of American voters won't conclude with the gubernatorial battle in Georgia, but we'll be watching intently to see what happens next. That's the thing about wars: a shift in morale can make all the difference.