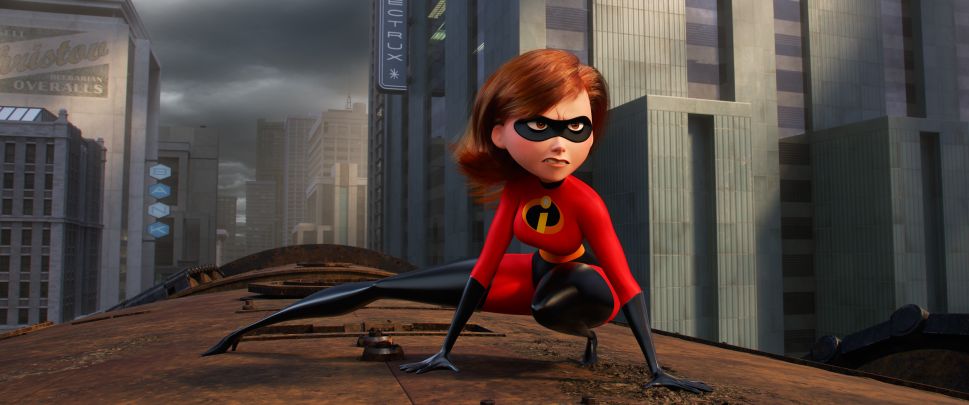 Not sure if you've noticed, but we here at Observer love us some box office predictions, particularly this summer with heavy-hitters such as Ocean's 8 and Ant-Man and the Wasp on the way. But right now, it's time to turn our attention to The Incredibles 2.
The biggest animated blockbuster of the summer, The Incredibles 2 has been 14 years in the making for Disney and Pixar, ever since Brad Bird's original blew audiences away in 2004. That picture earned $70.5 million in its opening weekend—a Pixar record at the time—en route to $261.4 million domestic and $633 million worldwide.
The sequel's trailers have been universally praised, and the movie's promotional campaign has generated widespread positive social media buzz. Though this is a crowded summer with a lot of competition, the current superhero boom may enable The Incredibles 2 to have longer legs than the original. It's shift in focus onto Holly Hunter's Elastigirl/Helen Parr is current with the times, and the lack of tentpole animation over the next few months bodes well for its prospects.
But can the sequel top the original?
According to THR, The Incredibles 2 is tracking for a super opening of upwards of $140 million in North America, which would best the animated opening record recently set by Pixar's Finding Dory. (We love sequels, don't we?) Let's take a look at the best case, worst case and most realistic scenarios based off these early tracking estimates.
UPDATE (7/2): The Incredibles 2 has earned $439.7 million domestically and $646.8 million worldwide as of this writing. The film should easily cross the $700 million mark and, depending on how well Ant-Man and the Wasp performs, threaten $800 million.
Best Case Scenario
As a years-in-the-making sequel to a beloved original, the best comparison for The Incredibles 2 may be Finding Dory, which also owned a mid-June release date during a busy summer. Finding Dory would go on to post a rock solid 3.6x multiplier, while earning 48 percent of its total gross in North American and 52 percent overseas (other recent Pixar blockbusters have posted splits closer to 42/58).
Let's apply those same numbers to The Incredibles 2 and assume it opens to $145 million. That would put it on pace for a whopping $522 million domestic and over/under $1.1 billion worldwide (which actually might be on the light side). The only other wide releases that weekend are Warner Bros.' Tag and Sony's Superfly, both of which could do decent numbers as counter-programing, but neither of which are expected to morph into global blockbusters.
Assuming The Incredibles 2 lives up to expectations and is critically praised, positive word-of-mouth will spread quickly, and kids home from school will flock to theaters.
There will still be hold over competition from Deadpool, Solo: A Star Wars Story and Ocean's 8, but the next big release on the schedule after The Incredibles 2 (June 15) isn't for another three weeks (Ant-Man and the Wasp on July 6). That gives The Incredibles 2—the most four-quadrant family-friendly release of the summer—ample time to leverage the heightened interest in the superhero genre and gobble up ticket sales.
Worst Case Scenario
Perhaps the $145 million opening and Finding Dory comparison is a bit too bullish. After all, that sequel "only" grew its worldwide gross by 8.8 percent compared to Finding Nemo, whereas a $1.1 billion take for The Incredibles 2 would mark a dramatic 74 percent jump from the original. It would be remarkable if DIsney oversaw four billion dollar pictures (Black Panther, Avengers: Infinity War, Solo, The Incredibles 2) in a single year.
Let's say The Incredibles 2 is a letdown from arguably the greatest superhero movie of all time and reviews are mixed-to-negative. Families are still catching the trifecta of blockbusters released ahead of it, and the film just isn't spreading like the studio hoped.
Assuming it opens on the lower end of the tracking estimates (let's say $130 million) and plays like the disappointing Cars 3 (2.8x multiplier), then we're looking at around $364 million domestic. If it earns 48 percent of its worldwide gross overseas, like Black Panther, then it'll be at $700 million worldwide, which is still a win overall.
Even if audiences are suffering from superhero fatigue and after a big opening, it suffers a monumental week-two drop like Batman v Superman: Dawn of Justice and does "just" $300 million domestic, it's still going to beat the original ($261 million).
Most Realistic Case
If The Incredibles 2 opens right on target ($140 million) and posts a similar domestic multiplier as the original (3.7x), then we get $518 million, which seems a bit generous. Perhaps a more realistic stateside target is a rock solid 3.0x, which gets us to $420 million, and if the splits are similar between the original and sequel, we're looking at over/under $990 million.
Realistically, The Incredibles 2 should top the original's take by a wide margin, unless the movie turns out to be shockingly front loaded. Anywhere between $750 million and $1 billion seems do-able at this early juncture.