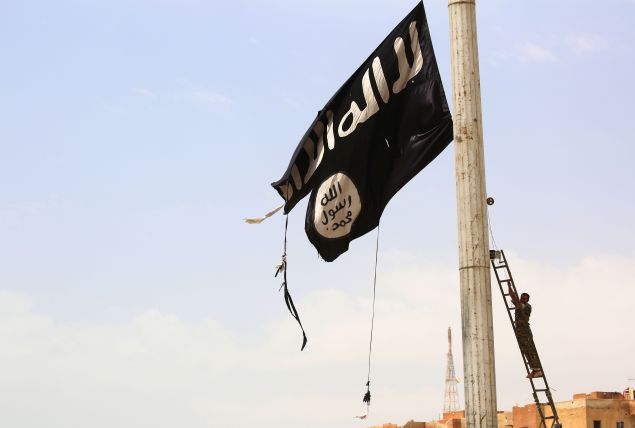 To most Muslims, the holy month of Ramadan is a time for prayer, charity and fasting. But to dyed-in-the-wool jihadists and fanboy lone-wolf wannabes, it's a time to get cracking on their attack plans—fast.
Ramadan begins tonight, and if previous years are prologue then the world is due for an uptick in terror attacks—thanks to the guarantees from terror henchmen that holy-month killers get extra paradise points. While some declare ISIS to be on-the-run, defeated or "giving up," it's important to remember that terrorists may be down but they're not out. Remember when the last administration wrongly branded al-Qaeda as "decimated"?
And, due to a widespread crew of supporters, ISIS has the means and motivation to make it a miserable month.
On the first day of Ramadan last year, ISIS gunmen opened fire on a bus of Coptic Christians in Minya, Egypt, killing 28. Four days later, as families were breaking the day's fast at a popular ice cream parlor in Baghdad, an ISIS car bomb detonated next to the outdoor seating, killing dozens. On May 31, 2017, a massive truck bomb detonated at a busy Kabul intersection near the German embassy, murdering more than 150 people. Afghan security services blamed the Haqqani network in the vicious attack that carried such bad PR fallout for three local terror groups—Haqqani, the Taliban and ISIS—that they either stayed mum on the subject of responsibility or denied it.
The Ramadan spree continued into last June, with eight terror attacks around the world on the first day of the month alone. On June 3, eight people were killed when a van plowed into pedestrians on London Bridge and continued to Borough Market, where ISIS loyalists on steroids began stabbing people. On June 20, a suicide bomber was shot by police in Brussels Central Station before he could set off more than one explosion. The next day, Amor Ftouhi stabbed a cop in the neck at an airport in Flint, Michigan; he had tried to buy a gun twice before the attack but was turned down.
The bloodiest month of Ramadan attacks was in 2016, including the Pulse nightclub mass shooting in Orlando, the bomb-and-shoot attack on Istanbul's international airport, and the attack on a café popular with westerners in Dhaka, Bangladesh—a gruesome siege in which hostages who could not recite the Quran were tortured and murdered, including three American college students. In 2016, 49 killings in the U.S. were attributed to Islamic extremists. In 2017, that number dropped to nine deaths. It's a different landscape now, but not necessarily less insidious or lethal.
This Ramadan, the threat can be viewed as cornered remnants driven to go out with a bang, or ISIS as an evolved terror outfit with freelance operatives adjusting to the new turf but not neglecting their favorite attack month.
ISIS' Rumiyah magazine is one of the caliphate components that no longer exists—just like their "capital"—but it was a central driver of Ramadan attack messaging last year. Killing during Ramadan racked up jihad points, the publication advised, to "maximize the benefit you receive on the day of judgment."
ISIS still publishes a weekly newsletter and releases officially branded videos, photos and statements, but a corps of online volunteers with twisted minds, blind loyalty and dope photo-editing software has picked up the task of creating and distributing posters urging attacks. "Weapon of choice: AR-15," declared one such poster from an ISIS-supporting media group in February, showing blood dripping from the Mandalay Bay hotel. "Festivals and large gatherings. Select a high place. Kill them all." It's simple propaganda for simple minds, with a slavish mission to incite.
These kinds of messages are heard. The Texas high school student charged with plotting an attack at a local mall—a recent convert, following the jihadist pattern of a marked change in the degree of religious observance—allegedly wanted to conduct the mass killing during Ramadan so that fewer Muslims would be caught in the crossfire.
Whom do we have to fear? The terror groupies who think they can be on the cusp of an ISIS revival. The seasoned members operating alone or in a cell who activate in new territory to declare ISIS 2.0. The wannabes who have gorged on years of internet saturation from al-Qaeda, ISIS and other terror groups, and will pick and choose the best tips to conduct the most unexpected, lethal attack.
Unfortunately, the pre-season attacks began with Saturday's stabbing spree in Paris, committed by a young Chechen, and a string of attacks in Indonesia with a disturbing common denominator: the family that bombs together. Three churches were attacked by a family of six in Surabaya, including the mother taking her 9- and 12-year-old girls with her, followed by a home bomb-making accident in a Sidoarjo family's apartment late Sunday, and Monday's attack on a Surabaya police station by a family of five.
Lulls in terror attacks don't happen because of a lack of fantasizing. For some would-be terrorists, Ramadan gives them that nudge from thought to action—no caliphate necessary.
Bridget Johnson is a senior fellow at the Haym Salomon Center, managing editor at Homeland Security Today, and Washington bureau chief for PJ Media.