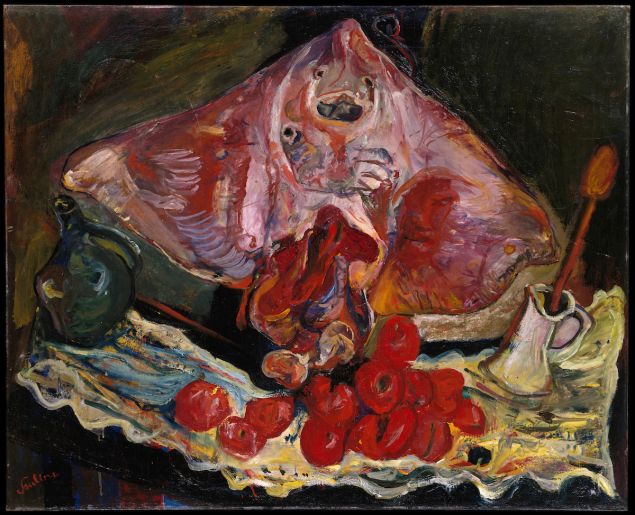 The title of the show at the Jewish Museum is "Chaim Soutine: Flesh," and the carcasses and slabs of meat on view, rendered in paint, will conjure up everything from scarring childhood visits to the butcher shop to the work of Rembrandt—another artist who could paint meat as well as he could paint saints. Better, some might say.
Before I entered, I asked a question that seemed appropriate, given the way that museums these days seem to tie whatever they're shilling in the gift shop and restaurant to the art on view.
"Would there be steak at the restaurant?" I asked.
Not at this museum. "It's a dairy restaurant," said a man behind the desk of the Russ & Daughters outpost downstairs. "If he had painted a bagel, well then…maybe."
Fair enough.
You step through the door with the exhibition title stenciled in a meat market motif, and the first image you see is a raw fish on a table with vegetables. From 1924, it's a still life—nature morte, or dead nature, as the French would say—and it's a composition that has more to do with Dutch painting from the 17th century than with Paris or with anything that Soutine saw as a young man in Belarus.
At the other end of the room is another still life, Fish, Peppers, Onions, 1919, with red peppers spread on what looks like an oyster shell in front of a broken duck-shaped vessel in viridian green with its head dangling in front. It's an odd collection of elements. There are two scallions that look like chicken feet and a long wooden spoon. Ordinary objects here have an extraordinary presence.
Soutine isn't a household word in the way that many of his peers are. Consider Modigliani, who was ten years older and painted his young friend's portrait. Soutine mostly painted slabs of beef rather than reclining nudes or serene young women. If the suave Dante-quoting Modigliani spent each night with a different girl, the painfully shy Soutine, who struggled in French with a Yiddish accent, would sit for days looking at a slaughtered chicken. But ask artists which of these painters they prefer, and it's likely to be Soutine.
So why hasn't he become a household name in the same way? It's probably because of the beef. It's not all that Soutine painted, but he certainly had an affinity for dead animals over much else. And, for many, as skillful as they are as works of art, it's not so appealing to have raw meet hanging in your board room or over your dining room table.
These pictures are about more than the brutality of slaughter, though. The arouse your curiosity—could a duck's neck really end up at such an angle? And they touch your emotions. There's a universality in the plucked chickens hanging from a string in the next room, and in the eyes of the ray on the table that greets you. The animals are standing in for us.
When you get to the huge sides of beef later in the exhibition—which drove Abstract Expressionist artists agog when MoMA put them on view in 1950—you can see why artists envied what Soutine could do with paint. The much-admired Francis Bacon would have been near-impossible without Soutine. Leave it to the Jewish Museum to put Bacon in his place.
The influence on Bacon feels literal in those mute slabs of meat. The influence on the Ab Ex painters is more oblique. Soutine was a figurative painter, after all. But the light on bird feathers and on raw flesh is incandescent. The surrealists had a word for it—the exquisite corpse—only Soutine painted it better.
Turn a corner, and Soutine is deepening his own vocabulary. In Plucked Goose, 1933, you see a bird with its neck broken. The few white feathers that remain on it are delicate but thick impastos of paint. Two of the organizers of this exhibition, who curated a 2014 Soutine show at Paul Kasmin Gallery called "Death in Life," quoted the writer Andrew Forge, who said, "you have the feeling that Soutine is inventing painting as you look." You certainly feel that here.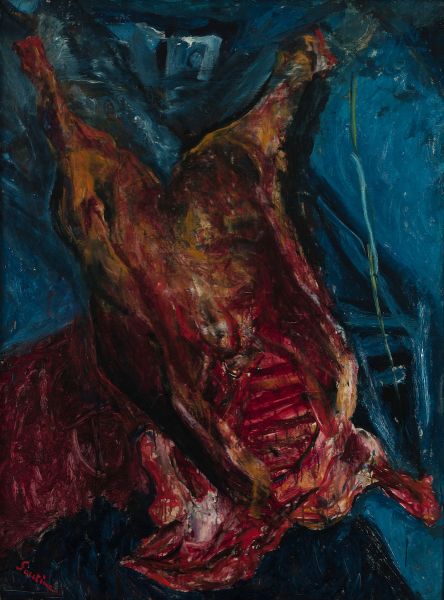 While the pictures will knock you out without any back story, the biography tells you something more. Soutine was the second youngest of eleven, born to Jewish parents in what was then Lithuania, now Belarus, near Minsk. He left a life of poverty and persecution for Paris, where he huddled in cheap housing with other immigrant artists.
The American collector Albert Barnes was overwhelmed by Soutine's paintings, which reminded him of Cezanne. He bought dozens of pictures, even though the smallish Soutine was anything but charismatic when he met the rich American, smeared with paint and whatever he had eaten in the previous week. (Soutine himself wasn't much to look at, even in his self-portraits, although Modigliani's rendering made him look half-way handsome.)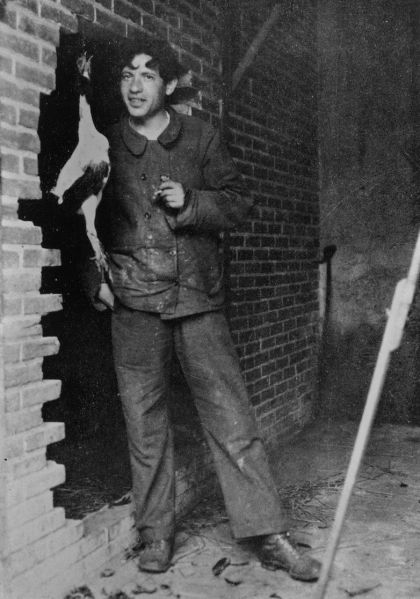 Feel free to argue with Albert Barnes's eye, or with Picasso, who walked with Soutine's funeral procession in 1943 after the artist died in a Parisian surgeon's office of stomach ulcers. He sought treatment there after being turned away by a hospital in the Loire Valley, where he'd been hiding from the Nazis. It took 24 anguishing hours for his ambulance to make the trip to Paris.
There is one painting at the Jewish Museum show from July 1943, a month before Soutine died. It's a landscape, dense and dark green, a thick forest that echoes Corot and Courbet.  Is Soutine immersing himself in that environment, trying to disappear into the styles of artists who influenced him? As always, he has more than one thing going on.
By 1943, Soutine the immigrant at 50 was as much a French painter as anyone. That last picture is about belonging, as much as it is about disappearance. His work survives to remind us of that.