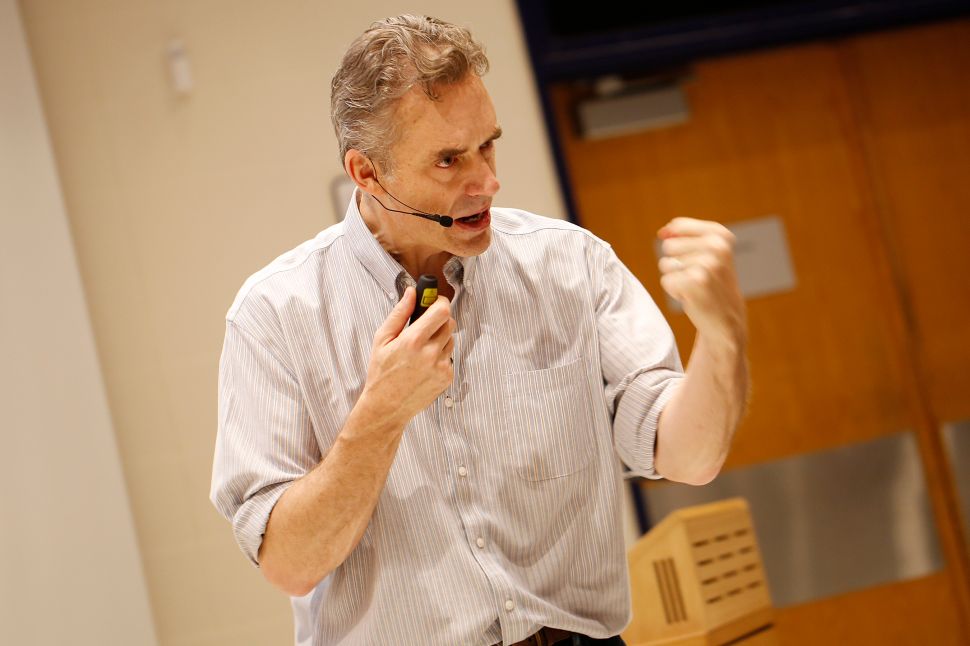 Jordan Peterson added two new characters to his traveling roadshow of male disenfranchisement: dragons and witches.
The Canadian psychologist-turned-Red Pill Super Saiyan evoked the mythical creatures in an interview with The New York Times published on Friday. When asked why ancient myths should justify male hierarchies—a regular theme throughout the psychologist's work—Peterson freewheeled on the residential trends of witches.
"It makes sense that a witch lives in a swamp," Peterson told the publication, seemingly out of nowhere.
When confronted with the possibility that witches don't exist, or live in swamps, the men's guru doubled down by adding dragons into his explanation.
"Yeah they do. They do exist," explained Peter. "They just don't exist the way you think they exist. They certainly exist. You may say well dragons don't exist. It's, like, yes they do—the category predator and the category dragon are the same category. It absolutely exists."
"It's a superordinate category," he added. "It exists absolutely more than anything else. In fact, it really exists. What exists is not obvious. You say, 'Well, there's no such thing as witches.' Yeah, I know what you mean, but that isn't what you think when you go see a movie about them. You can't help but fall into these categories. There's no escape from them."
Here we have a modern take on the timeless philosophical conundrum of a falling tree making noise in an empty forest: Are dragons and witches real if they do not physically exist, but are immortalized in our minds and our culture?
Peterson says they do, and gets paid a lot of money for touting this philosophy.
The Times reported that he takes in $80,000 per-month just on donations from his YouTube channel alone. His book published earlier this year, 12 Rules of Life, has since sold more than 1.1 million copies. One fan on Twitter posted a picture of his receipt for a $210.00 "VIP" meet and greet in Milwaukee.
Having conquered capitalism, Peterson is wary of its alternative. The Times notes that Peterson has covered his home in communist propaganda from the Soviet Union (including depictions of executions) as a "constant reminder" of "atrocities and oppression."