At a time when astronomical amounts of money are being spent on single works of fine art, there's something to be said for the people trying to make sure that those who love art understand the business behind it, and that those who see it as good business also learn to appreciate art.
The Royal Academy of Arts in London recently has entered this field with a master's program in what it calls "cultural leadership," a one-year full-time degree program—costing £34,000 ($45,700)—that seeks to combine knowledge of "art business and cultural management" with a critical perspective of "the history of art and culture." It now joins Sotheby's Institute of Art and Christie's Education in providing master's degrees in the niche field of arts business management.
An institution with a dual role of educating (through their free, three-year, small-intake studio program) as well as exhibiting art, with an all-year-round schedule of highly regarded shows from across history, this represents something of a change for the 250-year-old establishment. This is the first master's course the academy will offer, and its first foray into talking about the business behind the passion that has, up to this point, fueled its existence.
"We want to train the people who will be heads of cultural institutions," Dr. Anna M. Dempster told Observer. Currently in charge of academic programs at the Royal Academy of Arts, she will co-direct the program in cultural leadership. The aim is to "create ethical, sustainable institutions of the future." Among the areas of training, referred to as "modules," she noted, are courses in collecting and collections management ("how museum collections are formed and how they affect the culture"), the meeting of art and law, new technology and its effect on museums, and personal leadership ("who you are as a leader, and how you drive forward an idea").
The first cohort of 20 students will begin taking classes in October at the Royal Academy in London, as well as at Maastricht University in two locations (the Netherlands and in Brussels, Belgium). Dempster noted that, based on accepted applicants, half of the students are already working in the arts or nonprofit field, seeking a degree to "take the next step in their careers," while the other half are seeking a career change, such as accountants and lawyers.
She stated that her program specifically seeks a "mix of backgrounds, nationalities and genders," separating it from its counterparts at the auction houses where the vast majority of students are young women. Additionally, a requirement for applicants is that they have a minimum of five years of working experience, which distinguishes the Royal Academy's program from that of Christie's and Sotheby's, many of whose students enter their programs directly out of college, she claimed.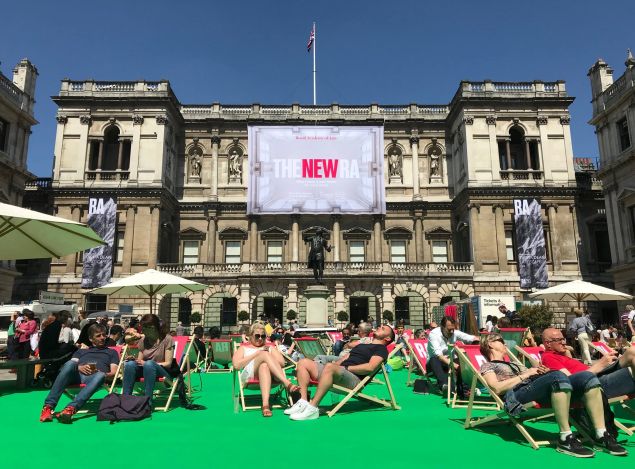 If there is a benefit to the arts and culture industry, the Royal Academy's new graduate program also may serve the institution itself, according to Tim Marlow, director of artistic programs. "It will help develop and expand the cultural and intellectual life of the Royal Academy," a historically artist-run organization, "and generate some needed revenue through tuition." To be sure, this addition to their roster raises the question: is the academy dipping its toe into the master's game to service a lack they see in current education, or more to get a corner of the lucrative market that has seen an explosion of specialized master's programs in recent years?
But, of course, it's probably a bit of both. There's very little educational competition out there in this specialization except for the Sotheby's and Christie's programs, and graduates of those are populating the art world. Laura Hyatt, manager of annual giving and membership at the Hammer Museum and a 2011 graduate of Sotheby's Institute, noted that several of her fellow employees at the museum received degrees from the same program. "There is a shared understanding of how things work and a shared vocabulary that we all have," she said.
Perhaps also a shared conversation point, paying off their loans. Hyatt noted that tuition in 2011 was "$55-60,000, I don't quite remember," which she took out a loan to pay for and is still doing so. (The current cost for Sotheby's 17-month program is $79,125 for tuition and fees, $62,675 for Christie's two semester-long program.) Then, there was the cost of living in New York, which required her to work as a nanny during this period. Still, "I always wanted to work at a museum, and that was my goal when I went to Sotheby's."
Paying off graduate school can be a career in itself. Erin-Marie Wallace, a 2006 graduate of the Sotheby's Institute who started her own auction house and art appraisal company in Tarpon Springs, Florida, still has more paying off to do. Still, she does not regret her decision to have earned the degree. "The name recognition of Sotheby's is like Yale or Oxford in other fields," she said. The Royal Academy can likely count on its own prestige to do the same.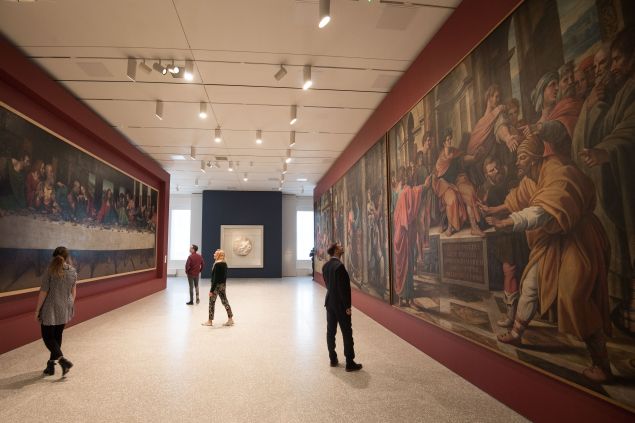 There are alternatives to these programs, though. A different form of arts and business degree program, arts administration, exists on the master's level at more than 150 universities around the country. Some of them award master of fine arts or master of business administration degrees, but all teach leadership skills, management, entrepreneurship, cultural policy and other requirements for joining or leading an arts organization. The price of these mostly two-year programs is not much less expensive than those offered by Christie's, Sotheby's or the Royal Academy of the Arts. The tuition for Boston University's arts administration graduate degree program is $26,408 per semester, with about $500 in additional fees, while Columbia University's School of the Arts charged $29,364 per semester in the school year just past, adding another $5,000 in fees, or a total of $63,961 for the period of September to June. Some of the same schools offer certificate programs in fundraising or management, which are a bit less pricey but may not be as esteemed as highly by prospective employers.
Of course the least costly, if longer, option is something more akin to trial and error. I.e., people have been obtaining careers in these fields long before master's degrees were par for the course, and there are still ways to work your way into a position with good old on-the-ground experience.
Still, it's undeniable that these degree programs open some immediate doors. Jane Hay, international managing director of Christie's Education, claimed that over 75 percent of its graduates are employed within six months. "The most popular career destinations are the auction house and the gallery, followed by further education, appraisal and advisory, not for profit, and finance in that order," she said. "Another 20 percent elect to use their qualifications in other ways."
Given the steep price of admission, it's no wonder that these grads are seeking out the more lucrative areas of the arts in which to pursue a career, rather than the nonprofit sector. But then, the point of these courses is so that those dealing with the big bucks have a well-rounded background in the arts. Call the academy's new program an effort in blending worlds.