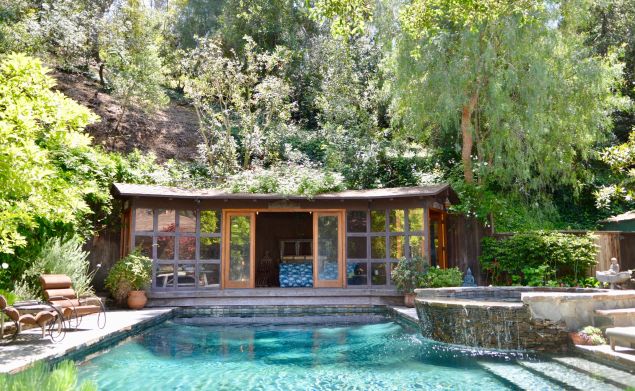 Lucy Liu is switching up a few of her usual mainstays right now. Along with her new blonde hair, the actress is also selling her longtime Studio City house, which she has referred to as her "retreat."
The artsy craftsman-style home is right in Fryman Canyon, with a Zen-like aesthetic that includes lots of trees, stone patios in the backyard and an outdoor cabana that now looks more like a meditative space you'd find in Big Sur—but in a good way.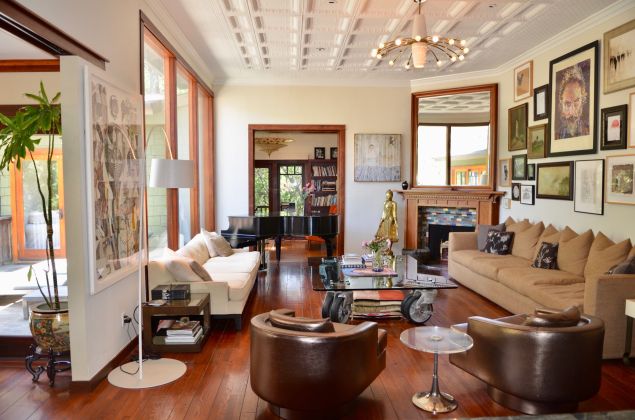 Liu bought the property for an undisclosed amount from Academy Award winning actress Patricia Arquette in 2001, reports Variety. Perhaps she was treating herself to a new abode post-Charlie's Angels, which came out the year before.
The four-bedroom, five-bathroom estate is now on the market for $4.2 million, but it's likely Liu hasn't lived here full-time in quite a while. She's been starring as Dr. Joan Watson on Elementary since 2012, and the show, which was recently picked up for a sixth season, films in New York.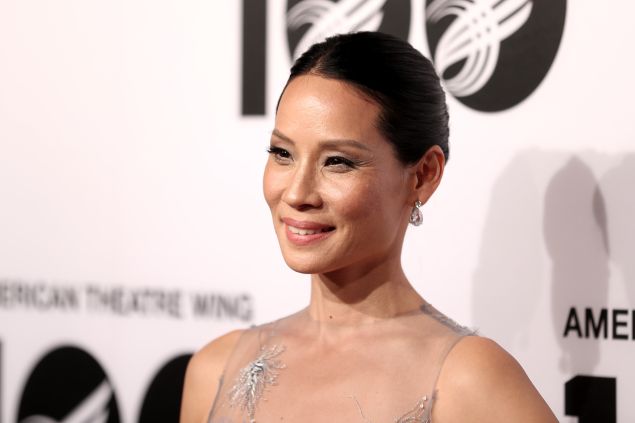 In fact, Liu successfully rented out the house for $12,000 a month in 2013, so we're not sure why she'd want to permanently part with the 4,098-square-foot abode now. Maybe the Queens-born actress found a different residence on the West Coast, as five years ago, she said that she keeps a place in Los Angeles for when she goes "out there for awards shows and reconnect with everybody—it's a time capsule. It's where I learned how to be on my own."
The two-story home, which was built in 1959, does feel quite retreat-like. The kitchen floors and many of the walls are laid with handmaid tiles, as is the breakfast nook. The ceilings in three of the bedrooms are composed of vintage copper and nickel tiles, according to the listing held by Compass broker Douglas Hunter.
There's an intricately designed fireplace in the sitting room, as well as built-in bookshelves—at present, it's neatly filled with number of small car models.
Italian leather panels adorn the walls of the master suite, which also has access to the backyard through sliding glass doors framed in wood. There's also a sun room, windowed dining room and a den that opens outside.
The pool and jacuzzi are surrounded by grey stone, but the most fun feature might be the "secret garden," which in actuality is a slightly hidden, floral and fauna-filled area that but we're very into.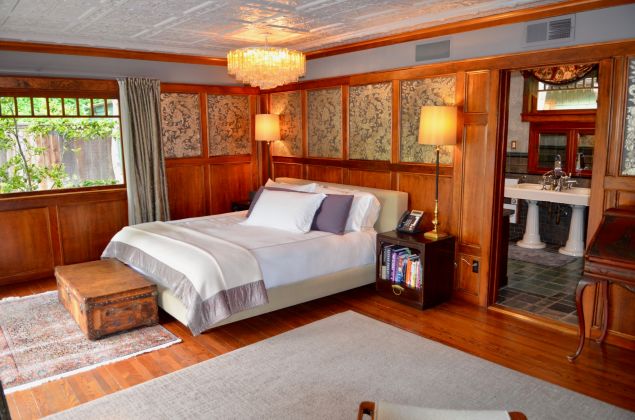 We were unaware Liu was such a biking enthusiast, but her garage tells otherwise—it's filled with multiple bicycles as well as a motorcycle. Perhaps Leonardo DiCaprio should look into this, due to L.A.'s lack of his beloved CitiBike.
When Liu sells the property, she'll have to say goodbye to her neighbors. George and Amal Clooney own a home in the area, as does Teri Hatcher. Well, Hatcher is renting out her house, but let's all remember that does not mean she is homeless nor living in a van.