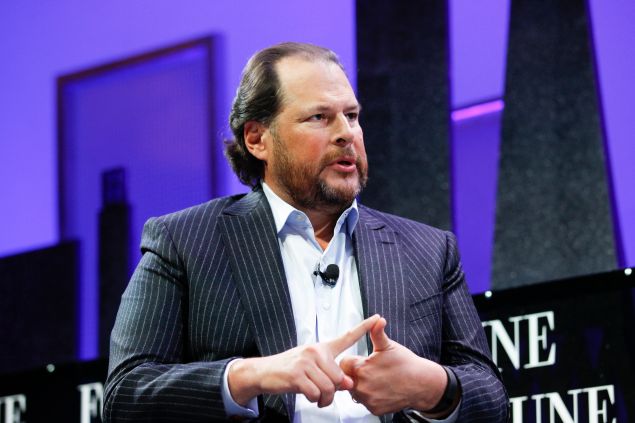 Here is Marc Benioff, the CEO of San Francisco-based Salesforce, the cloud-computing behemoth with a market cap of $90 billion. Benioff is holding hands with San Francisco Mayor Mark Farrell as a prayer is incanted during the ceremonial opening of the conical, vaguely phallic 61-story, 1070-foot skyscraper—the tallest such monolith west of the Mississippi—that now bears the name of Benioff's company.
I live in San Francisco, where Benioff is one of more than 70 billionaires who also call this city home. Unlike the others, Benioff has taken on the role of modern-day civic patron saint. He is a font of civic-minded wealth. Benioff's name is on the children's hospital to which he donated $200 million, he trolls other billionaires who only give small fractions of their wealth away, and he has pledged to solve family homelessness by 2019.
All this was on display last Tuesday, during Benioff's speech at the tower's grand opening. Salesforce Tower is a glaring incongruity. Here is an iconic new structure, capped with a nine-story art installation, in a fabulously wealthy city that has more homeless people than all of the United Kingdom, a street-life situation dirtier and more desperate than Mumbai's, and record inequality. This is bad and everybody knows it. Marc Benioff is special, a unicorn among billionaires because he makes a point of acknowledging the "grinding poverty that exists in the shadow of this very building," and used his grand moment to announce plans to raise another $200 million to fix homelessness.
Polite applause ensued, from Mayor Mark Farrell and all the other very important people gathered there, all of whom are fully, painfully aware who the most powerful person there was, and why. It is Marc Benioff, and it is because he has a stupendous amount of money. He has money that the city cannot hope to raise by itself by taxing people in Marc Benioff's tax bracket. And so there's Mark Farrell, holding hands with his city's sugar daddy, squeezing hard and hoping for the best.
Let me be clear. I have really nothing bad to say about Marc Benioff the dude. Overall, he seems pretty good! He paid $7 million to buy a Hawaiian relic so he could donate it to a museum. He hired a "chief equality officer." He looks like Orson Welles playing Sir John Falstaff in Chimes at Midnight, but in a rakish, undebauched, do-gooding youth. And, yes, he gives a lot of his money away—lots and lots and lots of it—and calls out other billionaires, like Mark Zuckerberg, who don't. I have friends and former colleagues who work for his company, where they enjoy excellent pay and benefits.
There's no doubt about it: Marc Benioff is one of the good ones. We should be so lucky to all enjoy such a billionaire in our cities—and that is the problem. My city is obviously and heavily reliant on Marc Benioff's goodwill and checkbook to solve the problems it cannot afford to fix. Marc Benioff represents a complete civic capitulation to capital, an undemocratic admission that what we need isn't a great society, but a great king willing to pay for it.
If a city is lucky, it will have a good billionaire, a mogul who cares about public schools and public transit. If a city is not, or if it is graced with a rich person without such values, it will suffer. The billionaire giveth, the billionaire taketh off to Davos without paying for some iPads for the local middle school. Blessed be the name of the billionaire.
Other cities grasp this. Look at the stampede of cities willing to contort their tax codes into company-town knots in an effort to woo Amazon. This is not great. It is bad. This is a clear a sign as any that there is a hierarchy in our supposedly democratic society, that all Americans are not equal. And it's also extraordinarily bad policy. It's profoundly fickle. What happens if Marc Benioff changes his mind, has a bad day, or is supplanted with someone with even more money and fewer scruples? What if Salesforce collapses? What if Benioff's heirs don't share his values?
This is the 21st-century hereditary nobility, with a cult resembling 18th-century monarchs' belief in divine right to match.
Benioff, you will hear, gives the lie to the socialist's maxim that all obscene wealth is inherently and obscenely bad, and that there can be an alternative to class warfare, if only the man at the top would loosen his grip and let fly our way a few scraps to solve the problems we can't afford to fix ourselves, with our limited civic budgets.
There is a point here. Look at the alternatives. Peter Thiel is grotesque, misanthropic, and unapologetic about it. His former business partner Elon Musk is a classic narcissist, with his very own cult of personality—witness the online mob summoned to defend his companies from scrutiny—and a current, ongoing demonstration that he could be even more sinister than his old buddy Thiel.
But Marc Benioff? Did we ever luck out! This is a billionaire you want around. If only there were more Marc Benioffs, maybe we wouldn't have homelessness or the other features—not bugs—of an economic system that allows a select few to amass a criminally disproportionate share of the world's resources, riches they hoard when not using them to literally wall themselves off from the rest of us.
A few years ago, the alt-weekly I ran at the time published a satirical item on April Fool's Day, jesting that Benioff had acquired the naming rights to the entire city. Benioff took it in stride, retweeting the prank to his followers and even briefly changing his Twitter profile's header to the bad Photoshop we made, putting the Salesforce logo over prized civic institutions. Now, the "joke" makes me physically ill. It is happening.
Marc Benioff, pleasant a chap as he may be, is the exception that proves the rule. Marc Benioff is a benevolent and kind feudal lord. He is still a feudal lord, a clear signal that the system has failed and that we are helpless without an angel investor—in our democracy.