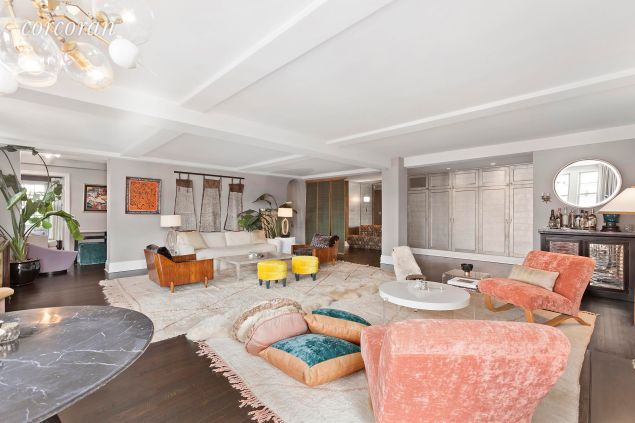 Two years ago, Marisa Tomei decided to show off her eclectically decorated Greenwich Village apartment in a magazine spread. It was easy to see why she'd want to display the result of years of renovations, with envy-worthy features like a massive great room, multiple fireplaces and even outdoor space.
It turns out that Tomei's elegant abode was a long time in the making—the Brooklyn-born actress has owned an apartment in the building since at least 1994, according to some well-hidden property records. It's not clear how much she paid for the unit back then, but it was just two years after her Academy Award-winning turn in My Cousin Vinny.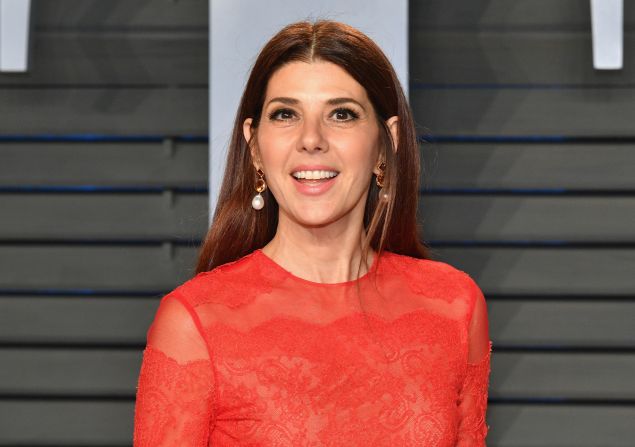 So Tomei must be sad to finally be saying farewell to building, after her lengthy tenure, but she's listed the two-bedroom, two-bathroom residence for sale, asking $7.5 million.
The current configuration is the result of a two-unit combination, as she informed Elle Decor in the aforementioned interview. Tomei lived every New Yorker's real estate fantasy—a while back, her next-door neighbor slipped a note under her door informing Tomei they were moving and asking if she wanted to scoop up their apartment. Of course, she jumped at the chance. After a little sleuthing, it appears Tomei paid $602,500 for the adjacent condo in 1997.
Unfortunately for Tomei, the renovation process wasn't easy, and she put it on hold for a bit when she moved back to Los Angeles. She eventually returned, and finally completed all the work on the 2,265-square-foot abode.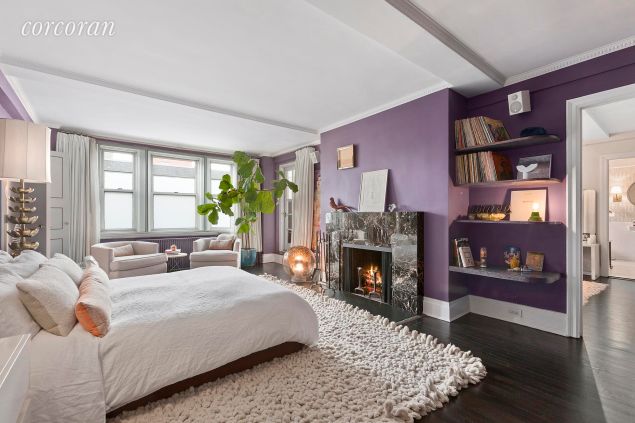 Tomei transformed her original living room (with a wood-burning fireplace and a private terrace) into her master suite, and also managed to achieve a true Carrie Bradshaw closet—she turned her former bedroom into a 200-square-foot Sex and the City–esque dressing room.
The living area has another wood-burning fireplace as well as beamed ceilings, per the listing held by Corcoran broker Frank Castelluccio. The space is filled with Moroccan rugs, vintage light fixtures and flea market finds, mixed with high-end pieces like a custom cocktail table and Milo Baughman chairs. The eat-in kitchen has subway tile counters and backsplash.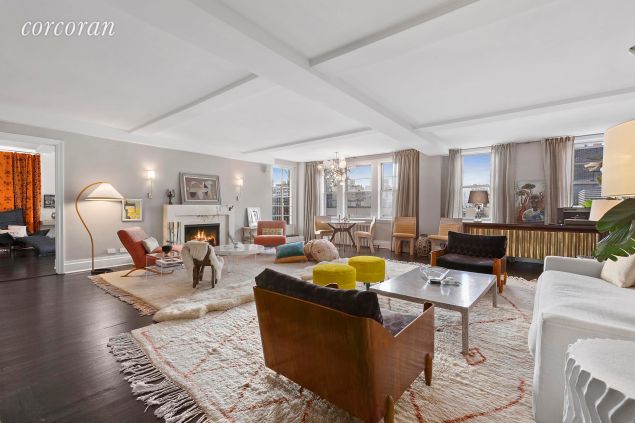 While Tomei might be one of the longest-term residents in the building, she's not the only famous face to once reside within the Emory Roth condominium—Cameron Diaz owned a unit until 2016, and Jimi Hendrix reportedly stayed in the apartment just down the hall from Tomei's after his 1969 Woodstock performance.
We don't know where Tomei is planning on moving next, but it's likely she'll keep a place in New York—she's said she likes to maintain an apartment for her work on Broadway. Perhaps her comments from four years ago will come to pass—she said she would "like to move to Brooklyn." We could be seeing her in Williamsburg next.