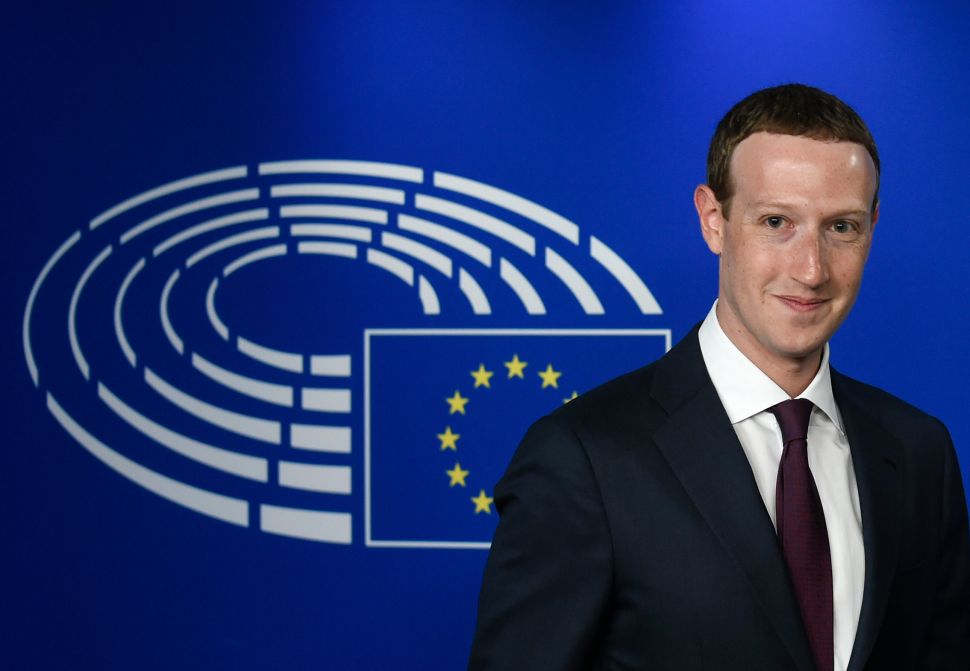 Mark Zuckerberg brought American answers to a European fight.
For the second time in six weeks, the Facebook CEO appeared in front of a governmental body to apologize for his company's improper handling of data.
But today, instead of the elderly members of the United States Congress, Zuckerberg faced the European Parliament. And this group did their research.
The 34-year-old executive repeated many of the same points he had made in Washington, D.C. during his opening statement. He said his company wasn't adequately prepared for the threats of Cambridge Analytica and Russian interference in elections.
He also highlighted Facebook's work in Europe. Over 400 million people on the continent use Facebook, along with 18 million small businesses. The company will also employ 10,000 people in 12 European cities by the end of 2018.
Zuckerberg further said safety was paramount to Facebook in Europe and around the world. The company shut down 30,000 fake accounts during the French presidential election last year, and it also restricts apps from getting data once people haven't used them for three months.
But none of these issues have distracted from Facebook's main mission, which Zuckerberg said was "to bring the world closer together."
That wasn't enough for many members of Parliament, however. They asked Zuckerberg tough questions which proved that they (unlike many of their American colleagues) understood Facebook's business model and were dissatisfied with it.
In some ways, this isn't a surprise: European officials have been forced to get familiar with online policy because of the General Data Protection Regulation (GDPR). This law, which gives European citizens control over their online data, goes into effect on Friday.
As such, several Parliament members asked if Facebook was prepared to comply with this regulation, and Zuckerberg affirmed that it was.
But the questions got more complicated from there. Here is a selection of the committee's inquiries:
Is Cambridge Analytica an isolated case, or tip of the iceberg? Can you guarantee that another scandal will not happen?
Can you guarantee EU elections are safe?
Will you cooperate with European antitrust authorities?
Will Facebook be systematically and publicly releasing data on political advertising?
Will Facebook commit to eradicating fake accounts and prevent the creation of new ones going forward?
Is Facebook a neutral platform?
Will Facebook commit to pay taxes where it operates and not channel through tax havens?
Does Facebook follow up to ensure companies comply with data deletion requests?
These questions were deeper and more thought-out than the queries from members of Congress, who sometimes seemed to fundamentally misunderstand Facebook's business model.
But that's also likely the reason why Zuckerberg's answers to the European regulators were so unsatisfying.
He repeated many of his usual platitudes about how online security needs had changed since he started Facebook in his dorm room. He said Facebook's algorithm to catch inappropriate content was now proactive instead of reactive.
"Hate speech, bullying, terror and violence have no place on our services," Zuckerberg said.
He also outlined Facebook's approach to fake news. The site removes sensationalist spam content, which theoretically discourages spammers and takes away their profit margins.
But it also deals quickly with fake Facebook accounts. Zuckerberg revealed that Facebook had taken down 580 million fake accounts in the first quarter of 2018. Most were removed within minutes of being registered.
Zuckerberg also outlined the artificial intelligence tools Facebook is using to prevent future election interference and said the site was free of political bias.
"We are committed to being a platform for all ideas," he said. "We have never and will not make decisions about what content is allowed on the basis of a political orientation."
He also affirmed that Facebook as a company supports common sense legislation like GDPR.
"Some sort of regulation is important and inevitable," he said,
However, Zuckerberg pushed back on the idea that Facebook had to be regulated specifically because it's a monopoly.
"We exist in a very competitive space," he said. "It feels like there are new competitors coming up every day."
These simple, rehearsed answers faced some pushback in Congress, but the resistance was even greater in Parliament.
One main reason was the format of the hearing.
When Zuckerberg appeared in front of Congress, each lawmaker asked him questions one by one, and he answered them one by one.
But in Parliament, all of the members asked their questions first, and Zuckerberg had to respond to them as a collective group. That naturally made it more difficult for him to parse specifics.
"I asked six questions, and he didn't answer any of them," one Parliament member said into his mic, not realizing the problem may have been that he asked six questions.
Parliament President Antonio Tajani tried to smooth over these issues in his opening and closing remarks.
"Today's meeting is the starting point on a path towards a new era in digital platform governance," he said. "Social media is part of our everyday lives and how we interact with others. We certainly do not want to stop using them. However, we do expect our citizens to able to do so unperturbed by concerns that they are putting their privacy and freedom at risk."
At the end of the hearing, Tajani suggested that Zuckerberg could placate Parliament members by submitting written responses to their questions within the next few days.
But this didn't satisfy any of the lawmakers present.
"You picked this format for a reason," one parliamentarian hissed at Zuckerberg as the proceedings ended.