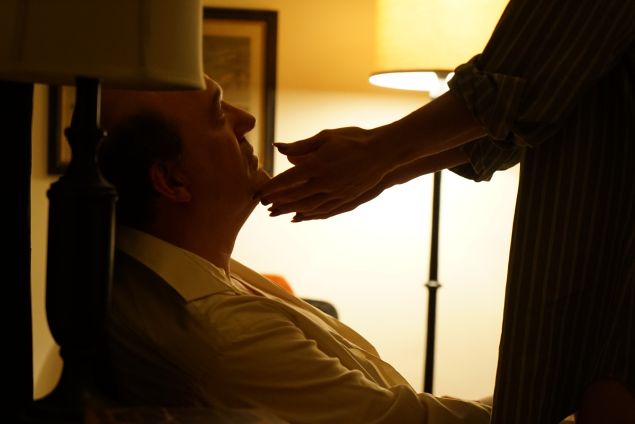 If there is ever an award for guts, bravery and fearlessness in acting, it would have to go to Matt Bomer. Since hitting pay dirt as the handsome con man turned undercover FBI agent in the TV series White Collar, he's worked hard to ditch the pretty boy image with dazzling success, but nothing he has ever tackled equals the controversy he has aroused as a transgender-woman-cum-Hollywood-prostitute in Anything. (Controversial because the LGBT community believes it denies an acting opportunity for a real transgender person.) The good news is that once you get used to the lipstick and the press-on nails, instead of providing fodder for the late-night TV hacks, he carries it off heroically.
There's even a love story. Following the death of his wife in a car crash after 26 years of marriage and a botched suicide attempt, a despondent Mississippi widower named Early Landry (an excellent, touching John Carroll Lynch) sells his insurance business and moves to Hollywood, California, to live with his younger sister Laurette (the terrific, underrated Maura Tierney), who works for a movie studio and lives in a roomy house in the posh Brentwood section of L.A. She, her husband and teenage son are caring but over-protective, so Early is driven to find his own place a small, inexpensive apartment in a derelict bohemian neighborhood. This nice, simple, and unsophisticated Southerner finds himself in an apartment complex populated by hustlers, doper musicians, addicts and other assorted members of the criminal underbelly of L.A.
Early is non-judgmental but lonely, so he offers easy friendship to a downstairs neighbor after a late-night brawl and immediately gets a cold, hostile rejection. The next morning, the noisy neighbor who knocks on his door to apologize turns out to be a flamboyant, sarcastic, jaded, and worldly exotic named Freda von Rhenburg (Matt Bomer). The growing friendship that blossoms between a naive, soft-spoken Mississippi cornball and a tough, wisecracking, drug-addicted gender bender in a tight red dress sometimes defies credibility, but it gives two of life's displaced rejects the kind of emotional support system they need to get their mojo back (she smoothes salve on the wrist scars from his suicide attempt, he helps her cure her pill habit).
Freda resists being drawn into an affair with a man who represents everything she hates about the outside world, and when she calls Early "a portable pot-bellied stove with insinuating eyes", you wince. Eventually, love conquers all. Laurette is appalled, and there is a tense, funny scene where she comes to dinner and rudely insults her brother's new companion beyond repair. But in the end, she comes to accept whatever makes Early happy, and everyone learns to look at life, to quote the Joni Mitchell song, from "both sides now."
---

ANYTHING ★★★
(3/4 stars)
Directed by: Timothy McNeil
Written by: Timothy McNeil
Starring: Matt Bomer, John Carroll Lynch and Maura Tierney
Running time: 94 mins.

---
I cannot count the number of reservations I had about Anything, an idea with every possibility of being a cheap publicity gimmick aimed at selling the sensational and luring the lurid. What a shock, then, to discover that Anything is anything but. Instead, it's sensitively written, humorously human, warmly acted, and admirably resistant to most of the obvious drag-queen cliches.
A feature-film debut by Timothy McNeil, who adapted the script and directed it from his own stage play, Anything asks the viewer to suspend disbelief in more ways than one, but the acting is uniformly persuasive, the direction is carefully modulated, nuanced and natural, and the narrative unfolds in a variety of sordid settings that perfectly convey the fragmented lifestyles in tawdry Los Angeles.
I especially dreaded the sight of Matt Bomer following in the platform-heel footsteps of Jared Leto and Eddie Redmayne. Skeptics can relax. Eschewing cheap theatrics, he acquits himself astonishingly, never stooping to broad comedy or visual cliches. His Freda is a poignant mix of pain and tenderness, the perfect jaded counterpart to the down-home decency of Early's country hayseed (a role for John Carroll Lynch similar to the one he memorably played in Fargo). Bomer's admirable versatility has been evident in a number of physically and emotionally taxing roles, playing everything from male-stripping eye candy in the Magic Mike movies to a rugged mountain trapper in Walking Out. He is currently a member of the all-star cast in the New York revival of Mart Crowley's revolutionary gay play The Boys in the Band on Broadway. In Anything, he's one lost soul even the cynics will want to find.