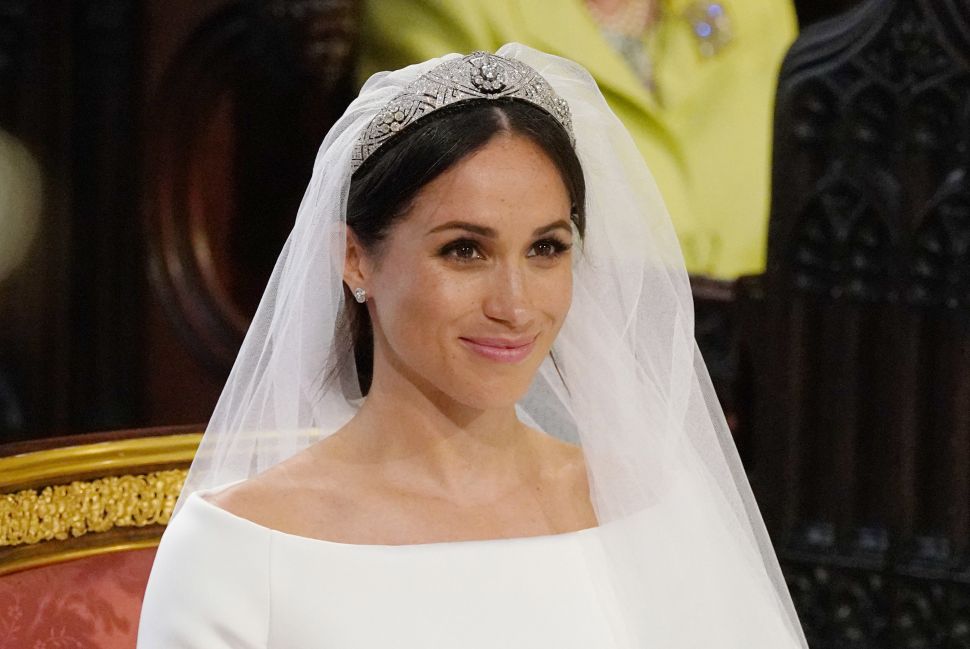 The newest member of the royal family is already making her Markle—on porn viewers, at least.
Pornhub data shows that interest in Meghan Markle content skyrocketed before and after last week's royal wedding. During the ceremony itself, however, porn viewers kept their Union Jacks at half mast.
Searches for Markle's name increased steadily in the days before and after the wedding, peaking on May 21 with a 2,812 percent increase in search traffic.
Funnily enough, only three-quarters of people who searched for the royal bride were able to spell her name correctly. The most popular variations included "Megan Markle" and "Megan Markel."
Prince Harry is surprisingly not a common object of Pornhub fantasies, so the site couldn't make a comparison for him specifically. But terms related to the ginger royal performed above expectations.
Both "prince" and "princess" saw a large increase in search traffic, with "prince" rebounding 403 percent and "princess" adding 187 percent more searches to her crown.
Interest in the general term "royal" also grew at a very impressive clip, with 1,865 percent more searches in the days after the ceremony.
But all of this momentum halted during the ceremony itself, as most Pornhub viewers paused to watch Harry and Markle exchange vows at St George Chapel.
Traffic worldwide tanked 10 percent worldwide during the festivities, including a 21 percent drop in the United Kingdom and a six percent decrease in the United States.
For reasons that aren't exactly clear, the biggest drop worldwide was in France, where 23 percent fewer people watched porn during the ceremony.
But once the festivities ended, traffic rebounded—and Pornhub viewers were especially interested in royal wedding guests. Among the most popular searches were "Kate Middleton" (up 988 percent) and "Serena Williams" (up 108 percent).
The other royal couple at Windsor Castle was also very popular—of course, we mean the Beckhams. Searches for Victoria's name were up 4,213 percent, while interest in David shot up 3,440 percent.
Porn may seem like a private or trivial pursuit, but Pornhub has shown in the past that its data is ripe for research.
For example, the site found that searches for Star Wars content increased 10,000 percent on "May the Fourth." And on the day Avengers: Infinity War was released, traffic for superhero content was up 356 percent.
Keep up that probing analysis, Pornhub.