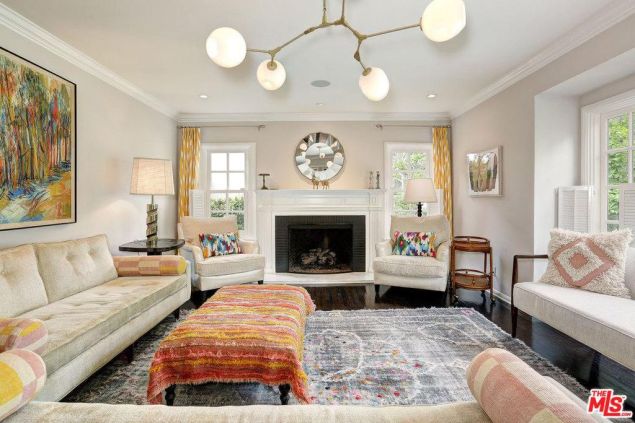 Melissa McCarthy and Ben Falcone are moving on up in the world. The comedians have been remodeling and expanding a home they bought in Toluca Lake for at least five years, but they must be getting closer to completion. At least, we assume that's the case, as their former abode, which is located less than a mile from their new pad, has made its debut on the rental market.
The newly listed three-bedroom, 2.5-bathroom house is asking $10,000 a month. McCarthy and Falcone paid $780,000 for the 2,167-square-foot residence back in 2009—that's two years after McCarthy ended her run on Gilmore Girls and two years before her Academy Award-nominated film role in Bridesmaids.
McCarthy previously told Variety that her two daughters shared a bedroom in their longtime home, and her computer is kept in the closet. The Emmy Award-winning actress added that she and Falcone are "in the tiniest bedroom on Earth." While these aren't exactly serious issues, there's no reason why the actress, who reportedly earned $18 million in 2017, wouldn't want to upgrade a bit.
Indeed, the master suite definitely isn't the largest ever, but it seems more than adequate, with patterned wallpaper, a walk-in closet and a bathroom with a freestanding vintage tub, marble countertops and separate glass-covered shower.
The kitchen contains white cabinets, tiled backsplash and a marble center island, with access to the formal dining room, which in turn leads to a family room through a set of French doors. There is a wood-burning fireplace and bay window in the living room, which is decorated with plenty of cushy chairs and two couches, as well as a piano in the corner.
There are hardwood floors throughout the home, which was built in 1939, per the listing held by Coldwell Banker broker Fred Holley. The property also happens to come fully furnished, and is available as a short-term rental—but at a higher price.
Outside is a pool and entertaining spaces, including a cabana, al fresco dining area and a barbecue.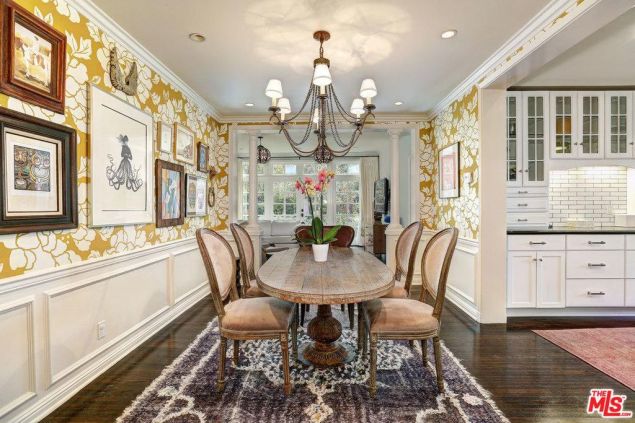 As for McCarthy and Falcone's new digs? Well, McCarthy said back in 2014 that the couple was "working on a bigger house…[i]t's going to take a while." They started renovations on their new six-bedroom, 6.5-bathroom home in 2013, just one year after purchasing it for $3.53 million in 2012. They reportedly added an extra 3,000 square feet to the already 8,656-square-foot mansion, including remodeling a screening room and installing an elevator. Needless to say, it seems doubtful their children will be sharing a bedroom, nor that McCarthy will be lacking in office space for her computer.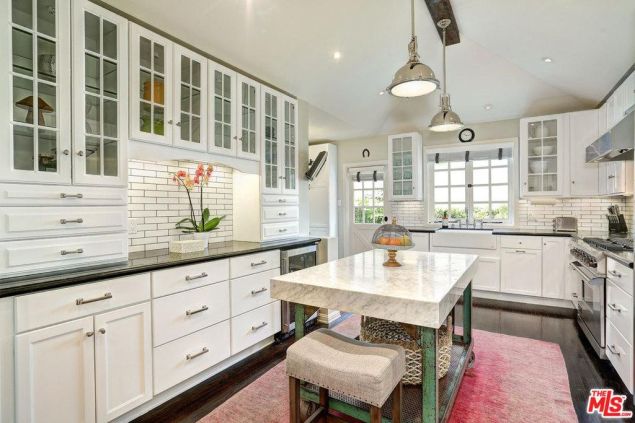 They also won't need to get used to a new neighborhood, considering how long they've lived in the celeb-filled enclave, where other residents include Kirsten Dunst and Viola Davis. Miley Cyrus and Justin Bieber previously called Toluca Lake home.
Aside from being significantly more spacious, McCarthy and Falcone's new house also already boasts a celebrity owner from before their tenure—the couple purchased it from late Canadian actor Alan Thicke.