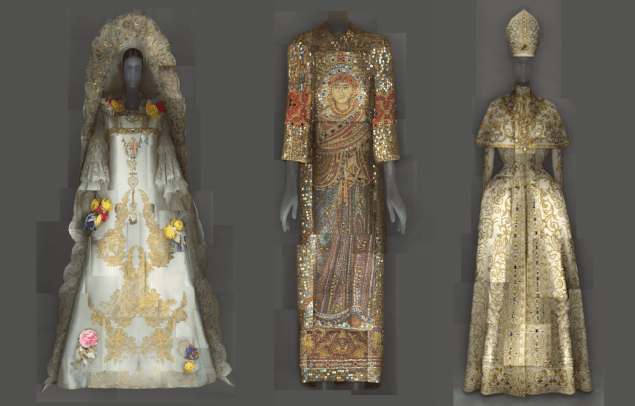 As it turns out, Catholicism didn't first collide with style when Madonna started wearing a cross.
In "Heavenly Bodies," an august byzantine cross from 1,000-1,050 AD sits right near a silver mesh mini-dress wedding ensemble with a white tule veil designed by Gianni Versace.
Clearly, the Met Costume Institute's latest show steps right into matters of the sacred and profane. Including clothing by Jean Paul Gaultier, Dolce & Gabbana, and Givenchy alongside Papal accoutrements like jewelry, a golden mitre (hat) given to Pope Pius XI by Benito Mussolini, and pair of papal red shoes (not designed by Prada, as some have stated), the show looks at how religion has influenced fashion, and, perhaps most scandalously, vice versa.
The exhibition's curator Andrew Bolton (who also organized the 2010 blockbuster tribute to Alexander McQueen, "Savage Beauty") has paired 150 ensembles with works of art from the museum's collection of religious artifacts.
For skeptics of this theme (not the Vatican, a major lender), Bolton states on his catalogue's first page: "Dress is central to any discussion about religion. It affirms religious allegiances, and, by extension, it asserts religious differences." Bolton, who grew up Catholic, consulted on the exhibition with church representatives in New York and with the Vatican. But, because the show will also serve as the inspiration for the institution's annual Gala on May 8, he admitted that any interpretations of the theme (heretical or otherwise) are, as they say, in God's hands.
Observer spoke with Bolton about coming up with the idea for an exhibition that mixes style and spirituality, and how he expects gala guests to get glam for God.
Was the conception of this show immaculate?
The genesis of the exhibition came about five years ago when I was hoping to focus on five religions—Islam, Buddhism, Hinduism, Judaism and Catholicism. The idea was to do site-specific interventions that represented those belief systems in galleries in the Met. But [it became] really clear that about 80 percent of the material that I was looking at was inspired by Catholicism. It makes sense, because of the western tradition's imagistic history and the storytelling tradition.
It was beginning to look imbalanced. I was worried that it might be misinterpreted, that the other four religions might seem like tokens. And when the Vatican came on board, it made the imbalance even greater. So I decided to focus on Catholicism, because the body of material was stronger.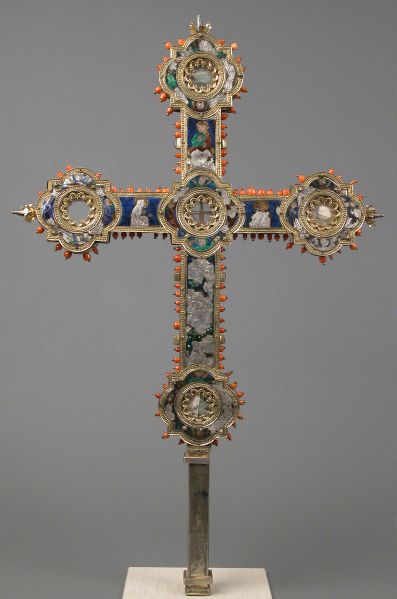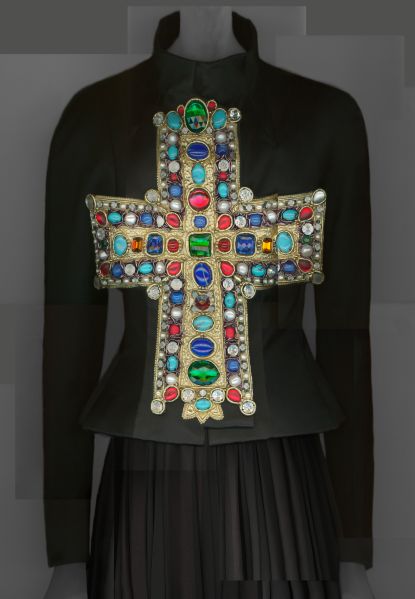 Did you always intend to pair fashion objects with works of art?
Yes. There's a wonderful tension when you juxtapose art from different mediums. Fashion enlivens the more historical pieces, and the historical pieces give context and embolden the fashion.
What do you think draws designers to ecclesiastical objects and dress?
Fashion is inherently performative, and the Catholic Church is inherently theatrical and performative.  It was something that Federico Fellini teased out in his movie Roma [1972], a ten-minute sequence that's called "The Ecclesiastical Fashion Show."
Does the exhibition conform or clash with the event that the annual Met gala has become?
Anna [Wintour] is really trying to align the decor with the exhibition, but, fundamentally, it's a fundraiser, it's a party. People sometimes see it as being part of the exhibition. It's not. It's very church and state.
But it is something that we're very conscious of, this idea of not offending Catholics and not offending people with very devout faith. So the dress code is Sunday Best, with the idea of dressing more modestly. You can't control what Kim Kardashian's going to wear. You can't control what Madonna's going to wear. People need to appreciate that. Fundamentally it's a party and a platform for the celebrities as much as it is for the exhibition.
So you're allowing for the element of surprise in the evening?
I really don't have any control over it.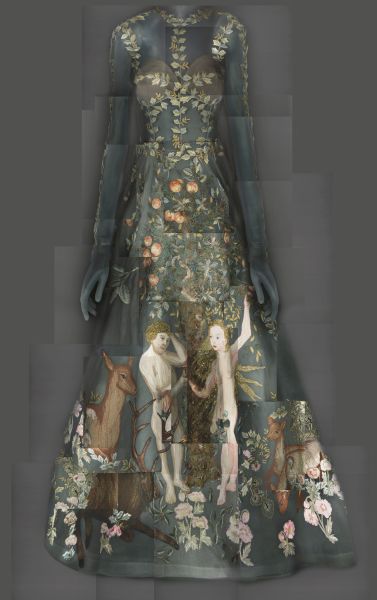 Why more women's clothes than men's in the exhibition? In the church, splendor was found in dress for men, and the same with jewelry.
Absolutely. Menswear is based on trousers and jackets—a very standardized vocabulary. Women's wear is much more adventurous. It's based on a flowing robe.
So the typology of dress within the Catholic Church lends itself more to women's clothes than men's clothes.
In the palette of those clothes, why is the color red so important, even down to the red shoes that you have on view?
The Catholic church is inherently hierarchical, and gendered, and the way that they differentiate status s through color. The Catholic dress code is based on semiotics. Umberto Eco should have written something for the catalogue.
As for the red shoes, when Benedict XVI wore them, the headline in Newsweek was "the Pope Wears Prada." But the tradition of wearing red shoes goes back centuries. It represents the blood of Catholic martyrs, it represents the blood of Christ. The particular style that Pope Benedict wore was established in the 1970's.
But because Benedict was seen as a dandy, as someone who wore sunglasses [by Serengeti], they read a lot into it. That's something that the exhibition's about.  It's the mythology that surrounds Catholicism, but part of the mythology is generated by the outside gaze.
What was the hardest object to transport?
It was a garment that Saint Laurent designed for a Madonna and Child statue in a Church of the Sacred Heart in France. They had to get the approval of the church, and then the approval of the state, and then they had to navigate church festivals, because these processional madonnas are carried in the street. We only heard half an hour ago that the crown from the Saint Laurent garment was arriving.
You write that the show has multiple narratives—what do you mean?
The exhibition is about designers engaging with Catholic imagery, Catholic iconography and Catholic symbolism. But fundamentally, it's about how growing up Catholic impacts your imagination—many of the designers in the exhibition did, like Gaultier and Pierpaolo [Piccioli] at Valentino, although some are no longer practicing.
As a curator you're always interested in what drives a designer's creativity and impulses. I never thought that Catholicism was one of those factors, but I discovered that it was.
Is the passage of Catholic dress into modern fashion always in the form of homage, or are there also satirical, even profane applications?
It really varies. What I found, with most of the designers, there's a nostalgia. Designers like Gaultier might use iconography for provocation, but you also have Balenciaga, a deeply devout man who went to church every single day, and many of his clothes were inspired by Catholic vestments. In his case, it was celebration more than anything else.
How do you address concerns that devout Catholics might have about this exhibition?
We reached out to Catholic communities, in the Vatican and also in New York. I invited representatives to come into the museum and look at the exhibition story boards to let me know if there were any red flags—images that might be difficult. I wouldn't take them out, but I wanted to be aware of it, so I could prepare myself. The issue of religion in art is sensitive, but I believe that exhibitions should provoke debate.