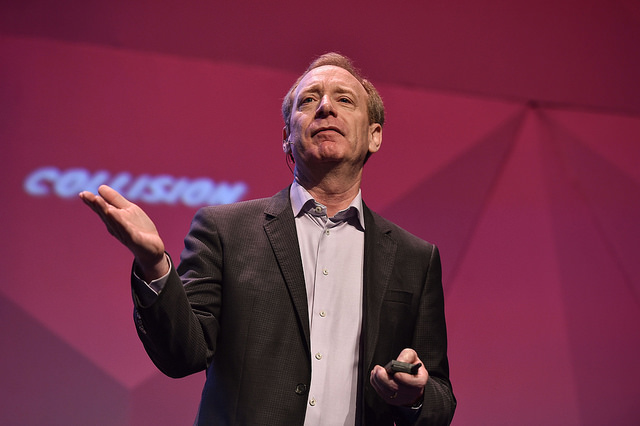 It wouldn't be a tech conference without a few technical difficulties.
Microsoft president Brad Smith came to Collision in New Orleans on Thursday to discuss his company's mission to increase computer science education and broadband access in rural areas.
Smith has some admirable goals, such as closing the rural broadband gap by 2022.
But ironically his sales pitch for this mission was interrupted by several big city broadband gaps.
It started off innocently enough, with the screen cutting out to show the conference logo.
"I lost my slides, but I'm just gonna keep talking," Smith said.
He then noted the bright orange banner that had taken over his screen.
"We're at Collision, in case you hadn't noticed," he deadpanned.
But this was just the beginning, as the feed cut out twice more. First, it showed a black screen, and then it had a close-up of Smith's bewildered face.
"Is this running on Windows or Mac?" he asked faux-angrily. "I really hope it's a Mac."
Things got even worse when Smith attempted to play a video about a rural high school student who was able to take college classes using Microsoft products.
But the clip kept freezing after the first line of the video, "I was in my ninth grade year."
"You know, he was in his ninth grade year," Smith joked. He then compared the situation to being in "the age of radio."
Eventually Smith was able to move forward with his presentation, talking about how older innovations like electricity and the telephone were able to infiltrate rural areas.
Unfortunately, his slide about these issues had the heading "We've done this before."
Anyone who had just sat through Smith's glitch-riddled presentation surely thought, "Yes, we have."