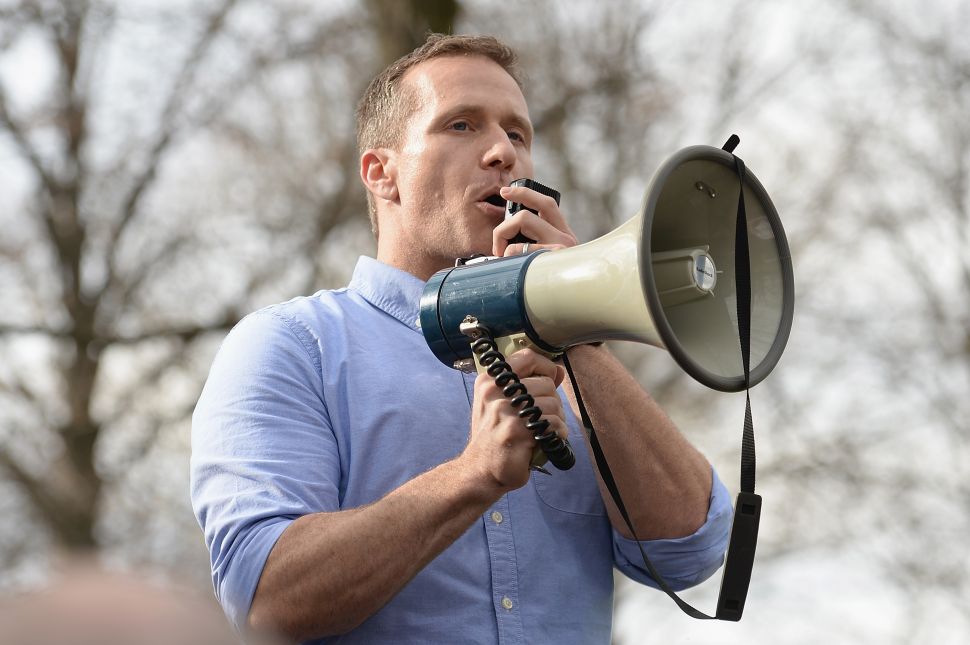 Republican Governor Eric Greitens of Missouri is expected to resign on Tuesday following allegations of violent sexual misconduct, sources told Fox News.
After Greitens was indicted in February over a felony invasion-of-privacy charge, Missouri lawmakers assembled an investigative committee. A woman testified that she began an affair with Greitens in 2013, in which she was frequently assaulted and coerced into sex. Greitens allegedly photographed her in one of their encounters and threatened blackmail.
"The woman told lawmakers that in March 2015, as she tried to leave the basement of his St. Louis home, Greitens grabbed her in a 'bear hug' and laid her on the floor. Then he started fondling her, pulled out his penis and coerced her into oral sex while she wept 'uncontrollably,'" The Kansas City Star reported in April. "The woman told the committee that Greitens had led her down to the basement, taped her hands to pull-up rings, blindfolded her, spit water into her mouth, ripped open her shirt, pulled down her pants and took a photo without her consent."
The committee of elected officials concluded the allegations were credible. Lawmakers on both sides of the aisle subsequently pushed Greitens to resign.
"This is a sad chapter in our history that should never have come to pass," wrote Republican Missouri Rep. Ann Wagner on Twitter. "The transcripts paint the picture of a vulnerable woman and a man who preyed on that vulnerability. I am disgusted, disheartened and I believe Governor Greitens is unfit to lead our state."