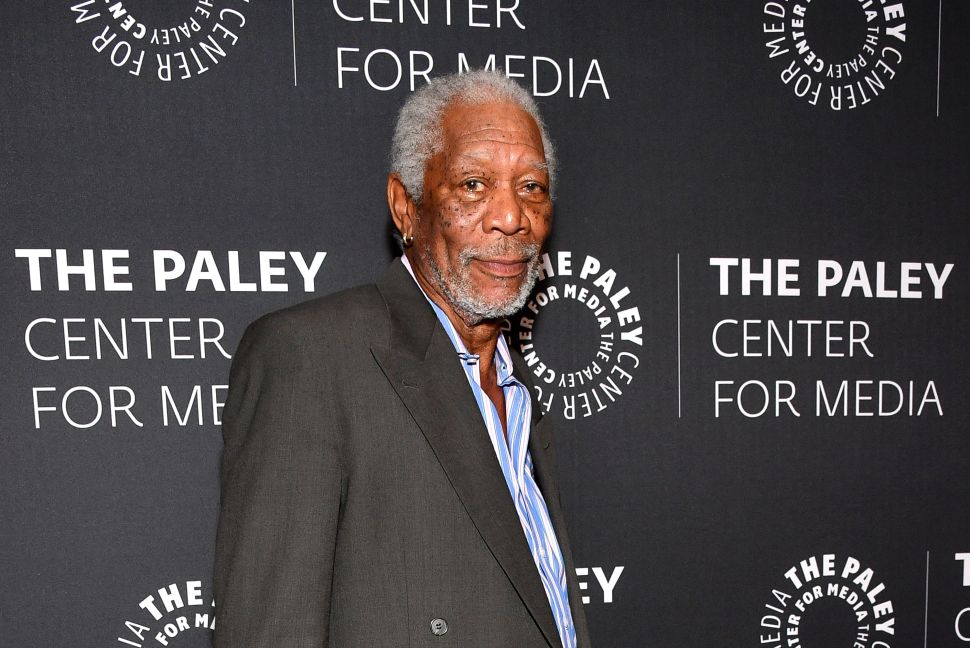 Eight women have accused actor Morgan Freeman of varying degrees of inappropriate behavior and forms of sexual harassment.
CNN spoke to 16 people in total about Freeman as part of its investigation that recounted multiple separate incidents of alleged misconduct and inappropriate behavior. Eight women claimed to be victims of his behavior, while the other eight claimed to have witnessed something inappropriate. Seven of the 16 said that Revelations Entertainment, which Freeman co-founded with Lori McCreary, was a common home for Freeman's unwanted comments. McCreary allegedly witnessed at least one incident while also being the subject of demeaning comments from the actor, per CNN.
McCreary herself was also accused of making a discriminatory remark about a female job candidate at the Producers Guild of America, where she serves as co-president.
UPDATE 2:15 p.m. ET: Freeman has issued a statement in response to the allegation against him, saying:
"Anyone who knows me or has worked with me knows I am not someone who would intentionally offend or knowingly make anyone feel uneasy. I apologize to anyone who felt uncomfortable or disrespected — that was never my intent."
One specific film-related incident is said to have occurred over months on the set of 2015's Going In Style starring Freeman, Michael Caine and Alan Arkin. According to a young production assistant who spoke with the outlet, Freeman "kept trying to lift up my skirt and asking if I was wearing underwear." By her account, Freeman would attempt to lift up her skirt on numerous occasions despite her moves to stop this.
"Alan [Arkin] made a comment telling him to stop. Morgan got freaked out and didn't know what to say," she said.
Another specific incident apparently took place on the set of 2012's Now You See Me. A female senior member of the production staff relayed to CNN that Freeman commonly sexually harassed women on set and made inappropriate comments about their physical appearances.
"He did comment on our bodies… We knew that if he was coming by… not to wear any top that would show our breasts, not to wear anything that would show our bottoms, meaning not wearing clothes that [were] fitted," she said.
Four of the individuals CNN spoke to had worked on the production side of Freeman's films over the last decade and attested to a pattern of behavior from the actor on movie sets that made women feel uncomfortable. Two, including the production assistant on Going In Style, claimed there was touching involved without consent. These individuals did not report Freeman's behavior due to concerns over their job security.
CNN says it reached out to dozens of additional people who had worked for or with Freeman over the years. Some said he was always professional and pleasant to work with and that they never witnessed anything that would constitute as inappropriate behavior or sexual harassment.
However, that was not always the case with potential sources who spoke to the outlet opting not to contribute to the story.
"Several other times during this investigation, when a CNN reporter contacted a person who had worked with Freeman to try to ask them if they had seen or been subjected to inappropriate behavior by an actor they had worked with—not initially even naming the actor they were asking about—the person would immediately tell them they knew exactly who the reporter had in mind: Morgan Freeman," reporters An Phung and Chloe Melas noted. "Some of those people were sources for this investigation while others declined to comment further or did not want what they said used in this story."
These alleged accounts also extend beyond his films.
Three entertainment reporters who spoke to CNN claimed Freeman made "inappropriate remarks" to them during press junkets. Melas, one of the co-authors of CNN's report, detailed her own experience that took place during a press junket for Going In Style when she was six months pregnant. In a crowded room that included Arkin and Caine, Freeman did not let go of Melas' hand when introduced and looked her up and down, while saying versions of "I wish I was there" and "You are ripe."
The incident was reported to CNN's human resources who then contacted the HR department for Warner Bros. (both entities are owned by Time Warner). According to Melas, she was told that WB's HR could not corroborate the account as only one of Freeman's comments—"Boy, you are ripe"—was caught on camera.
Freeman, 80, is widely considered Hollywood royalty after more than five decades in show business. He career first began back in 1964 and has subsequently been nominated for four Academy Awards (Street Smart, Driving Miss Daisy, The Shawshank Redemption, Invictus) and won one (Million Dollar Baby). He becomes the latest major name in entertainment and media to be accused of inappropriate behavior toward females in the #MeToo era. The most notable examples from the last year include Bill O'Reilly, Harvey Weinstein, Louis CK and more.