Fashion gets a bad rap for peddling unrealistic standards of beauty for women, and rightfully so. Inundated as we are by thousands of ads a day featuring not only impossibly thin but impeccably airbrushed models many women—even those as young as five, some studies say—have been shell-shocked into believing there's one, highly shellacked feminine ideal. But "A Queen Within: Adorned Archetypes," the current art and fashion exhibition at the New Orleans Museum of Art (N.O.M.A.), looks at how artists and designers are bucking contemporary trends by revisiting the many representations of femininity that have existed in global myth, lore and street culture.
Featuring more than 100 experimental garments, headpieces, items of jewelry and shoes—created by nearly 50 designers—along with photographs and videos by artists from around the world, "A Queen Within" posits fashion as a tool of power and strength for women. Looking at how femininity has been presented in tropes throughout history, the exhibition examines different modes of dress by centering on the women who wear these styles. Its sections include: "Enchantress," "Sage," "Magician," "Explorer," "Mother Earth," "Heroine" and "Thespian."
These multifaceted figures offer inspiration for working towards perhaps a slightly more holistic understanding of what it means to be a woman today.
According to Mel Buchanan, N.O.M.A.'s curator of decorative arts and design, what both fashion and art unequivocally share is the unique ability to alter our understanding of the world around us. "Contemporary fashion design is living and sculptural, it [has become] a form of storytelling" she told Observer, explaining that even high fashion itself changed in the 1990s, especially when designers like Alexander McQueen began to weave in theatrical performance, historical narratives and cultural critique into designs and shows. The exhibition shows that the conversation it is having is clearly not a new one—though certainly it's not a tired one, either.
Indeed, the exhibition opens with a kind of tribute to McQueen, featuring half a dozen of his iconic designs. Included is a silk printed painting dress called "Heaven and Hell" from his fall 2010 line that remained unfinished due to his death that year. The dresses are juxtaposed with a bombastic photograph of the British designer in a Snow White-like dress, his muse, Isabella Blow, by his side. Taken in 1996 by artist David LaChappelle, the images show the fashion duo lighting a castle on fire while a white horse rears in the background, a knight in shining armor beneath its hooves. This unseated white knight and burning tower of the image symbolically suggests liberation from restrictive and outdated ideals—something McQueen fiercely championed through his designs.
This sense of necessary innovation is echoed elsewhere in the exhibition, particularly in the examples of sustainable fashion and conscientious design that pop up in several of the sections, like in "Mother Earth." "You have pieces from major couturiers like Vivienne Westwood, because she's known for being a sustainable fashion advocate," Buchanan said. But Westwood's high-fashion designs are presented alongside newer brands like Gypsy Sport and Chromat, which are dedicated to subverting the largely white, heteronormative ideals that permeate traditional fashion brands. "There's more than one way to change the fashion industry to make it better for everyone," Buchanan continued, whether that be overhauling the consumption model or challenging the types of bodies considered "beautiful."
Other sections, such as "Explorer," look at small changes that can make design more inclusive. These modifications range from the practical (like a plaid Tommy Hilfiger shirt from its "Adaptive" line featuring magnetic buttons to enable easier dressing for those with motor disabilities), to the conceptual, with mannequins wearing custom ensembles by Kunihiko Morinaga that make them look like they stepped out of house of mirrors. "This is more than just questioning the size zero model ideal," Buchanan explained of Morinaga's work. Instead, it's about developing a visual language that allows for an expanded understanding of what makes bodies beautiful, and that has nothing to do with gender, size or skin color.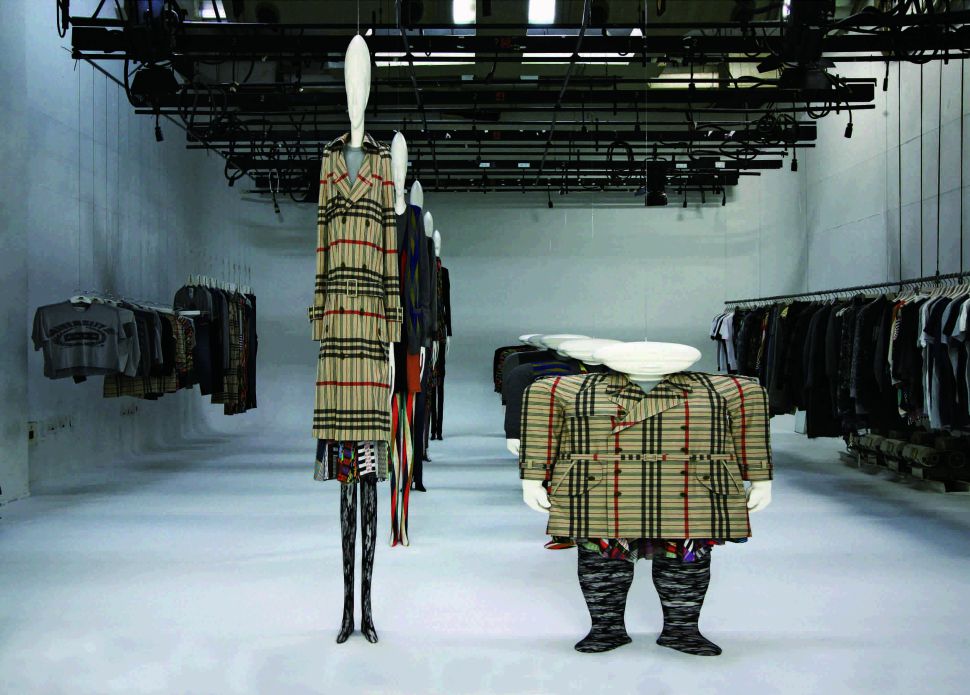 This is nowhere more apparent than in the images on view, which aren't traditional fashion photographs at all. Rather, they document the task of fashion within our lived world. Joanne Petit-Frere's black and white series, Redressing the Crown, for example, shows her elaborate hair sculptures that assert black hair as a something celebratory and regal. And Hassan Hajjaj's series, Kesh Angels, focuses attention everyday Muslim fashion in Marrakech. But Hajjaj's images go a step further than functioning purely as street photographs. Framed by Moroccan soup and soda cans, they make a Warholian nod to consumer culture and its vapid fetishization of otherness.
"A lot of the artworks aren't immediately legible as fashion photography or fine art," said Jessica Baran, the associate director of curatorial and program development for Barrett Barrera Projects, the interdisciplinary production firm that helped source the works included in the show. "We wanted to present a broader spectrum of how images can communicate and complicate collective ideas. This is a much more complicated story than just garments on bodies." And the exhibition clearly shows there's so much more at play in women's "fashion" than just how we adorn the female form.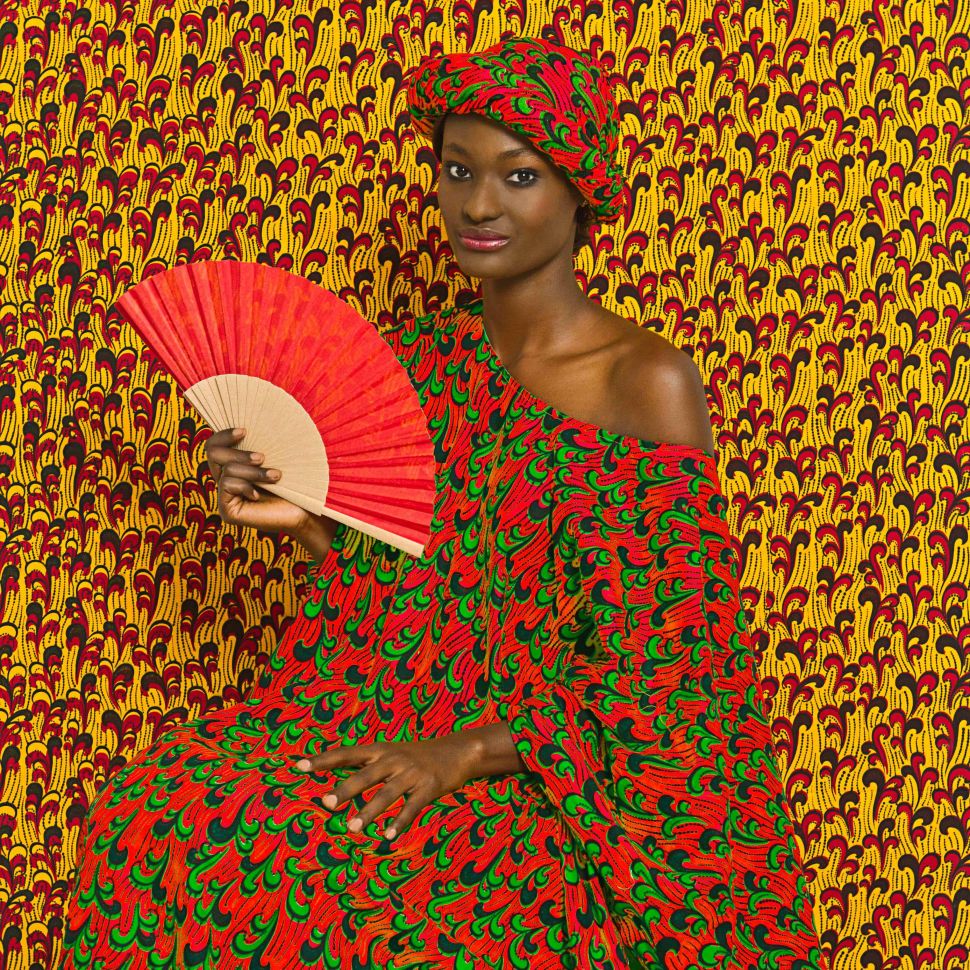 But to be sure, envisioning a more multifaceted view of femininity is a tall and complex order. Despite its large-scale and global outlook, "A Queen Adorned" could stand to lose a few of its 35 McQueen gowns, replacing one or two with more work by designers and artists exploring trans and queer style. This was especially apparent in the "Magician" section. In what could have been a rich inquiry to the magical power of transformation found in everything from the archetype of the witch to the performance of drag, the section was merely dominated by a single installation of clown-like theater-inspired designs by Hideki Seo.
Nonetheless, the exhibition proves that images, like outfits, can serve as potent tools to create what you want to see in the world. "This is an idea that's inherent in a place like New Orleans," Buchanan said, explaining the city's Mardi Gras culture, known for its elaborate masks and costumes, is part of a long tradition celebrating a panoply of cultures and the freedom of expression. But that's not something specific to the Big Easy, "that's what fashion is," she said.