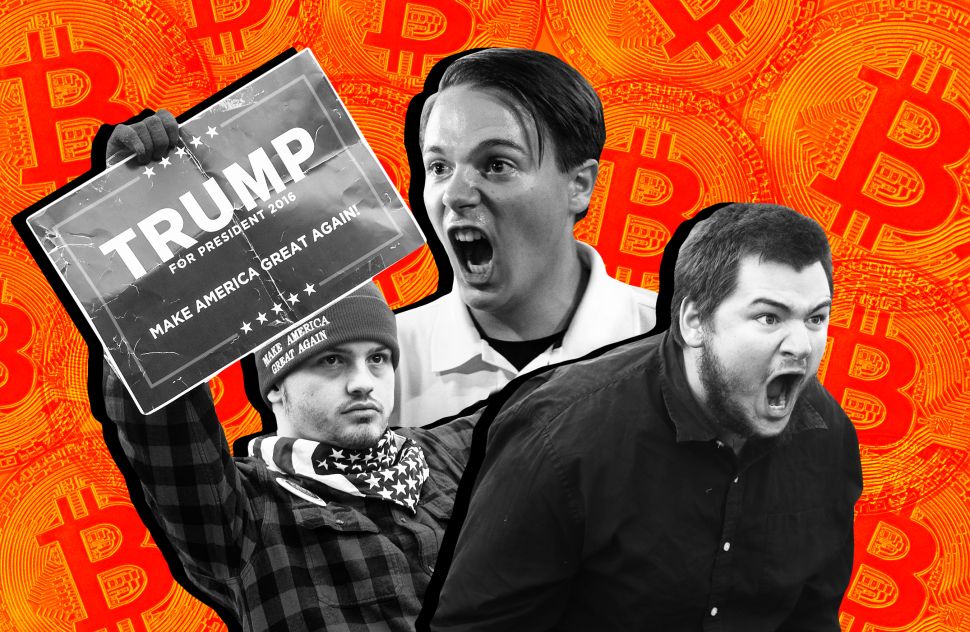 Following last summer's fateful 'Unite the Right' Charlottesville rally—wherein a white supremacist murdered an innocent counter-protestor and many others were injured—a slew of New Right figures touted cryptocurrency over Periscope, Patreon and Twitter, rebranding their movement alongside Bitcoin's ascent into the mainstream.
As Bitcoin climbed to a nearly five-fold high last summer, conversations over white nationalism dominated headlines. The two seemed, to many, intrinsically linked following Charlottesville—The Washington Post ran a December feature titled "Bitcoin's boom is a boon for extremist groups."
"In the months since demonstrators carried flaming torches and chanted 'Jews will not replace us,' Bitcoin has quadrupled in value," wrote the Post. "The digital currency began trading on several mainstream financial markets this month, pushing the price of a single Bitcoin at times above $19,000. It was worth $16,000 at one point Tuesday."
White nationalist Richard Spencer claimed Bitcoin was "the currency of the alt-right," while The Southern Poverty Law Center (SPLC) noted how the decentralized currency was used to fund hate groups.
After Charlottesville, New Right figures—who previously identified with the alt-right before the movement became openly defined by white supremacy—distanced themselves from hate groups, while embracing Bitcoin's rise as a political statement. Whereas Bitcoin once found favorability in white supremacist networks to fund illicit activities through the dark web, Bitcoin post-Charlottesville became an opportunity for messaging on transparency.
"It's countercultural," New Right personality Mike Cernovich, who is monitored by SPLC, told Observer. "Cryptocurrency is actually a very populist idea."
"I thought it was funny when Richard Spencer tried to claim he was into Bitcoin," added Cernovich. "Whatever people think is hot, he tries to latch onto and make it seem like he's somehow connected."
Spencer did not respond to Observer's request for comment.
During the 2016 election, MAGA supporters launched their own Trump cryptocurrency. TrumpCoin, as we noted in March, can be dished out to investors and then forwarded to Trump as anonymous donations.
"Let's make crypto great again," says a voice at the end of the cryptocurrency's promotional video.
Other New Right figures to hype Bitcoin include conspiracy theorist Jack Posobiec, podcaster Stefan Molyneux and Dilbert creator Scott Adams—all of whom command massive pro-Trump audiences on social media. As Coindesk observed, Adams announced his website would embark on an initial coin offering (ICO) last fall.
"[The New Right's interest in Bitcoin] goes back pretty far, but it really took over when Bitcon was at the $8,000 mark and climbing very rapidly," Jared Holt, a research associate at Right Wing Watch, told Observer. "Everybody was trying to hop aboard and urging their supporters to get in on it. It became one of the many pet causes these folks took in post-election."
"If you're just a fucking oddball, then you're going to find your way to fringe topics and that's going to include cryptocurrency," added Cernovich. "Crypto is an oddball fucking thing…"