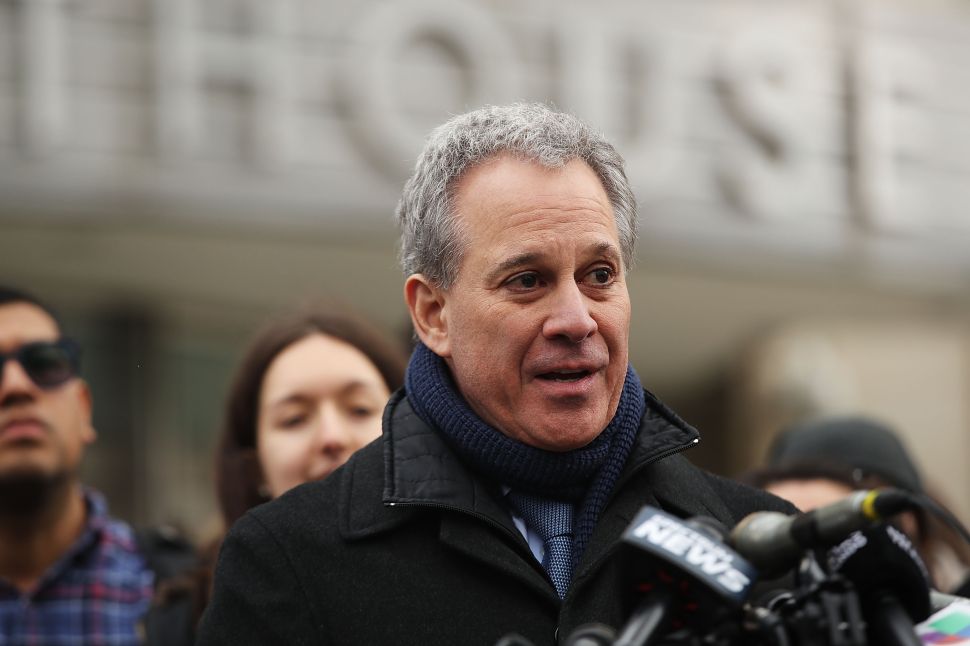 Mayor Bill de Blasio says that former New York Attorney General Eric Schneiderman should face criminal charges in the wake of a bombshell report in which four women accused him of physically abusing them.
Schneiderman—a powerful Democrat who filed lawsuits against President Donald Trump, himself accused of sexual misconduct, and a sexual harassment lawsuit against disgraced Hollywood executive Harvey Weinstein—announced his resignation on Monday night.
Four women with whom Schneiderman, 63, had romantic relationships or encounters said the attorney general inflicted physical violence on them without their consent, as reported exclusively by The New Yorker on Monday night.
When asked whether Schneiderman should face charges, de Blasio responded in the affirmative.
"Based on what I've read, yes," he said at an unrelated press conference at the NYPD headquarters in Lower Manhattan on Tuesday afternoon.
When asked if Schneiderman could face criminal charges, Police Commissioner James O'Neill said that he does not want to speculate on the matter.
"These are very serious allegations and… working in conjunction with the Manhattan DA's office, that will be part of the investigation to see if and what charges are faced," O'Neill said.
Two of the women, Michelle Manning Parish and Tanya Selvaratnam, spoke to The New Yorker on the record.
The pair said that frequently, after drinking, Schneiderman would hit them in bed without their consent, and both described these incidents as "assault," according to The New Yorker. At the time, they did not report the abuse to the police but requested medical assistance after he slapped and choked them.
Selvaratnam, for her part, said Schneiderman threatened to have her followed and her phones tapped, and both women said he threatened to kill them if they dumped him, The New Yorker reported.
A third woman recounted her experience to Manning Parish and Selvaratnam because she was too afraid to come forward, the publication reported. And the fourth woman asked not to be identified but shared a photograph of her injury stemming from Schneiderman's abuse.
De Blasio said the city and the state underwent a "horrible shock" on Monday night and called the revelations "absolutely disgusting."
"The attorney general of our state [is] accused of doing things that no one should ever do, let alone someone involved in law enforcement," he said. "And I think, like so many people in this city, first hearing there was an article and then when I was finally able to break from my schedule and read the article I was horrified…it was horrifying, it was disgusting and it was unacceptable in every way."
Indeed, he argued that the moment of reckoning "has come to him" and that no human being should be allowed to abuse individuals or, in Schneiderman's case, their power.
"It was just as disturbing as it possibly could be and thank God he resigned quickly and didn't put this state through a nightmare but the most important thing here is brave women came forward and told the truth and their stories were honestly so troubling because they felt threatened, they felt that they would be made vulnerable by telling the truth," de Blasio continued.
When asked about the allegations during his "Mondays with the Mayor" segment on NY1 at 7 p.m., the mayor said it was not "appropriate to comment" given that he has not seen any of the details. At 8:21 p.m. on Monday, Eric Phillips, de Blasio's press secretary, said he would speak about it publicly on Tuesday.
De Blasio explained that he "wanted to say something bigger" at the press conference, noting the scandal "happened very, very quickly."
"I need to read the article," the mayor added. "It was the right thing to do."
Immediately after the report came out, Gov. Andrew Cuomo released a statement in which he called for the appropriate New York district attorney to immediately start an investigation and called on Schneiderman to step down.
The news sent shockwaves throughout political circles given that Schneiderman had presented himself as a leader in the fight against sexual harassment and misconduct amid the rise of the #MeToo movement.
He was in the process of probing Manhattan District Attorney Cyrus Vance's handling of sexual misconduct allegations against Harvey Weinstein. He also filed a civil rights lawsuit against Weinstein, his brother Bob Weinstein and the entire Weinstein Co., alleging that they flouted New York's civil rights laws and New York City's human rights laws.
Vance has launched an investigation into the allegations, but his office could not provide further details about the probe.
"Our office has opened an investigation into the recently reported allegations concerning Mr. Schneiderman," Danny Frost, Vance's communications director, said in a statement.
Amid news of Vance's investigation, advocates noted his conflict of interest given that Schneiderman was investigating him.
Cuomo himself told reporters there may be multiple district attorneys involved, alleging that incidents occurred in a number of locations. And he stressed that whichever district attorneys are involved in the investigation cannot have any conflict with the attorney general's office.
"It's very important that the district attorney or attorneys who do the investigation have not even the whiff or perception of any conflict because the statement that we need to make is you come forward, you show the bravery to come forward, you will be heard, justice will be done," he said.
When asked whether Vance has a conflict in the matter, de Blasio did not give his position. O'Neill, who said he would contact Schneiderman's accusers as part of the investigation, said he was confident in Vance's ability to investigate Schneiderman.
"Not being a lawyer, I do not have a specific sense of the legal issues involved," the mayor said.
On Tuesday, NYPD Chief of Detectives Dermot Shea that neither the NYPD nor Vance received any complaints against Schneiderman. He said he talked to Vance on Tuesday morning about how to coordinate on an investigation into Schneiderman.
"We would need a victim to go forward and make a report," Shea said.
Hours after Schneiderman resigned, Cuomo declared that his accusers "should have their day in court."
"No one is above the law, no one should be afraid to come forward, and I hope to make that point dramatically in the speed with which we made our decision last night," Cuomo told reporters in Tarrytown, N.Y. on Tuesday morning. "These women should have their day in court. They should have the opportunity to tell a district attorney the facts and circumstances and then let the district attorney or district attorneys make a decision as to whether there was any criminal liability."
He said that what the women were expressing was a fear that they would not receive any justice because Schneiderman was the attorney general and "power would rule the day."
"That was incorrect, and I want them to know that that's incorrect and not in this state," Cuomo continued. "If it's the president of the United States, if it's the attorney general of New York, nobody is above the law."
Cuomo called the women "courageous," noting that despite Schneiderman threatening them if they came forward, they "came forward anyway." He argued that both the women and the collective movement "is to be applauded."
"Change comes when people demand change, and change comes when the problem is revealed and exposed," he added. "That is always step one. And what you're now seeing is women standing up all across the country and saying this nation has a chronic, disturbing, disgusting behavior of sexual harassment against women and it has gone on for a long, long time and it must stop. That is the movement that is fostering change."
Barbara Underwood, New York's solicitor general, was named acting state attorney general. Under state law, the solicitor general is automatically appointed as acting attorney general in the absence of one.
The state legislature has to vote to appoint an interim state attorney general. The legislature held a joint session to determine next steps. State Assembly Speaker Carl Heastie—who will effectively pick Schneiderman's replacement given that Democrats have the majority in the Assembly—told reporters that no decision has been made with respect to who will replace Schneiderman.
Heastie expressed support for Cuomo's call for an investigation ahead of Schneiderman's resignation and said it "will be very difficult" for Schneiderman to continue as attorney general.
Cuomo noted that in addition to the process in the legislature, there will be a Democratic Party convention in two weeks in which Democrats across the state will "have a chance to voice their opinion." That will then be followed by a primary election in September and a general election, he explained.
Manny Alicandro, a Wall Street corporate lawyer, announced that he will be running against Schneiderman in the November general election as a Republican.
Other names being floated around as rumored candidates include Public Advocate Letitia James, Queens State Senator Michael Gianaris, former U.S. Attorney Preet Bharara, Congresswoman Kathleen Rice and Alicia Glen, de Blasio's deputy mayor for housing and economic development.
Cuomo acknowledged that a number of names are "being bandied about" and called the attorney general position the "greatest job in public service in the state of New York." And he said a "qualified woman would be great," particularly "in this time."
"This is an important decision and I think this is gonna be a decision where New Yorkers should have an opinion," Cuomo added. "I would urge New Yorkers to carefully weigh these candidates because this position makes a real difference."
De Blasio, for his part, said that it is "too soon" to comment on a potential successor.
In a statement released late Monday night, Schneiderman—who previously served as state senator and was first elected as attorney general in 2010—announced that he would resign on Tuesday.
"In the last several hours, serious allegations, which I strongly contest, have been made against me," he said. "While these allegations are unrelated to my professional conduct or the operations of the office, they will effectively prevent me from leading the office's work at this critical time."
Schneiderman was also known for his legal actions against Trump. In December 2017, he announced that he had taken legal or administrative actions against Trump and the congressional GOP 100 times since Trump first took office.
This story has been updated to include Mayor Bill de Blasio's assertion that former New York Attorney General Eric Schneiderman should face criminal charges.