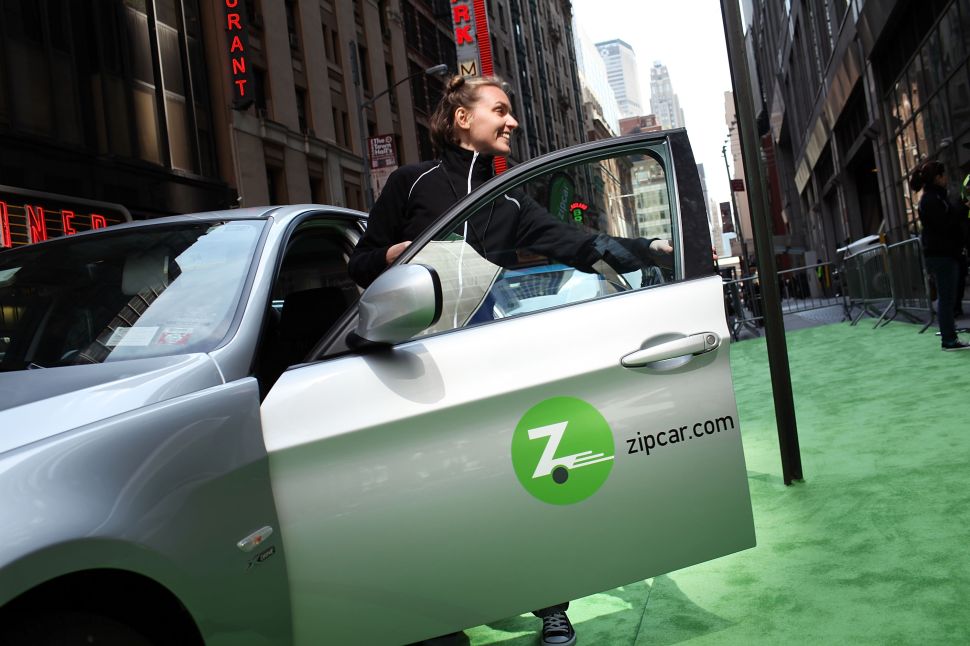 New York City is expanding access to car-sharing companies amid a growing movement nationwide among millennials and other individuals to move away from car ownership, as well as to safeguard the environment and reduce congestion.
On Thursday, Mayor Bill de Blasio announced that the city will dedicate 309 parking spots to car-share programs.
The city's Department of Transportation (DOT) will dedicate 285 parking spaces via a DOT NYC car-share pilot for Zipcar and Enterprise CarShare vehicles on streets in select neighborhoods and DOT municipal parking lots. And the New York City Housing Authority (NYCHA) will start a new partnership with Zipcar, reserving 24 parking spaces at certain public housing developments.
Curbside regulations noting the exact locations of the NYC DOT car-share two-year pilot are now posted in neighborhoods in the Bronx, Brooklyn, Queens and Manhattan which were chosen following a community consultant process.
Starting Monday, Enterprise CarShare and Zipcar vehicles will be available to rent from the designated spots.
De Blasio said that in addition to fighting congestion and protecting the environment, the city has to ensure that New Yorkers have more options for getting around the city, pointing to Citi Bike and the New York City Ferry as examples.
"For so many New Yorkers, there's tremendous frustration when it comes to owning a car, and I experienced it myself and I've talked to countless neighbors but also the people all over the city," he told reporters on Thursday morning in Morningside Heights. "When you own a car in this city, you've got a whole set of challenges that come with it. Obviously, the cost of insurance, fuel repairs but particularly the challenge of parking in New York City. There are just too many cars here."
And he said that people "only sometimes really need a car."
"Let's make it easier for them to get the car only when they need it and not have to pay all those other costs all year long for something they don't need a lot of the time and certainly to get cars off the streets, out of parking spaces," de Blasio continued. "There's a lot of people who have a car in a parking space all week long and only use it on the weekend."
To rent the vehicles, the cost starts at $8 an hour and goes up to $69 a day, de Blasio said. Enterprise CarShare and Zipcar will each pay $780 a year for the on-street parking spaces, as well as the regular fee for spots located in municipal lots.
The two companies said they would provide NYCHA residents and individuals who have IDNYC, the city's municipal identification card, with discounts.
De Blasio said that whenever he and First Lady Chirlane McCray needed to go somewhere with their daughter, Chiara, in their early years of parenting, a car service would cost $8 for just a 10-minute ride.
"This is a very affordable service for a lot of New Yorkers," the mayor added.
DOT Commissioner Polly Trottenberg said that the pilot will potentially serve neighborhoods in which people do not use their cars to commute to work every day but rather occasionally on weekends and neighborhoods that are transit-starved.
"They're very much a group that potentially could just benefit tremendously from Zipcar and then in other neighborhoods—for example, like the Rockaways—where there are fewer transit options," Trottenberg said. "People perhaps don't want to have the expense of owning a car, but they need—from time to time—to have access to one."
One car-share vehicle can be shared by up to 70 people, and research assessing similar programs in other cities throughout the country shows that five to 20 private vehicles are sold or never purchased for every one car-share vehicle made available, according to de Blasio. For New York City, that translates into fewer cars competing for parking at the curb and improved mobility for households that do not have their own car, he said.
Nationwide, 1.4 million people are using car-sharing services. Zipcar currently has more than 2,500 cars in 447 locations in the five boroughs, while Enterprise CarShare has more than 320 cars in 110 locations.
Research has shown that car sharing helps lower household transportation costs by offering access to a car without the costs of car ownership, according to the de Blasio administration. A family that uses its car only a few times per month can save thousands of dollars a year in costs.
Car sharing also helps ease the process of searching for parking by guaranteeing that car sharers always have a reserved space and leads to a smaller number of drivers fighting for limited curb spaces, the administration said. And it helps improve access to jobs, services and recreation.
There are also environmental benefits—ameliorating air quality. Research shows that in some neighborhoods in the city, nearly half of drivers at any time are searching for parking.
Upper Manhattan Councilman Mark Levine, whose bill requiring the DOT to establish a pilot program providing car-sharing organizations with dedicated street parking was recently passed, said that millennials in his district are not interesting in owning cars.
"I've been hearing from young people in my district and beyond for years that if they had three things, they wouldn't want a car," Levine said. "They want mass transit that works, they want Citi Bike in their neighborhood and they want an easy [way] to get car-share [service]."
The NYC DOT car-share pilot will bring car-share service to 230 on-street parking spaces in 14 neighborhoods citywide.
Those neighborhoods include the Parkchester section of the Bronx; the Queens neighborhoods of Eastern Rockaways, Jackson Heights and Jamaica; and the Manhattan neighborhoods of East Harlem, Hamilton Heights and Morningside Heights. The other areas include the Brooklyn neighborhoods of Boerum Hill, Brooklyn Heights, Cobble Hill—Carroll Gardens, East Williamsburg, Park Slope, Red Hook and Williamsburg.
The pilot will also introduce car-share service using 55 reserved parking spaces at 17 DOT municipal facilities in the Bronx, Brooklyn and Queens.