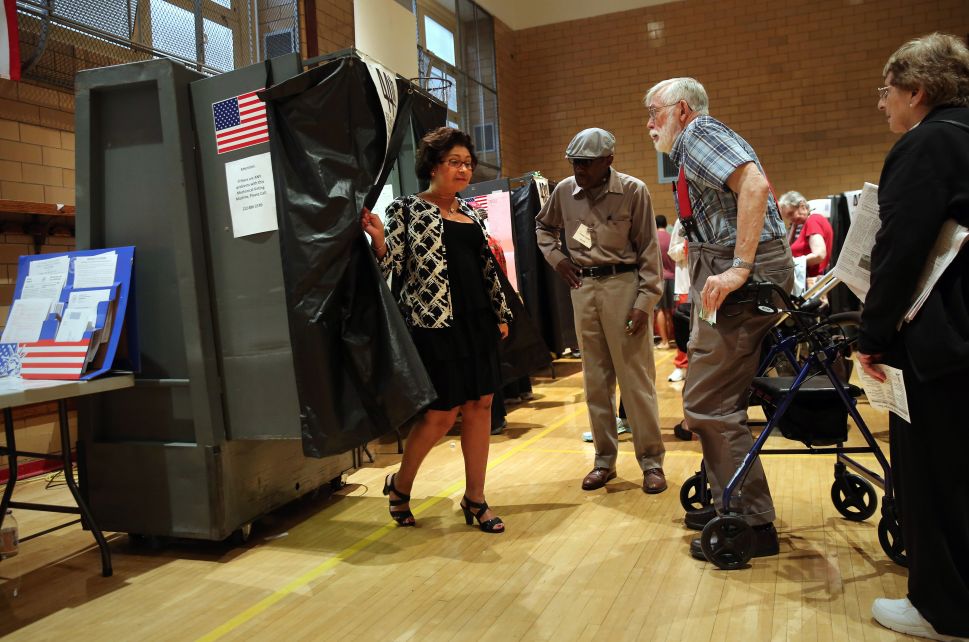 New York City lawmakers—including three potential 2021 mayoral candidates—as well as government reform advocates are calling on the city to adopt instant runoff voting, ranking candidates based on preference, for citywide primaries.
Under instant runoff voting in New York City, if no candidate receives 50 percent of first-choice votes, then the candidate who gets the least number of first-choice votes is eliminated. Each vote that was cast for the candidate who was eliminated is redistributed to the voter's next choice on the ballot until one candidate gets the majority of the vote.
Instant runoff voting is already in place in 15 American cities and is called "ranked choice voting" in some cities that use the system, such as Minneapolis, San Francisco and Oakland.
Under the current system for the city's three citywide primaries—mayor, comptroller and public advocate races—if no candidate receives 40 percent of the vote, then the top two candidates face off in a runoff election, as mandated by state law. This means that candidates can win the election with a small percentage of the vote—and the runoff ends up costing the city millions of dollars.
Public Advocate Letitia James, a rumored 2021 mayoral candidate, supported instant runoff voting when she was running for public advocate in 2013. She noted that the runoff election against her opponent, State Senator Daniel Squadron, ended up costing more than the yearly budget for public advocate. The public advocate's budget was $2.3 million.
"I am the face of instant runoff," James said at a rally at City Hall on Tuesday afternoon. "Let me remind you. I won a runoff election to the office of public advocate in 2013. That runoff cost between some estimates [of] $10 to $13 million in the city of New York. That is more than my budget, not just in one year but in four years—my entire first term."
She said instant runoff voting is the "least expensive, most democratic option" and forces candidates to appeal to all voters as opposed to one democratic base.
"It's hard enough to get people to the polls once, let alone a second time," James continued. "And so runoff elections are historically ultra low turnout, with a wealthier, less diverse electorate. My runoff election, it was only 300,000 individuals who came out to vote for an election which cost, again, between $10 to $13 million—a 62 percent drop-off from the primary."
In the 2013 Democratic public advocate runoff election, turnout was seven percent, compared to 18 percent in the primary, according to data provided by FairVote, a nonpartisan group that pushes for electoral reforms.
The group also found that the Democratic primary electorate for public advocate in 2013 was older than Democrats overall. Among registered Democrats, 18.08 percent were aged 70 and over, compared to 40.25 percent who voted in the runoff and 31.49 percent in the primary.
And they noted that the Democratic primary electorate was whiter than Democrats overall. Among registered Democrats, 25.28 percent were white, compared to 32 percent who voted in the primary and 35.23 percent in the runoff.
Comptroller Scott Stringer, another rumored 2021 mayoral candidate, said that in the 2009 primary for comptroller, 11 percent of voters came out. The turnout in the runoff election was even worse, he said—at 8.4 percent—and cost $15 million.
And he noted that there are too many primaries, pointing to the June congressional primary, the September primaries, three primaries during the presidential election year and runoff elections for city races.
"That is why instant runoff is a progressive leap to try to get the most bang for the buck in the primary and settle everything on that day or into the night," Stringer said. "You know, part of how we do things in the state is we end up creating more costs and less effective representation."
He argued that the city does not have to go to Albany "and deal with that political dysfunction" in order to achieve instant runoff voting.
He said that Mayor Bill de Blasio's Charter Revision Commission, which de Blasio announced in his State of the City address to review the city's charter—which will also focus on campaign finance reform and voting reform—should get behind instant runoff voting. The commission had its first meeting last week.
"I call on the charter revision members to support this initiative and then bring it to the voters this November, so we are ready in 2021 to have a fair, open and inclusive democratic primary as our entire city government will change," Stringer continued. "All new elected officials, five new borough presidents, 40 some odd new council members."
Grace Ramsey, deputy outreach director for FairVote, also sees that the mayor's charter revision commission presents an opportunity for the city to combine two elections into one election.
"We have an incredible opportunity in New York City to improve the way we run our elections," Ramsey said. "With the formation of the mayoral charter revision commission, they've been charged with assessing current structures and looking for ways to increase the voice of the voters."
Brooklyn Borough President Eric Adams, who has long expressed his desire to run for mayor in 2021, shared similar sentiments.
"Let's make sure that the runoff election's a thing of the past and let's do it in the right way," Adams said. "This makes sense, it saves dollars and cents."
When Observer asked Stringer and James whether their potential mayoral bids were connected to their push for instant runoff voting (Adams had already left the press conference by that point), James would not weigh in on the matter.
"No comment," she quipped, also reiterating her connection to the issue. "As I mentioned at the outset, I am the poster child for instant runoff—$10 to 13 million for a race where only 300,000 people came out to vote.
Stringer, for his part, seemed to address the matter slightly.
"I wanna just get it over with in one night," he said, jokingly. "No, I really think in studying instant runoff that this isn't about an individual candidate… I think the reality is it really is about voter participation."
There have been attempts in the past to get rid of the costly runoff election.
Brooklyn Councilman Brad Lander has introduced instant runoff voting legislation several times since 2012, and the state Senate passed legislation in 2015 that would have instituted it.
Lander noted that Minneapolis has the same voting machines as the city and has seen benefits from using instant runoff voting.
"As a result, Minneapolis' City Council is more diverse, has more women, more people of color than it's ever had before, and they've got higher participation and turnout than they ever had before," he said.
Brooklyn Councilman Antonio Reynoso, also pointed to the lack of diversity in voters in runoff elections compared to primaries.
"We know that during primaries, the amount of people that come out are more representative of the demographics of the city of New York than we get on runoffs, which tend to be whiter, older and richer, and we wanna make sure that the people that represent us are elected by our population as close as possible," Reynoso said.
When de Blasio was the Democratic nominee for mayor—and public advocate at the time' he had concerns about instant runoff voting. When asked what she thinks will make the mayor support instant runoff voting this time around, James said it is "critically important" that voters be able to elect the candidate of their choice more easily.
"… He has convened a charter commission, and I would urge all of the commissioners of that charter revision commission to look at this particular issue since they are looking at civic engagement and it's really critically important but most importantly it goes really to the heart of our democracy," James told Observer.
Matt Gewolb, who is the commission's executive director and counsel, told Observer the commission is open to individuals' suggestions.
"The Commission is reviewing the entire City Charter and welcomes ideas from all New Yorkers on how to improve city government and the electoral process," Gewolb said in a statement.
This story has been updated to include a comment from the Charter Revision Commission.