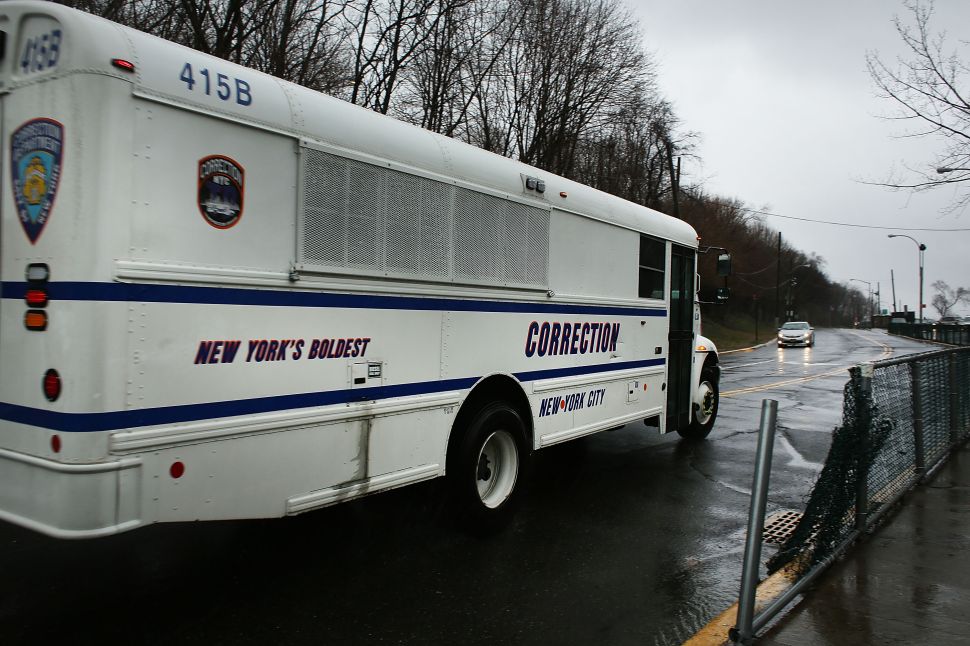 New York City lawmakers are looking to return $3.5 million in commissary funds to formerly incarcerated inmates—money that remains in their accounts in the city's jail facilities.
The legislation—sponsored by Queens Councilman Donovan Richards and Queens Councilwoman Adrienne Adams—requires the city's Department of Correction (DOC) to inform inmates of the amount of funds that are available in their commissary accounts within 72 hours before they are released.
The DOC would also be required to provide inmates with clear written instructions explaining how they can request a refund of their commissary funds. Jail commissaries are stores that sell food as well as supplies.
In addition, the DOC would have to return—if possible—any funds remaining in an inmate's account to former inmates 60 days after their release, as well as report the total amount of funds remaining in their accounts to the City Council every year
If passed, the bill would go into effect 90 days after becoming law.
"If your family has spent their hard-earned money [on] you, when you leave prison, you should [have] access to it. The city shouldn't be taking it and… putting it in a general fund," Richards, chairman of the Council's Committee on Public Safety, told Observer at a Council meeting on Wednesday afternoon.
In March,  The New York Daily News reported that roughly 180,000 former city inmates forgot to ask for the money left in their commissary accounts. The DOC confirmed to Observer that there is $3.5 million in unclaimed commissary funds.
After 120 days, unclaimed commissary funds become part of the Police Property Payable Fund, according to the DOC. After that, inmates can claim their funds by calling the DOC Office of Constituent and Grievance Services or email the office or contact the agency at 311.
The Council members noted that most inmates do not know that they have money left in their commissary accounts or how to request a refund so the money remains unclaimed. And they pointed to the additional burden of having to travel to a facility to get the money back.
"I think this is really about transparency, and in 2018, it's not hard to put money on a debit card or something and give it to someone," Richards continued.
The mayor's office and the DOC said it would review the legislation. The NYPD referred Observer to the DOC.
"People may end up giving some of their time to DOC, but we definitely don't want their money," Jason Kersten, DOC press secretary, said in a statement. "We are currently in the process of displaying posters throughout our facilities that remind inmates where and how to collect their commissary funds when they leave our custody."
The DOC commissary fund lost $11.4 million between 2014 and 2017, according to DOC numbers. The agency said the fund is operating at a loss due to various factors, including costs associated with security and escort officers necessary to keep personnel and inmates safe for commissary visits. Additional costs also come from staffing the commissary.
The amount of money inmates spent at the commissary increased from $12 million in 2013 to $14 million in 2017, the DOC said.
JoAnne Page, president and CEO of Fortune Society, a nonprofit organization established in 1967 to assist and advocate for formerly incarcerated individuals, told Observer that Fortune sees roughly 7,000 people a year who are either recently released from jail or prison or have been out or a while and are trying to rebuild their lives.
Roughly 75 percent of people from New York City who are locked up in city jails or state prisons come from the same seven neighborhoods, which includes the South Bronx, the Jamaica section of Queens, East Harlem in Manhattan, the Mott Haven section of the Bronx and the Brownsville section of Brooklyn.
"This is important," Page said. "This is about fairness. It's about making sure that people get their own money back when they get released."
She said that if the DOC gives former inmates back their commissary funds, there is one caveat: she wants to ensure former inmates do not get charged fees in order to get their money back, including if the city chooses to go with a third party provider to handle the process of returning the money.
Inmates, she explained, get out of Rikers or other city jail facilities in two ways: either they are released from the facility or have to go to court.
If they are released from the facility, she argued, they should be able to walk out with their belongings, as well as the commissary money. But if they are released from court, that would require more work on the part of the DOC with respect to handling the commissary issue.
"That's where the last known address would come in," Page continued.
In a statement, Nick Encalada-Malinowski—civil rights campaign director for VOCAL New York, a statewide grassroots membership organization that works on issues such as mass incarceration and homelessness—told Observer that it is "good" that the Council is looking at the issue and taking steps to mitigate the damage of such a policy.
"The criminal legal apparatus drives economic inequality in New York City—whether through fines and fees related to arrests, the cost of phone calls and commissary items in city jails or the millions of dollars in lost wages caused by incarceration," Encalada-Malinowski said. "Of course, this economic harm is inflicted disproportionately against communities of color—specifically black and Latino residents."