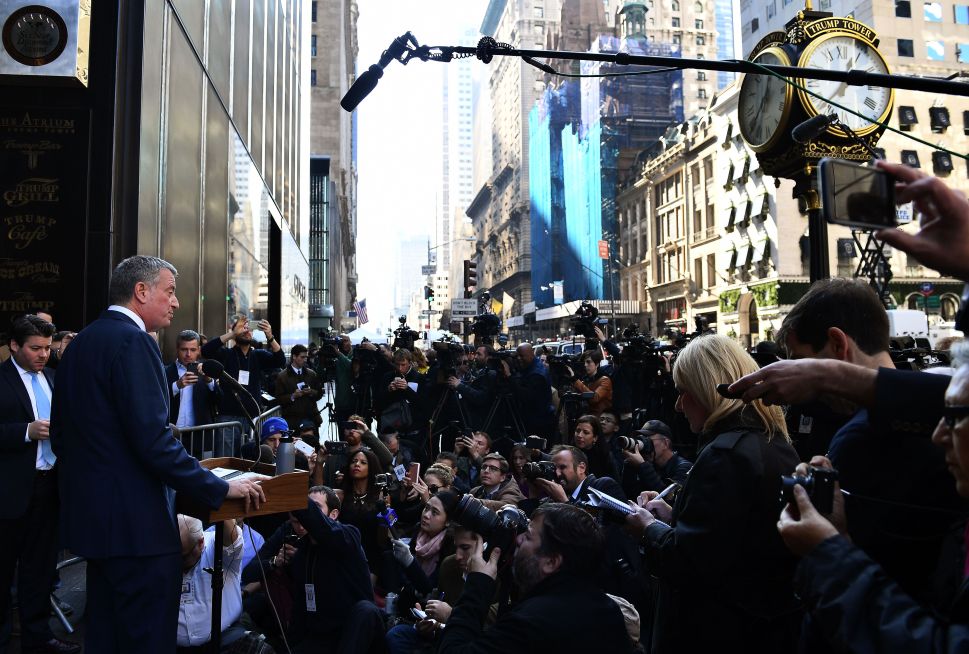 A New York City lawmaker is trying to help journalists get access to public records more quickly. But those same journalists, as well as good government groups and public records experts, have mixed views on his quest to protect investigative journalism.
The proposed legislation, sponsored by Council Member Ritchie Torres—who heads the Council's Committee on Oversight and Investigation—would establishe a category of "professional journalists" and requires agencies to respond to their Freedom of Information Law (FOIL) requests within 10 business days after they receive the request, according to the bill's text. He introduced the bill on Wednesday, first reported by The New York Times.
The state's FOIL law allows any member of the public to access governmental agencies' records.
If agencies are unable to respond within 10 days, the agency has to state, in writing, the reason it cannot fulfill the request and a date at which the request will be granted in whole or in part and when exactly it will do so. But the agency has to disclose records within six months.
The bill defines a "professional journalist" as someone who partakes in the "gathering, preparing, collecting, writing, editing, filming, taping, or photographing of news" for a newspaper, television or radio station, website or other professional medium, service or agency whose function includes "the production or dissemination of news to the public."
Torres told Observer that journalism "is under siege" from both the federal government and City Hall, pointing to the Mayor Bill de Blasio's refusal to release emails between himself and outside advisers he has dubbed "agents of the city" and his alleged attempts to fire the Department of Investigation's (DOI) commissioner. He also referred to the lead paint scandal at the New York City Housing Authority (NYCHA) and an allegation he accepted bribes from a top political donor.
And he called President Donald Trump the "most egregious offender."
"An institution like the City Council has the leverage that comes with subpoena power but for those who lack subpoena power, FOIL is the only investigative tool that carries the force of law," he said. "And journalism is essentially the fourth branch of government. It's the strongest safeguard we have against corruption."
And he distinguished between one person requesting information for himself or herself and a journalist who is requesting information that benefits everyone.
"Prioritizing journalists means promoting the greatest amount of free information for the greatest amount of people," he continued.
Robert Freeman, executive director of the New York State Department of State's (DOS) Committee on Open Government in Albany, told Observer that when records are accessible under FOIL, they are made available equally to any person "without regard to status or interest."
FOIL, he argued, is a "great leveler" because it ensures the average person and a Pulitzer Prize-winning journalist have the same right to obtain information.
"I don't believe that a local legislative body such as the New York City Council… has the authority to let us, say, alter rights or privileges that are conferred by a statute," Freeman said.
And he contended there may not even be a need for Torres' bill.
Under FOIL, agencies have five business days to grant or deny access to a request in whole or partially. If more time is needed, the agency has to acknowledge receipt of the request in writing and provide a date by which it will respond within 20 business days.
And if the agency needs more than 20 days, it has to provide a written explanation at a reasonable date.
He said the six-month time limit proposed in the legislation is "a long time."
"I think we're better off with the law as it stands,"  Freeman continued.
Alexander Stille, San Paolo Professor of International Journalism at the Columbia University Graduate School of Journalism, told Observer he has had a Freedom of Information Act (FOIA)—the federal equivalent of, and precursor to, FOIL—request pending with the U.S. Department of State (DOS) for two years.
On Thursday, the DOS told him the department has a backload of 10,600 cases and has no information to provide. The DOS had told him the request would be done by the end of 2017.
He noted that the DOS is understaffed and overworked.
"We know that the Trump administration has cut the budget for the State Department considerably, and so I imagine that FOIA is not high up on the list of priorities for the administration," Stille said.
Stille said the question of who benefits "is a little trickier."
"On the one hand, as someone who worked in traditional media, I would probably stand to benefit from this, but the world has become more complicated," Stille continued. "You do have people who are independent bloggers… who might not be covered by the law. While some of those people aren't doing serious work, some of them are."
Former Public Advocate Betsy Gotbaum, executive director of good government group Citizens Union, expressed concerns about the definition and said everyone, including good government groups, should be covered.
"I agree with Ritchie that it should be much faster, but I think it should be for everybody," Gotbaum said.
When she was public advocate from 2002 to 2009, she recalled making FOIL requests from various city agencies and that it would take months. They "often never got them," she remembered. She recommended designated FOIL officers in all city agencies as opposed to just some agencies.
"If it's a question of resources, put the resources so that can happen," Gotbaum continued.
Bill Grueskin, professor of professional practice at Columbia's Journalism School and former managing editor of The Wall Street Journal, noted the White House has a finite number of seats at press briefings so it determines access.
He also warned journalists who do more favorable coverage could have more access and that those who are more critical could be denied access.
"I certainly sympathize with most of his [Torres'] instincts here but… I just have a visceral and natural aversion any time a government agency starts making determinations about who's a professional journalist," Grueskin said.
And he argued a citizen could make a legitimate FOIL request about an issue in their neighborhood.
"If you're a concerned citizen who's worried about… a company expanding a factory in your neighborhood, should you be at the back of a line versus a reporter for the Observer, the Daily News?" Grueskin continued.
De Blasio, who blasted the city's FOIL process when he was public advocate, opposes the bill, according to theTimes. The mayor's office did not respond to a request for comment.
Torres said the definition of "professional journalist" in the bill is expansive, dismissing criticisms of it as "absurd." The city makes such determinations when it grants press passes, he noted.
"For 230 years, we've had a First Amendment that provides for freedom of the press without perfectly defining press," he said. "We have freedom of religion without a perfect definition of religion. We have freedom of speech without a perfect definition of speech. Something tells me we can figure it out."
He also said all people can still file FOIL requests.
Torres' office told Observer that Council lawyers reviewed legal precedents and opinions and determined that they have the authority to enact the bill. The office also said the bill standardizes the process of prioritization.
And it noted that Torres' bill imposes a 10-day limit and a delay of no later than six months. Currently, agencies can continuously delay for a reasonable period, the office said.
Adam Marshall, a litigation attorney at the Reporters Committee for Freedom of the Press, a Washington, D.C.-based nonprofit association, told Observer that FOIA has had an expedited processing provision since 1996.
One of the criteria, he noted, is whether an individual is primarily engaged in disseminating information—which is largely defined as a journalist but may include other types of entities.
"It's a pretty common feature—certainly at the federal level—and also many state and local jurisdictions have provisions that are specific to journalists," Marshall said.
He pointed to the Cause of Action v. FTC (Federal Trade Commission) case in 2015, in which the D.C. Circuit Court of Appeals ruled that the FTC has to widen its definition of the term "representative of the news media" under FOIA.
Marshall argued Torres' bill is "defined pretty broadly" and takes online news media into consideration.
"To the extent that journalists get records faster, the public gets them faster," he contended.