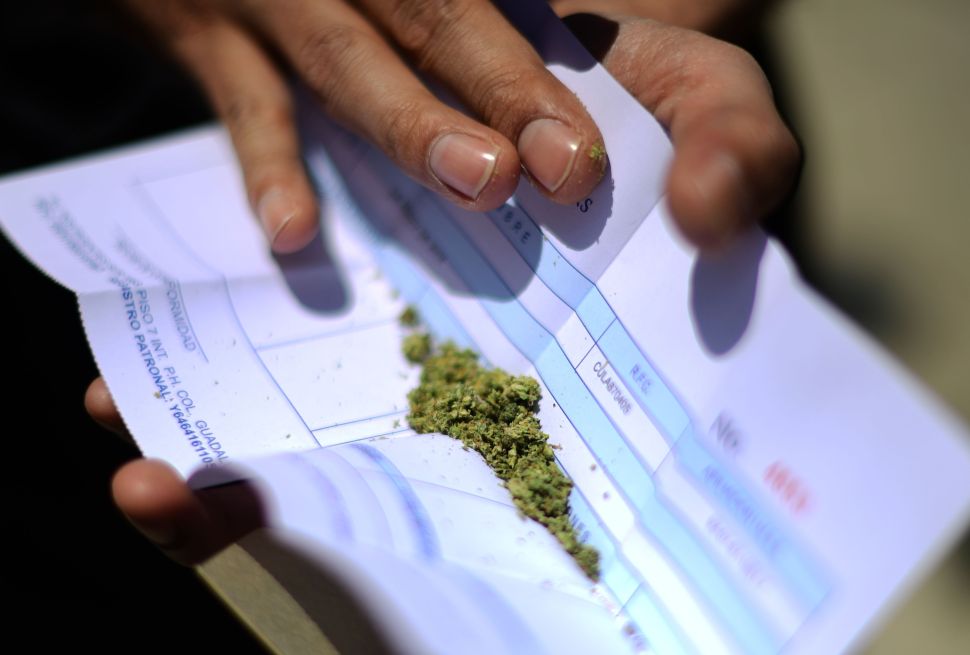 In 2013, as Shapriece Townsend, 26, was leaving his grandmother's home at a New York City Housing Authority (NYCHA) complex, two police officers crept up behind him and pinned him against a fence with the hood of their car.
They subsequently jumped out of the car with their guns drawn and searched him without his consent and found a small amount of marijuana, which Townsend described as "about the size of a sugar packet."
"They went into my pocket without my permission… they took everything out of my pocket," said Townsend, who is a member of VOCAL New York, a group that has advocated for safe injection sites and marijuana legalization.
He went to jail for three days and received a conviction that cost him a job and nearly cost him his bed at a halfway house on Chauncey and Marion Streets in Brooklyn.
"If I want to get a job at Target or Burger King or any other places, they gonna see that [marijuana conviction] on my record and that's very disturbing," Townsend continued. "They tell me stay out of trouble for six months after that, [but] I still have that on my record."
Fortunately, that may soon change for Townsend and others like him.
Mayor Bill de Blasio, who remains opposed to marijuana legalization, is directing the NYPD to issue summonses to individuals who smoke marijuana in public instead of arresting them, the New York Daily News reported on Sunday.
He is also forming a task force of city officials who will take steps to prepare for marijuana legalization, looking into issues such as how police officers will interact with individuals who smoke marijuana in public, public health campaigns the city will conduct on the issue, and what zoning is required for marijuana dispensaries.
Any changes to the police department's policy would not be implemented until the end of the summer.
Townsend warned that the NYPD has a history of cutting corners "to still lock people up," arguing that cops may still use marijuana possession as an excuse to unlawfully search people.
"They utilize that tool as, 'Let's see if we have a warrant,'" Townsend added.
And he noted that de Blasio made promises to reform the NYPD before he got elected but has not delivered.
"What we need from de Blasio is to really be a man of his word," Townsend said, referring to broken promises. "I thought stop and frisk was supposed to stop. Obviously that still goes on and I think it's unfair."
Last week, the mayor announced that the city will overhaul and reform its policies related to marijuana possession arrests. Police Commissioner James O'Neill formed a 30-day working group to review the policy.
In 2017, 86 percent of people arrested for low-level marijuana possession in the city were black and Hispanic, and less than nine percent were white—despite the city unveiling a new policy in 2014 to address disparities.
In a joint statement, Kassandra Frederique, New York State director of the Drug Policy Alliance (DPA), which has been working on the issue, and Alyssa Aguilera, VOCAL NY's co- executive director, called on the city to restore individuals' rights and seal their records.
"It is essential that the new NYPD policy on marijuana—which Mayor de Blasio has thus far not shared publicly—cannot include carve outs based on, for example, criminal record, or parole/probation status; does not provide police with vague discretionary authority to arrest for 'public safety' justifications; and corrects rather than exacerbates the current targeting of black and Latino New Yorkers by NYPD for marijuana summonses," they wrote.
Nick Encalada-Malinowski, civil rights campaign director for VOCAL-NY, told Observer that the group has not seen any details on the city's new policy yet so they "have no idea what the mayor intends to do."
He wants to make sure that cops are not using marijuana as a pretext to stop and search people, whether that is in NYCHA stairwells or cars. And he pointed out that racial disparities exist not just in arrests but in summonses.
"For us, there shouldn't be arrests, there shouldn't be summonses," Encalada-Malinowski continued. "People should be left alone."
Is Mayor de Blasio Shifting His Stance on Marijuana?  
The mayor acknowledged that it is inevitable that marijuana is going to be legalized in New York. Nine states and Washington, D.C. have legalized pot.
Earlier this month, de Blasio moved to open four safe injection sites as part of a one-year pilot program to fight drug overdose deaths as well as the opioid epidemic.
In January, Gov. Andrew Cuomo, who also remains opposed to marijuana legalization, announced that he would study the issue. And the state's Democratic Party is expected to pass a resolution in favor of marijuana legalization at its convention this week.
First Lady Chirlane McCray, Public Advocate and New York Attorney General candidate Letitia James, gubernatorial candidate Cynthia Nixon all support marijuana legalization.
City Council Speaker Corey Johnson and Rev. Al Sharpton recently called on the NYPD to issue summonses to public pot smokers.
Johnson told Observer he supports marijuana legalization, calling for it to be taxed and regulated and for the money to be used for drug treatment and education programs. He also wants individuals' records expunged, which he noted would require state action.
"I believe that we should vacate and expunge records of anyone who was arrested on a marijuana offense that was not a violent offense— that was either a possession or smoking offense—and has needlessly gotten them caught up in the criminal justice system," he said.
He called the current policy "insane, irrational and unfair" and sympathized with advocates' calls for public pot smokers not to be arrested or receive summonses.
"I understand the concern, though I think that the policy that was created around possession and issue summonses for that was a really good step in the right direction at that moment in time, and I think that this step of not arresting people for smoking marijuana in public is another good step in the right direction," Johnson continued, referring to the 2014 policy change.
And he hopes marijuana will be legalized in New York soon.
"I don't feel as probably confident as the mayor that that day is gonna come immediately," Johnson contended. "I hope it does, and we have to be prepared for when it does so that we have policies and regulations that make sense."
Queens Councilman Donovan Richards, chairman of the Council's Committee on Public Safety, called de Blasio's move a "major step forward," also noting that it helps ease interactions between undocumented immigrants and U.S. Immigration and Customs Enforcement (ICE) when they are arrested for low-level offenses.
But he maintained that the Council will continue to monitor the NYPD's policy. He pointed to a bill the Council recently passed that requires the NYPD to provide more specific data on who is being targeted by its marijuana enforcement policy.
"We don't plan on letting down on this any time soon," Richards said.
And while he agrees with advocates' concerns about summonses, he said it is "hard to say they shouldn't give summonses" given that marijuana is not legal yet in New York.
"I still wanna caution that although we are moving to summonses, it doesn't mean that we should let up on the disparity conversation because even with summonses, there can be disparities with how the summonses are given out, too," Richards continued.
"Any city, any mayor, any administration who's still arresting people on these low-level offenses is gonna find themselves on the wrong side of history," Richards said. "So I think the mayor moving now to be on the right side of history is great politically for him because he'll be seen on the right side of history, although I would argue that it has taken a little too long for the administration to get here given that they ran on a policy and platform for fairness."
Marijuana rights activist Jon Gettman, professor of criminal justice at Shenandoah University in Virginia, called it "ironic" that racial disparities persist despite the fact that the state decriminalized personal possession of marijuana in 1977.
"What Mayor de Blasio has effectively said is we're going to start looking at this more as a public health issue than a criminal justice issue," Gettman said.
And he pointed to the issue of normalizing marijuana policy to make it consistent with policies on tobacco and drinking, although there are differences between the three substances.
As to the argument that public pot smokers should not be given summonses either, he said that not arresting them is a huge step forward in that it is a better use of police resources.
What Do New Yorkers Think?
Lisa Wilcox, 52, a resident of the St. George section of Staten Island, does not smoke weed but does not see why individuals should even receive a summons.
"I think they still shouldn't get a summons anyway—either it's legal or it's not legal, you know what I mean?," Wilcox said. "Why should they get a summons?… [still], I think that it's better than getting locked up."
And she supports legalizing marijuana, arguing that there would be less crimes committed if cannabis was legalized.
Fresh Meadows resident Robert Rowley, 23, said cops should "be doing something more important with their time," suggesting they target people who are selling drugs or committing other more serious crimes.
"As the country moves toward decriminalization and legalization, it makes sense to not incarcerate people for what's going on and to not clog up our jail system, and I think from a factual standpoint, that's probably the most important thing of all," Rowley said.