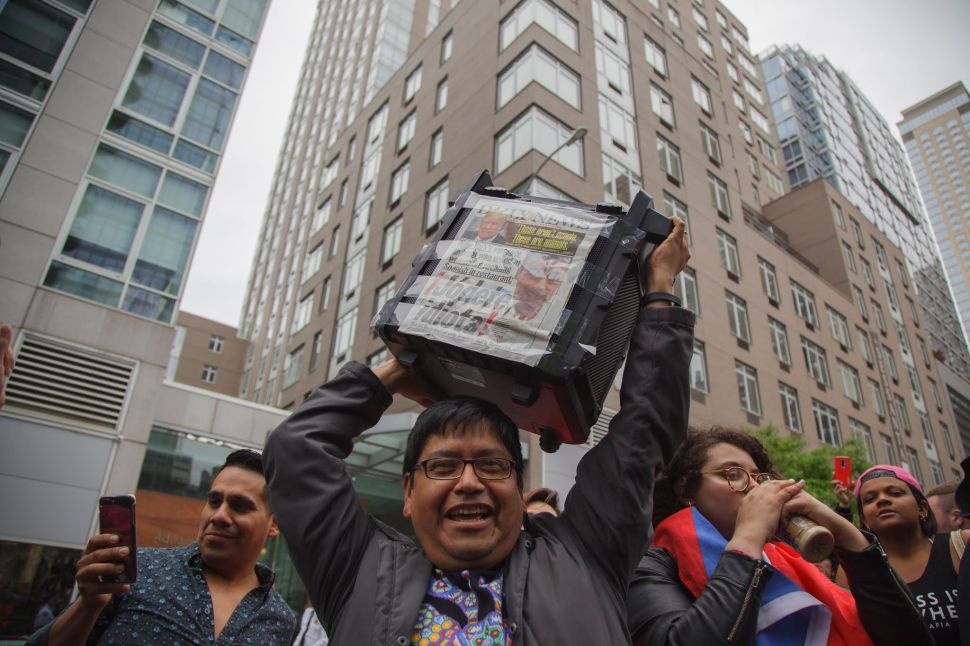 New York-based lawyer Aaron Schlossberg has apologized for insulting and yelling at Spanish-speaking restaurant workers. But New Yorkers aren't buying it.
Schlossberg insulted and yelled at two women workers at the Fresh Kitchen in Midtown Manhattan for speaking Spanish and threatened to call U.S. Immigration and Customs Enforcement (ICE) on them, as first reported by Gothamist. Schlossberg is fluent in Spanish, conversational in French and has basic knowledge of Madarin Chinese and Hebrew.
[protected-iframe id="dcfec188e3e30f5af48986e8cfbe85fd-35584880-133125669″ info="https://www.facebook.com/plugins/video.php?href=https%3A%2F%2Fwww.facebook.com%2Feddiesuazo16%2Fvideos%2F1637928712991933%2F&width=350&show_text=false&height=625&appId" width="350″ height="625″ frameborder="0″ style="border: none; overflow: hidden;" scrolling="no"]
A man named Edward Suazo posted a video of the incident on Facebook. Schlossberg has attended rallies in support of President Donald Trump.
The disgraced attorney took to Twitter to apologize for the incident.
The apology comes just four days after more than 300 angry New Yorkers and mariachis hosted a Latin Party outside Schlossberg's apartment complex to protest his behavior. A mariachi band will also be playing outside his law office at some point in the near future.
Unofficial: DNC, one of the groups that organized the Latin Party, took the apology as a sign that their successful party—which went on for hours as police officers stood in front of the apartment complex's entrance across the street—backed the lawyer into a corner.
"The mariachi got the job done!" the group posted on the event page on Tuesday afternoon. "He apologized. Young Progressives of America, Millennials For Revolution and The People For Bernie Sanders demand that he provide free legal services to undocumented immigrants, apologize in person to the workers and the ladies he insulted. What do you guys think?"
The other party organizers were Young Progressives of America, The People for Bernie Sanders, Latinos for Revolution, Viva Bernie 2020, Woke Folks, Millennials For Revolution, New York City Progressives and The Digital Left.
New Yorkers took to social media to let Schlossberg know that they do not accept his apology and that he is only apologizing because he was caught.
New Yorkers also know that Schlossberg has a history of engaging in this type of behavior. Last May, he yelled names at pro-Palestinian protesters. He also reportedly assaulted Willie Morris, a white man from Massachusetts, calling him "an ugly fucking foreigner" on the sidewalk of Fifth Avenue in Manhattan.