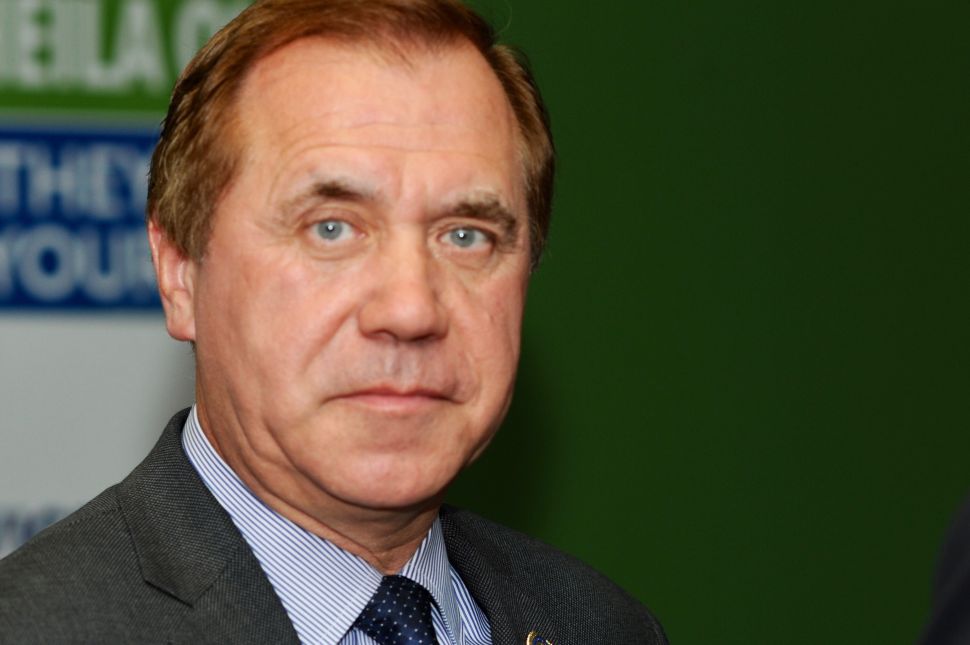 Gov. Phil Murphy still has a lot of ground to cover to convince folks in his own party to support his planned $37.4 billion spending plan, which calls for more than $1.6 billion in new costs for tax-weary state residents.
And now Assembly Speaker Craig Coughlin appears to be drawing a line in the sand over Murphy's plan to short recipients of the state's popular Homestead Rebate program.
Murphy's budget plan calls for $143.5 million for homestead credits, which would give recipients only about half what they received under former Gov. Chris Christie, according to published reports.
The rebate goes to about 600,000 state homeowners, and Coughlin sent out a tweet last week that would make it difficult for him to support anything but full funding for the program.
"Rest assured: on my watch, the General Assembly will pass a budget that restores the homestead rebate to ease the tax burden on seniors and middle-class families," the speaker tweeted.
Murphy, who campaigned on a pledge to support the state's middle class, says he'll boost funding for the rebates "if we can figure it out," according to NJ.com.
Murphy, who is eager to implement a progressive agenda that he says will make the state the envy of the nation, blames his problems on Christie.
"Let's put it this way. I know what I inherited, which was a fiscal mess. And this is a priority, along with some other mouths that we have to feed," Murphy said, according to NJ.com
Last week, Murphy announced a contract settlement with the state communication workers union giving the workers two percent raises plus backpay and step increases for extended service. While Murphy initially claimed not to know the settlement's cost for taxpayers, state officials later said the contract would cost $148.9 million—costs Murphy, again, largely blamed on Christie.
Murphy's budget also calls for free community college tuition for low-income state residents—Murphy says it's a "downpayment" on his plan to provide free community college to all, increase in money for public pre-k education and more money for education funding and New Jersey Transit.
The budget seeks to increase the state sales tax, impose new taxes on electronic cigarettes and ride- and home-sharing services and legalize and tax marijuana. Murphy is also calling for a millionaires tax.
Just about all of these measures have sparked varying levels of opposition from both Republicans and Democrats in the legislature. But Murphy contends that people in New Jersey—who already pay among the highest taxes and fees in the nation—are willing to pay more if they feel they are getting their money's worth from the state.
Quote of the Day: "While we do not oppose a subsidy for nuclear energy if it is first proven to be necessary, we do oppose, as would be required under S-2313, taxpayer and employer subsidies when they are not needed and which are established behind closed doors by the interested parties and without ratepayer participation.''— a letter sent to Gov. Phil Murphy by state business, environmental and consumer groups urging him to veto a law requiring New Jersey residents to pay to subsidize nuclear power plants in New Jersey and other states.
Phil Murphy Signs SALT Workaround to Trump Tax Law
New Jersey Gov. Phil Murphy signed a bill Friday to let local governments accept property taxes in the form of charitable contributions—an effort to circumvent President Trump's federal tax overhaul.
Christian Hetrick, Observer Read more
Opponents of Bill Urge Governor to Veto or Revise Nuke Subsidy Measure
In a last-ditch effort, a diverse group of business, labor, consumer advocates, policy wonks, and environmentalists are calling on Gov. Phil Murphy to veto or make substantive changes in a bill that would have ratepayers subsidize nuclear power.
NJSpotlight Read more
Why should NJ families subsidize nukes in Pennsylvania?
New Jersey families and businesses are likely to be hit soon by a $300 million annual surcharge on electric bills to subsidize PSEG's nuclear plants.
NJ.com Read more
Top Democrat warns Murphy he won't stand for big cuts in homestead rebate property tax relief
Assembly Speaker Craig Coughlin has this message for Gov. Phil Murphy: You simply can't slice the popular Homestead property tax credits that go to hundreds of thousands of New Jersey residents.
NJ.com Read more
Coughlin Pledges Full Restoration of Homestead Property Tax Relief
Assembly Speaker Craig Coughlin has put a strong marker down in the wake of a budget snafu that's left funding for the state's popular Homestead property-tax relief program cut in half, promising the Assembly is committed to fully restoring Homestead relief in the next state budget.
NJSpotlight Read more
This Month's Cut in NJ Homestead Tax Credit Could Repeat Next Year
An accounting gimmick that was deemed out-of-bounds after property tax relief was intentionally underfunded last summer is the reason this month's homestead tax credits were cut in half.
NJ101.5 Read more
Help for NJ's high property taxes? Phil Murphy signs workaround to Trump tax code rewrite
Property owners will soon be able to pay their taxes as a charitable contribution to maintain a popular deduction that was capped in last year's federal tax overhaul.
The Record Read more
Murphy says he'll sign film tax credit bill. Snooki can now rejoice
Gov. Phil Murphy stopped by the Montclair Film Festival on Saturday and pledged to sign a bill that would restore film tax credits in the state.
NJ.com Read more
Did cops have legal authority to pull over car in Caren Turner scandal? Yes, but…
Tinted windows and an oversized license plate bracket prompted police to stop a car that the daughter of Port Authority commissioner Caren Turner was riding in. That led to Turner's video confrontation with two officers, which last month brought about her removal from her position and widespread vilification online.
NJ.com Read more
Murphy's Latest Executive Order Looks to Crack Down on Misclassified Workers
Gov. Phil Murphy's latest executive order calls for the creation of a new task force that will help the state more effectively go after companies that intentionally misclassify their employees to avoid paying taxes and other costs.
NJSpotlight Read more
Sen. Bob Menendez says he won't resign, launches attack on Republican opponent
Democratic Sen. Bob Menendez, in his first press conference a week after being "severely admonished" by the Senate's ethics committee, said he has no plans to resign and launched an attack on his likely Republican opponent in November, calling him "unethical."
The Record Read more
Bob Menendez joins New Jersey AIDS Walk in Morristown
Sen. Bob Menendez joined about 260 people on the Morristown Green on Sunday to take important steps to support the ongoing battle against AIDS.
Daily Record Read more
Yes, weed will be legalized in Jersey. Here's why.
In the movie, "The Hunt for Red October," a fictional national security advisor is considering a risky plan to assist a rogue Soviet sub commander who wants to defect to America, with his boat.
NJ.com Read more
Diversion Program Would Help Keep Mentally Ill Out of Jail
Nonviolent offenders with mental illness could be diverted away from New Jersey's mainstream criminal justice system and into a rehabilitation program designed to provide treatment for their psychiatric disorder, under an initiative envisioned by a longtime Democratic Senator that also reflects the goals of a growing national movement.
NJSpotlight Read more
Former N.J. treasury official gets prison for stealing $78,000 from state
Stephanie Hargrove, a former claims investigator for the New Jersey Department of the Treasury, was sentenced Friday to a three-year prison term after pleading guilty to stealing $78,000 by processing damage claims for events that never occurred.
Inquirer Read more
The poop thickens: Mystery pooper apparently bypassed nearby portable toilets
Portable toilets have been located around the Holmdel High School athletic fields for as long as many people familiar with the space can remember.
NJ.com Read more
Kenilworth Pooperintendent Keeps Job as He Faces Defecation Charges
The superintendent who police say was defecating on another district's high school track every day will remain on a paid leave of absence and will not be fired from his $150,000-a-year job.
NJ101.5 Read more
Nearly 70,000 NJ voters register Democratic since Trump election
Democrats continue to outpace Republicans in voter registration in New Jersey, gaining 4,843 new voters in April 2018 and 69,951 since the November 2016 general election. The GOP picked up 1,490 voters last month and 37,686 since Donald Trump was elected president.
New Jersey Globe Read more
Morris sheriff, legislator cook for the needy at Morristown's Table of Hope
A culinary competitor was in town Thursday night as Morris County Sheriff James M. Gannon and state Assemblyman Anthony M. Bucco cooked and cleaned up after a dinner of pork roast served to needy guests of Bethel AME Church's Table of Hope community soup kitchen.
Daily Record Read more
7 North Jersey Coast Line trains will be dropped starting June 4
Facing increasing difficulty meeting a year-end deadline to install a collision-avoidance system, NJ Transit plans to discontinue seven North Jersey Coast Line trains through the beginning of 2019.
Asbury Park Press Read more
Holmdel superintendent: Don't mix me up with the HS field pooper
Holmdel Schools Superintendent Robert McGarry had a mess of his own to clean up Thursday after a news story of another superintendent allegedly pooping in public at McGarry's high school went viral.
The Record Read more
Lodi superintendent sick time payout could be more than $177,000 under new contract
The schools' superintendent has more sick leave than students have school days.
The Record Read more
Are tax breaks for developers good for you?
Tax abatement programs used to entice developers to build in blighted areas have been successfully used to breathe new life into many New Jersey towns and cities, including Jersey City, Long Branch, Asbury Park and Hoboken.
Asbury Park Press Read more
He posted a 'cool' gun pic. Now his family is 'living a nightmare'
It was a school night in March and Vinny Smith was searching for a photo to post on his Instagram account.
NJ.com Read more
NJ unauthorized immigrant mom got kids back from Brazil, and US helped
Viviane Leite is learning how to be a mother again.
She's well past the diaper stage with Christyan and Gabriel, now 9 and 7. She remembers teaching them to tie their shoes and say please years ago.
Asbury Park Press Read more
Fulop: '100%' WWII monument will be moved
The Exchange Place monument to the victims of a 1940 Polish massacre is "100% being moved" three blocks west from its longtime home, Mayor Steve Fulop said on social media Saturday morning.
Jersey Journal Read more
Paterson council race: Zellie Thomas says more cops not the answer for fighting crime
Zellie Thomas was one of the leaders of the Black Lives Matters protests that took place in Paterson in 2016.
The Record Read more
Honduran supporters rally in Morristown against decision to end TPS
When she thinks of her home country of Honduras, Jessika Giron's mind now goes to the time she was kidnapped at gunpoint trying to take a taxi.
Daily Record Read more
Judge raises questions about thousands of DWI cases in NJ
A New Jersey state trooper's failure to follow one step in the Alcotest calibration process "calls into question the subsequent validity of breath test results," a report issued Friday states.
Asbury Park Press Read more
Pete Seeger gets his own statue in Teaneck
Pete Seeger had a lot to say — and a lot to sing.
His statue can do neither.
The Record Read more
Rabner: NJ criminal justice system becoming more just
Craig Mallon's decision to plead guilty to fourth-degree joyriding in 2016 made sense from a practical standpoint.
The Record Read more
Editorial: Murphy should veto nuclear subsidies bill
Remember all of that money that may soon be coming out of our pockets to prop up New Jersey's nuclear industry?
The Record Read more
Editorial: Lakewood school board banking on a gift
The Orthodox community isn't the only one in Lakewood that feels it is being discriminated against.
Asbury Park Press Read more