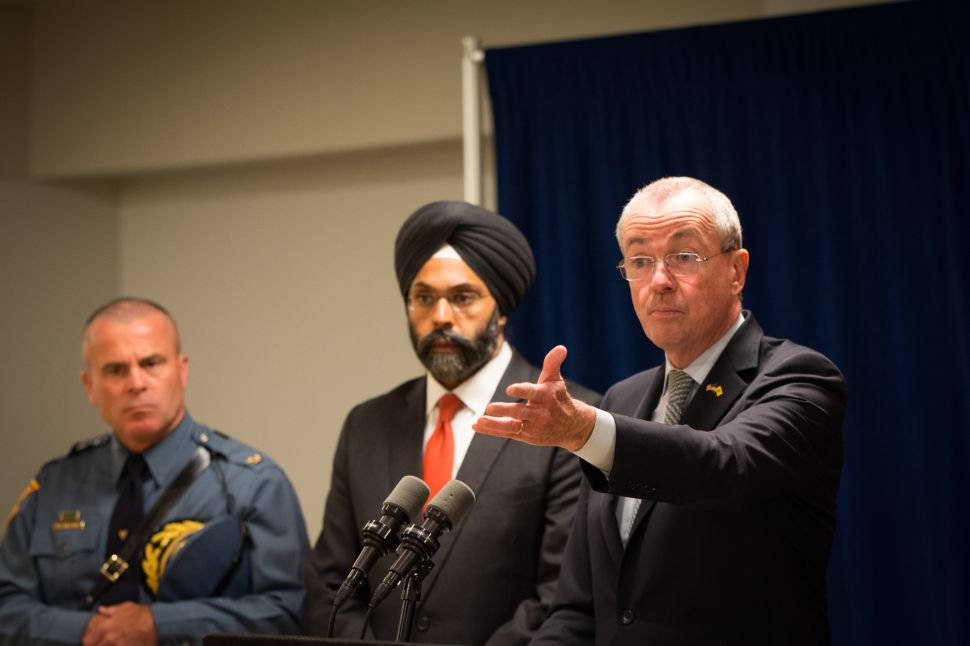 The administration of Gov. Phil Murphy hasn't been shy about pulling out the legal briefs to oppose the agenda of President Donald Trump. But the state's efforts have always been overshadowed by similar efforts of its larger neighbor to the north, New York State, where the blue state anti-Trump efforts were being led by charismatic and ambitious state Attorney General Eric Schneiderman.
But, as columnist Charles Stiles notes in The Record, Schneiderman's recent and rapid fall following abuse allegations has left the door open "for a highly visible Trump foe from the northeast, someone with proximity to the New York media market." Someone by the name of Phil Murphy.
Murphy has often touted his plan to make the state a nationally known example of progressive policies, and Attorney General Gurbir Grewal has gotten the state involved in suits on issues ranging from immigration enforcement, citizenship questions on the U.S. census, the Affordable Care Act and clean air standards, Stile notes. Grewal, by the way, is portraying himself as the good soldier—saying his views on issues line up with Murphys and that he is not out to—as Stile says—"build a 'brand' for himself."
But while Murphy's progessive efforts may play well with national Democrats, it still remains to be seen how he will fare in his home state, where even Democratic leaders so far seem wary of embracing the tax increases needed to fund many of Murphy's plans.
Quote of the Day: "You'd have to be an anti-Jersey schmuck to support this. The 'moocher state' Republicans that voted against Sandy aid in the first place are now trying to use every trick in the book to suck New Jersey dry." — Democratic Rep. Donald Norcross, on Trump administration efforts to cut $107 million in Superstorm Sandy aid.
New Jersey Lawmakers Try (Again) to Ban Smoking on the Beach
New Jersey lawmakers are once again trying to ban smoking on public beaches now that Phil Murphy is in the governor's office instead of Chris Christie.
Christian Hetrick, Observer Read more
Jeff Van Drew's Internal Poll Has Him Leading Hirsh Singh by 18 Points
State Sen. Jeff Van Drew's internal polling shows him up 18 points over Republican Hirsh Singh in New Jersey's 2nd congressional district race.
Christian Hetrick, Observer Read more
Gottheimer Train Runs at High Speed
If first-term congressmen were ranked in order of effectiveness, New Jersey Rep. Josh Gottheimer would rank at the top of his class. He defied tradition and broke out from his freshman class early when his rail safety bill was approved. Considering the fact that he is a Democrat in a House controlled by Republicans, this is a particularly remarkable achievement.
Donald Scarinci, Observer Read more
Will New Jersey's Phil Murphy lead Trump resistance now that Schneiderman is out?
Eric Schneiderman, the disgraced former New York attorney general, quickly vacated his office this week and his role as one of the nation's high-profile antagonists of Donald J. Trump.
The Record Read more
Is Trump's cut to Sandy aid latest example of New Jersey under attack in DC?
Funding for Amtrak's Gateway project, which includes a new tunnel under the Hudson River, was not touched in the $15 billion package of budget "rescission" requests that President Trump's administration sent to Congress this week.
The Record Read more
Despite Campaign Promises, Murphy Plans to Raid Affordable Housing Fund
As a candidate, Phil Murphy pledged he would not follow his predecessor's path and divert affordable-housing funds to plug holes in the state budget. But as governor, he is doing just that and more, proposing to take even more money away from two sources of housing funds than former Gov. Chris Christie.
NJSpotlight Read more
NJ Transit makes Forbes best employers list, riders howl in disbelief
NJ Transit's self-proclaimed slogan is "the way to go" and according to Forbes, it's also the place to work.
NJ.com Read more
Frustrated with NJ Transit schedule changes? Tell its executive director
NJ Transit Executive Director Kevin Corbett and agency staff will take questions from riders in Hoboken Terminal next week and New York Penn Station later this month about how the installation of positive train control could affect their commutes.
The Record Read more
Accused mystery pooper's lawyer: N.J. superintendent will debunk 'falsehoods'
Not everything you've heard about Thomas Tramaglini – the Kenilworth superintendent of schools accused of pooping on a high school track and field near his home – has been fair or true, according to his new attorney.
NJ.com Read more
Where is Chris Christie now? Keeping low profile as new Morristown office tenant
Former Gov. Chris Christie has quietly set up an office in a red brick building worth nearly $1 million on the corner of Dehart Street and Maple Avenue.
The Record Read more
Phil Murphy takes action on bill giving police, firefighters control over pensions
Gov. Phil Murphy said Thursday he's ready to hand over control of police and firefighters' pensions — but only if state lawmakers agree to some minor changes to the controversial spinoff.
NJ.com Read more
Murphy conditional veto shows concern for taxpayer: O'Scanlon
Back in November, I wrote in an oped that I was rooting for our governor to succeed. I said then that I would call him out when he made a misstep but be with him when he did the right thing. This is me keeping my word.
Asbury Park Press Read more
N.J. politicians, public workers could lose pensions if convicted of these sexual offenses
Public workers and elected officials convicted of certain sexual offenses in connection with their public employment could be stripped of their pensions under a bill lawmakers approved Thursday.
NJ.com Read more
Murphy sticks with Christie pick for head of State Police
Gov. Phil Murphy formally announced Thursday that he's keeping the man former Gov. Chris Christie put in place to run the New Jersey State Police.
NJ.com Read more
How Can NJ Be So Diverse But Have Most Segregated Schools?
New Jersey is known as a melting pot state, a rich tapestry of diversity. But a new report finds Garden state public schools are among the most segregated in the country.
NJ101.5 Read more
NJ Teachers Union Leaders Resign, NJEA to Face Lawmakers Over Videos
The state's largest teachers union will cooperate with lawmakers set on holding public hearings into the labor organization's conduct.
NJ101.5 Read more
Rough Ride For Education Official As She Pitches Community College Aid Plan
Gov. Phil Murphy's call for tuition-free community college in New Jersey appears to be in some trouble among lawmakers, including from his own party.
NJSpotlight Read more
How much will it cost N.J. taxpayers to send unauthorized immigrants to college?
Gov. Phil Murphy fulfilled one of his campaign promises when he signed legislation on Wednesday making New Jersey the 10th state in the nation to offer to help pay college tuition for immigrants living in the country illegally.
NJ.com Read more
More Than 1,000 Drug Cases Will Be Tossed After State Police Lab Scandal
Prosecutors are moving to dismiss at least 1,169 drug cases undermined by a State Police lab scandal because the evidence was destroyed before it could be retested.
NJ.com Read more
N.J. gains 3,500 jobs in April, according to ADP
New Jersey added 3,500 private-sector jobs in April, the fifth straight month at or above that benchmark, but also the lowest total in that time period, according to Roseland-based ADP.
ROI-NJ Read more
Can it be true? American Dream says it will open in spring 2019
Nowhere is Jersey cynicism more evident than in attitudes toward the American Dream Meadowlands complex, formerly called Xanadu. But developer Triple Five Worldwide has a message to the Garden State: Yes, we really are opening in a year.
The Record Read more
All parties agree to PILOT settlement in Atlantic County
A lawsuit between Atlantic County, several county municipalities, and the state over the Payments in Lieu of Property Taxes Atlantic City casinos pay has been accepted by all parties, the county announced Wednesday.
Press of Atlantic City Read more
Middletown property taxes: Phil Murphy, Bon Jovi miss the Top 10
Gov. Phil Murphy and newly-minted Rock and Roll Hall of Famer Jon Bon Jovi, perhaps Middletown's two most famous residents, live in posh mansions on the Navesink River, just a couple of miles apart.
Asbury Park Press Read more
This guy pitched a tent at city hall to make a point: minorities aren't being hired
Troy Oglesby ended an overnight vigil in front of Camden City Hall on Tuesday evening after a council meeting and promises from local officials that the hire of an affirmative action officer was eminent.
NJ.com Read more
933,000 Adults in NJ Have a Mental Illness, But Few Get Help
While grabbing a cup of coffee during New Jersey rush hour, spending 40 hours a week at the office, or enjoying your daughter's soccer game, you've likely interacted with someone who's dealing with a mental illness.
NJ101.5 Read more
Newark Cop Tried to Get Disability Pension After Using Gun in Road Rage
A former city detective has lost his bid to get a full accidental-disability pension after losing his job over a road rage incident.
NJ101.5 Read more
Mail-in votes swing outcome for last seat in Paterson council race for Flavio Rivera
A little after 9 o'clock on election night, City Council candidate Flavio Rivera got a message of condolence from a friend about his impending defeat.
The Record Read more