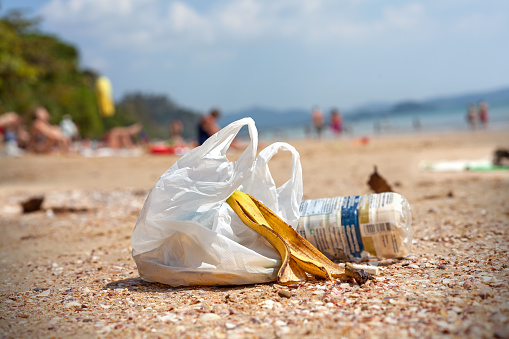 "Paper or plastic" is a question New Jersey shoppers have become used to, but now some state legislators are looking to make that a thing of the past.
Assemblyman John McKeon, a Democrat from Essex County, has introduced legislation to ban the use of plastic shopping bags in the state within three years. Meanwhile, Assemblywoman Valerie Huttle, a Democrat from Bergen County, wants to impose a 5-cent fee on each plastic bag to discourage use, according to a report in NJSpotlight. 
The rampant use of plastics is widely viewed as a critical environmental problem, and environmentalists have targeted use of plastic bags, straws and even utensils as one way to combat the issue.
While using plastic bags is banned in several cities and some New Jersey shore municipalities, only two states, so far, have enacted bans, according to the NJSpotlight report.
The bags are popular with shoppers, while environmentalists would like to see them banned outright.
Under Huttle's proposal, most of the proceeds from the 5-cent fee are supposed to go to a special fund for lead abatement, according to the NJSpotlight report. But, cash-strapped state executives have a long history of imposing fees that are supposed to be dedicated to special uses which are then eventually folded into the regular budget—making them an easy way to impose new taxes under the guise of tackling a quality of life issue that voters will support.
State legislators, for example, imposed a 90-cent "911 Service Fee" that was supposed to be used to support the state's 911 system. A report by NJ.com in 2016, however, found that only about 15 percent of the $1.37 billion collected since 2004 had actually gone to the 911 system, with the rest being diverted to other state spending.
A 2015 report by the Asbury Park Press found the state diverted more than $50 million from a fund to combat lead poisoning to pay other bills.
Gov. Phil Murphy is currently battling with legislators from his own party over his plans to boost state taxes by more than $1.5 billion in his proposed budget.
The budget calls for using $59.3 million from the state's Affordable Housing Trust Fund and $125 million from the state's settlement with Exxon to plug funding holes. This comes despite voters overwhelmingly approving a constitutional amendment in November dedicating all environmental settlement funds for use on environmental projects.
A poll released Tuesday found a record number of New Jersey residents expressing negative views about living in the state, with their chief complaint being New Jersey's notoriously high tax burden.
Quote of the Day: "Now they're going to show commercials when they know we have concerns and we'd rather negotiate a budget. So they're gonna negotiate it on TV. It's offensive, no matter how they want to play it." — Senate President Steve Sweeney, on New Direction New Jersey's plans to run TV ads supporting Gov. Phil Murphy's agenda and the more than $1.5 billion in tax hikes needed to support it.
Will New Jersey Ban the Bag?
California did it four years ago. Hawaii has a de facto ban. And last month, New York Gov. Andrew Cuomo called for a statewide ban on single-use plastic bags by next year.
NJSpotlight Read now
Despite Warnings From Top Democrats, Pro-Murphy Ads Could Air Soon
An outside group aligned with Gov. Phil Murphy will follow through on plans to run pro-Murphy ads despite warnings from New Jersey's top lawmakers not to put pressure on them amidst state budget negotiations, NJ Advance Media has learned.
NJ.com Read now
Union Dissolves and Merges the Northeast Regional Council of Carpenters; Ballantyne Out
The New Jersey political world today spun on its axis over the dissolution of the powerful Northeast Regional Council of Carpenters by the larger brotherhood, a move widely interpreted as the bouncing of John Ballantyne, the union's executive secretary-treasurer, and his political director, amid Democratic Party infighting and what one source cryptically described as "philosophical differences."
InsiderNJ Read now
New Jersey Becomes Second State to Adopt Individual Health Insurance Mandate
Gov. Phil Murphy on Wednesday signed into law a bill that will require all New Jersey residents to have health coverage or pay a penalty, making the state the second in the country to adopt an individual health insurance mandate.
Politico Read now
The Primary Color Is Green: Candidates Raise $40M and Counting
New Jersey's Congressional primary candidates have already raised $40.4 million, with 40 percent of that brought in by the men expected to be facing off in November for the U.S. Senate seat on the ballot this year.
NJSpotlight Read now
Grewal: NJ Joins Court Effort to Nix Contraceptive Care Exemption
New Jersey Attorney General Gurbir Grewal said Wednesday the state has joined a multistate group challenging federal regulations that allow employers to block contraceptive coverage for employees, based on moral or religious grounds.
NJBiz Read now
Senate Democrats May Take Rosier View of State Revenue Than Murphy, Sources Say
Democrats in the state Senate believe Gov. Phil Murphy's proposed budget may underestimate revenue by some $200 million, failing to take into account the effect of federal tax law changes enacted in January, according to two people familiar with the budget discussions in Trenton.
Politico Read now
New Jersey's Legal Weed Market Expected to Be Worth $850 Million
New Jersey lawmakers are on track to approve a law that ultimately could bring nearly 100 marijuana retailers to the state and spawn an $850 million industry, advocates said at a conference.
The Record Read now
Police Body-Cam Videos Show Violent Arrest of Woman at Wildwood Beach: 'That's It. You're About to Get Dropped,' Officer
Wildwood police released three redacted body-cam videos Wednesday night of the Memorial Day weekend encounter with a 20-year-old woman on the beach that shows her cursing and insulting police, and one officer, in turn, losing his patience when the woman walked away from him and telling her, "That's it. I'm done with you. You're about to get dropped."
Inquirer Read now
Margate Police: We Kept the Lid on Club Wa This Year
Police in this busy Shore town say that as usual, more than a thousand visiting teenagers crowded onto the beach near Lucy the Elephant over Memorial Day weekend, but, unlike last year, when fights and loitering outside the nearby Wawa store spiraled out of control, no serious incidents were reported.
Inquirer Read now
Activists Urge Cory Booker, Bob Menendez to Speak Out on Gaza Killings
About 25 activists from diverse organizations rallied outside the Newark offices of Sens. Cory Booker and Bob Menendez on Wednesday to call on them to speak out against the killing of unarmed Palestinians during recent protests in Gaza.
The Record Read now
Elbow to Elbow in the 11th as Democrats Jostle to Succeed Frelinghuysen
New Jersey's 11th Congressional District seat is up for grabs now that long-term incumbent Republican Rodney Frelinghuysen announced he will not be seeking re-election. Democrats are intent on flipping the seat in November, but first they must muscle through a competitive primary full of strong contenders.
NJSpotlight Read now
With No Incumbent in the 11th, Broad Range of Republicans Vie for Chance
For the first time in 22 years, Republicans in the 11th Congressional District are facing a primary race without an incumbent. A diverse group of candidates are on the ballot, including traditional conservatives, social moderates, and one who wants to reengineer the entire congressional voting structure.
NJSpotlight Read now
Paramus School Bus Driver Hudy Muldrow Released From Jail, Told Not to Drive
The Paramus school bus driver charged with recklessly causing the deaths of a teacher and a fifth grade student after attempting a U-turn on Route 80 was released from jail Wednesday and ordered not to drive.
The Record Read now
Fatal Route 80 Crash: Why Haven't Officials Released Video?
Did a 77-year-old bus driver attempted to take an emergency exit on Route 80 by veering across three lanes?
NJ101.5 Read now
Legal Weed in NJ Could Be Doomed for Now by Risky Move in Trenton
A bold plan to tie medical marijuana expansion to the legalization of recreational weed could jeopardize both efforts in New Jersey, legislators say.
NJ.com Read now
NJ's Oldest Nuclear Plant Is Closing, Begins Booting Workers
The first large group of employees at the Oyster Creek Generating Station in Ocean County are set to leave as the nuclear plant prepares to shut down after nearly a half century of producing electricity.
NJ.com Read now
NJ Teacher Missed 213 Days of School, Faked Test Scores
A veteran teacher in this school district will lose her job after missing hundreds of days of school, according to a decision this month by the state commissioner of education.
NJ101.5 Read now
Why NJ Was Just Named the Best State in the US to Raise Kids
A new study by Save the Children, an international non-governmental organization, cites the state's low rates of child violence, malnutrition, adolescent births, high school dropouts and infant mortality as reasons for the top billing. The group uses the five categories as metrics to analyze health, safety and security of children.
NJ.com Read now
Raw Sewage Shuts Down One Jersey Shore Beach
A river beach in Belmar was closed on Wednesday as a sewage overflow nearby contaminated the water with unsafe levels of bacteria.
Asbury Park Press Read now
It's Official: NJ Just Got a Brand New Medical School
New Jersey's newest medical school officially opened its doors Wednesday.
NJ.com Read now
What's the Richest Town in Every State?
The American Dream promises to all the opportunity to attain financial security—and even wealth—through hard work. Just how widespread these opportunities are is a matter of debate, but there are towns that serve as evidence that the American Dream is alive and well, at least for some.
The Record Read now
Asbury Park Boardwalk Manager Madison Marquette in Merger Talks
Madison Marquette, the firm managing Asbury Park's boardwalk redevelopment, is in talks to merge with a Houston-based real estate company.
Asbury Park Press Read now
Fourth Paterson Cop Arrested by FBI, This Time Over Beating of Suicidal Hospital Patient
Officer Roger Then, of the Paterson Police Department, has been arrested by FBI agents in connection with the beating of a suicidal hospital patient while the unnamed victim was in a wheelchair and in a hospital bed, according to court documents.
The Record Read now
Editorial: Sick and Tired of Unused Sick-Leave Abuses
The long and winding road to eliminating one of the more egregious abuses of taxpayer money in New Jersey—public-worker banking of unused sick leave for retirement payouts—may finally be approaching an end.
Asbury Park Press Read now