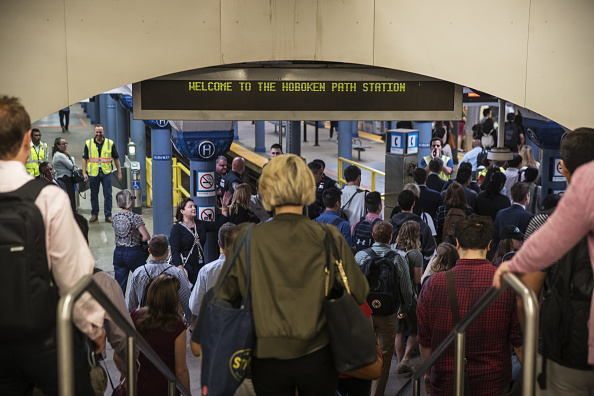 New Jersey Transit riders got some good news last week from Amtrak officials about how repair work will impact trains coming and going from New York's Penn Station.
"The actual interruption due to the track work we're doing this summer is significantly reduced from that of last year," said Amtrak Executive Vice President and Chief Operating Officer Scot Naparstek, according to a NJSpotlight report.
Last year, repair work disrupted schedules and operations, prompting transportation officials to warn of a "summer of hell."
The hassles, however, proved less dire than predicted.
On Friday Naparstek said workers have made a lot of progress in the ensuing year. While the work will continue this summer, it won't necessitate as many changes to schedules and rail lines, according to the report.
Penn Station is the nation's busiest rail hub, with more than 500,000 area commuters using the facility on any given day, according to the report.
The repair work comes as regional transportation officials continue pushing for federal funding for the planned Gateway project, which would make a series of upgrades to local transportation infrastructure, including a new rail tunnel under the Hudson River.
The project is expected to cost around $30 million, though President Donald Trump has expressed opposition to the federal government fulfilling what proponents say was an Obama-era commitment to provide about half of the funding for the plan.
Quotes of the Day, Part One: "There is no April surprise. Instead, we have a May reality check—a reality check on the urgent need for new revenues." — New Jersey Treasurer Elizabeth Muoio
Quotes of the Day, Part Two: "There's not enough taxes to be raised to correct what's wrong in New Jersey at this point." — Senate President Steve Sweeney.
NFL Commissioner Goodell Calls on Congress to Regulate Sports Betting
A week after the U.S Supreme Court struck down a federal ban on sports betting, NFL Commissioner Roger Goodell called on Congress to regulate the wagering.
Christian Hetrick, Observer Read more
No 'April Surprise' Revenue Surge for New Jersey State Budget
New Jersey lawmakers hoping to avoid raising taxes received bad news on Monday: There was no "April surprise" of robust revenue collections.
Christian Hetrick, Observer Read more
Phil Murphy's Tax Hikes Have Many NJ Democrats Fearing for Their Political Future
This fall's Trump midterms? That's for New Jersey's congressional candidates to worry about.
The Record Read more
Blue States Strike First Against Awaited Anti-Union Court Ruling
Blue state lawmakers are waging a preemptive strike against an anticipated U.S. Supreme Court decision that could decimate the power of public-sector unions across the nation.
Politico Read more
Murphy, Unfazed by Cuomo's Ire, Stands Firm on Controversial Port Authority Move
Parting ways with reformers across the region—and also New York Gov. Andrew Cuomo—New Jersey Gov. Phil Murphy said Monday he remains intent on restoring a position at the beleaguered Port Authority of New York and New Jersey many believe facilitated the so-called Bridgegate scandal.
Politico Read more
NJ Forces Disabled Howell Student to Make Brutal Choice: Internship or Health Aide Money
Like any college student, Anna Landre was thrilled to land a quality summer internship.
Asbury Park Press Read more
Gurbir Grewal, New Jersey AG, Seeks to Intervene in Federal Suit in a Bid to Protect DACA
New Jersey Attorney General Gurbir S. Grewal is seeking to intervene in a Texas-led lawsuit that seeks an end to a federal program that protects from deportation young undocumented immigrants who were brought to the county as children.
The Record Read more
No Summer of Hell Repeat for NJ Transit Riders
While the fate of a new trans-Hudson rail tunnel remains in question thanks to Republicans in Washington, D.C., Amtrak officials say they are making good progress on an ongoing project to repair infrastructure deep inside Penn Station in New York City.
NJSpotlight Read more
More Hit-and-Run Crashes Happening in New Jersey
Fatal hit-and-run accidents are on the rise in New Jersey, up 38 percent between 2013 and 2016, the most recent year for which statistics are available.
NJ101.5 Read more
State Agencies to Fly Flags at Half Staff to Honor Paramus Bus Crash Victims
Flags across New Jersey will fly at half-staff on Monday in honor of Jennifer Marie Williamson-Kennedy and Miranda Vargas, the teacher and student killed in last Thursday's horrific bus crash.
The Record Read more
Lacey Students Have Free Gun Range Training
All Ronald Stesney knew about guns was gleaned from playing video games and watching movies.
Asbury Park Press Read more
Montclair Groping Allegations Rekindle Debate About All-Gender Bathrooms
An alleged sexual crime in a gender-neutral bathroom at Montclair High School last week has rekindled a debate about school policies that set aside bathrooms for use by all genders.
The Record Read more
Legal Weed Tax Revenue: Colorado Towns See Mixed Results After Marijuana Legalization
Littleton, Colorado, Mayor Debbie Brinkman has heard "the pitch" more times than she can count.
The Record Read more
Boost for NJ's EV Market With More Charging Stations
The Legislature is poised to tackle new measures to encourage the state to accelerate the electrification of the transportation sector.
NJSpotlight Read more
Whose Syringe Was It? Not Mine, Says Councilman. Not Mine, Says His Passenger
A 69-year-old Spring Lake Heights borough councilman is not an intravenous drug user, his lawyer insisted, after the councilman was pulled over last month and he and a passenger were charged with possession of a syringe and other drug paraphernalia.
NJ.com Read more
Rockaway Township Council Investigates Its Own Lawyer and Administrator
An investigation that focuses on Business Administrator Adam Brewer and Township Attorney John Iaciofano is the latest volley in the back-and-forth battling that has become the chief characteristic of local leadership.
The Record Read more
He Served His Country, His State, His Town: This Is Brian McNally, Trooper Killed in Car Crash
The New Jersey State Trooper who died in an off-duty crash always knew he wanted to serve in the military and had dreamed of taking over his hometown police department as chief one day.
NJ.com Read more
Bill Would OK Delay of Reval Tax Bill Changes; Fulop Opposes
Jersey City lawmakers in the state Legislature want to halt implementation of this year's property revaluation until 2019, citing the "fiscal shock" faced by property owners anticipating huge tax hikes.
Jersey Journal Read more
Disabled Woman Sues Harvey Cedars, Says Its Rules Keep Her Off the Beach
Elizabeth "Bettie" Greber grew up with the sand between her toes.
Asbury Park Press Read more
Greenwood Lake Fund Gains Senate Committee OK; Would Set Aside $500,000 a Year
A bill that would divert $500,000 from state boat registration fees to manage and maintain Greenwood Lake each year passed muster with the state Senate Environment and Energy Committee on Monday.
The Record Read more
Atlantic City Mayor Disburses MGM Endowment Funds
After five months of uncertainty, Judah-Abijah Dorrington, acting president of the Art Dorrington Ice Hockey Foundation, walked away from City Hall with a $25,000 check for the program that teaches life skills through hockey.
Press of Atlantic City Read more
Coughlin: We Need Property Tax Relief, Gov. Murphy Restore Homestead Rebates
New Jersey is known for many things—our beautiful shore, our great history, Bruce Springsteen—but it's also known for something much less attractive: having the highest property taxes in the nation.
NJ.com Read more
MacInnes: Low Sports Betting Tax Rate a Giveaway to Special Interests
New Jersey's financial woes are no secret. The state operates at a structural budget deficit, failing to meet its obligations to public education, the pension fund, reliable transit infrastructure, and much more. One of the main reasons New Jersey is in this precarious fiscal state is that past legislatures have acted quickly, quietly, and secretly to enact bills that wouldn't hold up to public scrutiny. The list is a long one and both political parties share the blame.
The Record Read more
Editorial: Setting Priorities and the New Jersey Budget
Zero hour on the New Jersey budget deadline is more than a month away, but news about the state's revenue projections, revealed on Monday, indicates that either the Legislature is going to have to agree to tax increases or Gov. Phil Murphy is going to have to cut back on his ambitious budget plan.
The Record Read more
Editorial: New Jersey Rapidly Making Its Bad Business Climate Worse
Now that they have the governorship as well as control of the Legislature, the state's Democrats have wasted no time increasing the burden on New Jersey's heavily regulated and taxed businesses.
Press of Atlantic City Read more