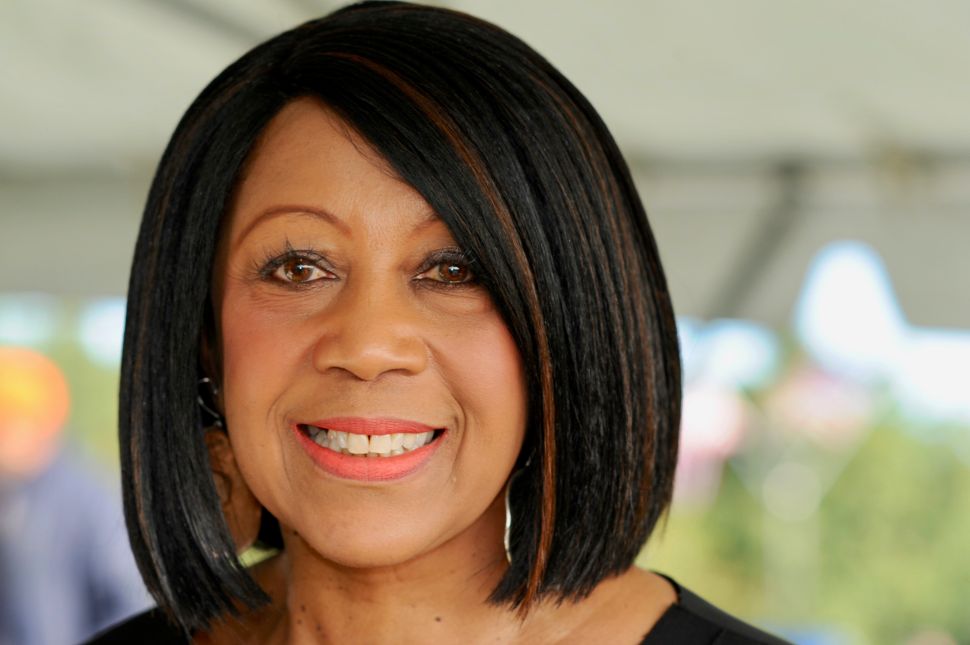 Gov. Phil Murphy's proposed budget includes plans to expand state pre-k programs and provide free community college tuition, all while raising more than $1.5 billion in new taxes.
But Lt. Gov. Sheila Oliver told lawmakers this week the state can't increase aid to municipalities, which would help reduce the state's notoriously high property taxes, according to a report by NJSpotlight.
Murphy's $37.4 billion budget calls for $1.4 billion to fund municipal aid programs, continuing a seven-year stretch of flat aid for municipalities at a time when inflation has increased 15 percent, according to the report.
Oliver told the Assembly Budget Committee budget problems prevent Murphy from devoting more money to aid the state's municipalities. She also used budget problems to defend the administration's plans to use nearly $80 million that's supposed to be dedicated to build affordable housing to plug budget holes, despite Murphy campaign promises not to divert affordable housing funds, according to the report.
Murphy's budget does call for increasing school aid, which could help reduce the property tax burden in some towns.
But it also calls for increasing the state sales tax, adding new taxes on millionaires, ride- and rental-sharing services and the legalization and taxing of recreational marijuana.
The budget difficulties cited by Oliver also haven't prevented Murphy from proposing new programs in the budget, including $50 million to provide free community college tuition to low-income students. He also wants to raise the earned income tax credit for the working poor and create a child- and dependent-care tax credit.
Murphy, however, is facing pushback from legislative leaders in his own party who are opposed to his plan to raise the sales tax and impose a millionaires tax and are calling on the governor to contract, not expand, state programs.
"We can't raise enough taxes to fix the structural problem that we have," Democratic Senate President Steve Sweeney told the Fox Business Network Tuesday. "That's why you keep hearing me saying it's a last resort. We got to start fixing things instead of taxing things."
Murphy, who campaigned on promises to help the state's struggling middle class, contends residents won't mind paying even more in taxes, if they feel they are getting their money's worth returned in state services.
Quote of the Day: "A millionaires' tax may prevent a fiscal heart attack, but it may also cause long-term economic cancer." — Tom Byrne, former chairman of the  New Jersey State Investment Council.
Group Sues New Jersey to Desegregate Schools
A coalition of civil rights and other groups sued the state of New Jersey on Thursday in a bid to desegregate the state's schools, asking the court to strike down laws that largely require students to attend schools where they live.
Christian Hetrick, Observer Read more
Poll: Bob Menendez Support Remains 'Lackluster'
U.S. Sen. Bob Menendez's poll numbers remain "lackluster" as he seeks reelection following his corruption trial, according to a new poll released on Thursday.
Christian Hetrick, Observer Read more
Oliver Defends Murphy's Flat Funding for Municipalities and his Raid on Housing Aid
Gov. Phil Murphy's budget doesn't increase state aid for municipalities, which would help offset property taxes, and it continues to raid funds that are earmarked for affordable housing. But Lt. Gov. Sheila Oliver told lawmakers yesterday the Murphy administration will look for other ways to help local leaders, including by doing more to encourage shared services and smart planning.
NJSpotlight Read more
Why a tax on millionaires may not work: Byrne, Greenwald, Oroho discuss economic solutions
Tom Byrne no longer is the head of the state's investment council.
But he still has a few things to say about the state's finances — and what truly adds up.
ROI-NJ Read more
To tax or not to tax? That's the question fueling the feud among NJ Democrats
To get a sense of just how polarized the New Jersey Democratic Party is, consider the dueling appearances Tuesday of the party's two leading lights.
The Record Read more
Murphy promises college loan forgiveness plan at Propelify fest
Gov. Phil Murphy said his administration will soon be introducing a program that would forgive a yet-to-be-determined college loan amount if students stay in the state to work after graduation.
ROI-NJ Read more
A State Attorney General Calls Out Betsy DeVos on For-Profit Colleges
The attorney general of New Jersey said on Thursday that federal education officials had stopped cooperating on issues involving fraudulent activities at for-profit colleges, and requested that the Education Department renew its investigations into the institutions or hand them over to the state.
New York Times Read more
Segregation in New Jersey Neither Chance Nor Accident
New Jersey's segregated housing pattern is the result of decades of government-sponsored policies, and it will take a new civil rights movement to begin to integrate the state. Even better: Gov. Phil Murphy should lead the effort.
NJSpotlight Read more
Student, teacher killed in Paramus school bus crash that closed Route 80 in Mount Olive
A school bus carrying middle school students from Paramus was ripped from its chassis in an accident with a dump truck on Route 80 west Thursday morning, killing two andsending dozens of fifth graders to area hospitals with a range of injuries.
The Record Read more
Looks like this date will be the big one for N.J. sports betting
If you're eager for legal sports betting to begin in New Jersey, circle June 7 on your calendar.
NJ.com Read more
The man behind N.J.'s sports betting win
The story of New Jersey's long and successful fight for sports betting began on a stool in a Union City bar 10 years ago.
NJ.com Read more
Cop was patient, I was irrational. Board member apologizes for 'skinhead' insult
The school board member caught on camera calling a police chief a "skinhead" after she was pulled over for speeding, apologized on Thursday for what she called her "irrational response" and "uncharacteristic behavior."
NJ.com Read more
Bills would restrict state pension fund investment options
State legislators have unveiled a pair of bills that would restrict how New Jersey's public retirement funds place investments.
NJBiz Read more
Orsted celebrates A.C. office, gets first federal permit for offshore wind farm
The Danish offshore wind firm Orsted, which holds a federal lease to develop an offshore wind farm 10 miles off the resort, officially opened its New Jersey headquarters here Thursday and announced it has received its first federal permit.
Press of Atlantic City Read more
Atlantic City is on a winning streak, and 2 new casinos should keep it going
Atlantic City casinos saw an increase in gaming revenue in April, and experts say the momentum will keep on rolling once two new casinos open in less than two months.
NJ.com Read more
Preservation NJ names 10 Most Endangered Historic Places
As new buildings crop up throughout New Jersey — a state known for its development — Preservation New Jersey (PNJ) urges everyone to remember the past, especially during National Preservation Month in May.
Daily Record Read more
DEP looking for an army of beach lovers to buy Shore to Please plates
Next time you see a "Shore to Please" license plate on a vehicle, give the driver a smile. By paying a little more for that piece of metal, the owner has funded clean-beach programs.
Press of Atlantic City Read more
N.J. teacher did not get away with sex with student, prosecutor says
Was a Union City teachers union president full of hot air when she claimed one of her teachers got away with having sex with a student?
NJ.com Read more
Dildo harassment suit puts town's top cop on paid leave
The small police force in Union County that has made recent headlines over a wide range of harassment claims from accusations of cops using racial slurs to officers being hit with a "large" blue dildo has new leadership.
NJ.com Read more
New MVC Phone Scam Traveling Through NJ
If someone calls you claiming to be from the MVC — hang up!
"People are getting phone calls from someone claiming they're from the Motor Vehicle Commission and telling them that their license or registration has been suspended and that they owe money to restore that license or registration," says Sue Fulton, New Jersey Motor Vehicle Commission chief administrator.
NJ101.5 Read more
These 5 N.J. state jobs pay less than Mike Pence's bunny probably earned in 3 months
What many state jobs lack in salary they make up for in cushy pensions and shorter hours, but all that kinda goes out the window when you find out you've been out-earned by a rabbit.
NJ.com Read more
25 richest cities in America: Does your metro area make the list?
Incomes have been on the rise in the United States for the last several years, but of course income levels are not uniform nationwide. According to the U.S. Census Bureau, the typical American household earns $57,617 per year. In some U.S. cities, however, more than half of all households earn well over $70,000 per year.
The Record Read more
Women Appointed To Top Miss America Leadership Positions After Scandal
Here they come, Miss America's female leadership.
For the first time in the pageant's history the two branches of the organization — the pageant and the foundation — will be led entirely by women, who also happen to be former Miss Americas.
NPR Read more
NJ American Water Bills to Spike as Company Seeks System Upgrades
New Jersey American Water Customers will see their water bills spike over the next few months, as the Board of Public Utilities reviews the company's application to permanently raise its rates.
NJ101.5 Read more
Audit: Paterson school official sent $236K in business to firm at his headquarters
The school board's former worker's compensation insurance risk manager referred $236,915 worth of physical therapy cases in 2017 to a company that shares the same Totowa office building where his headquarters are located, according to a state audit.Audit: Paterson school official sent $236K in business to firm at his headquarters.
Paterson Press Read more
Phil Murphy tells Bergen Community College graduates to be fearless
Gov. Phil Murphy had two pieces of advice for the graduates of Bergen Community College on Thursday: don't be afraid to fail and always be true to yourself.
The Record Read more
Toms River residents bash plan for Route 9 apartments, stores
Details of a plan to build 40 apartments, office space and stores on Route 9 have been greeted with skepticism by both residents and planning board members.
Asbury Park Press Read more
Paterson BOE looks to save $17M on employee medical insurance
The city school board is changing the medical insurance it provides to its 4,000 employees – a move that the district says will save $17 million next year, but one that the teachers' union has called risky.
Paterson Press Read more
Editorial: Unimaginable sorrow comes to Paramus
Every morning, parents and guardians across North Jersey put their children on the school bus and hope for the best. Sometimes they wave goodbye.
North Jersey.com Read more