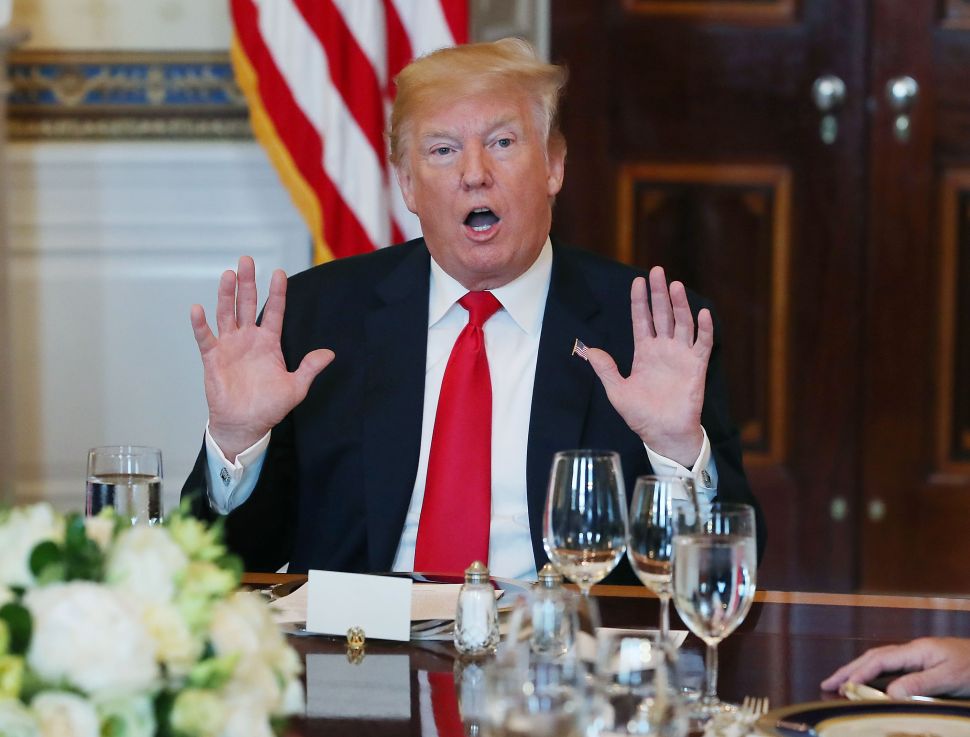 Think you managed to preserve your federal tax deduction for state and local taxes? The IRS is warning that you'd better think again.
The tax agency warned Wednesday it was developing regulations to address efforts to allow people to get local tax credits for making "charitable" contributions to local governments, according to a report on northjersey.com. Those local efforts were prompted by changes in the Republican tax overhaul that limited deductions for state and local taxes to $10,000.
The IRS said Wednesday it is looking to close a loophole that allows the charitable credits for "taxes that the taxpayer is required to pay," according to the report.
The tax agency warned that federal, not local law, applies when it comes to the federal income tax.
The tax credit scheme was inspired by the IRS allowing residents of other states to use such credits for things such as private school scholarships.
New Jersey politicians argue that the Republicans' efforts to cap the state and local tax deductions are a political ploy aimed at Democratic states.
The report notes that the Tax Policy Center found that more New Jersey taxpayers will pay higher federal taxes this year as a result of the Republican tax plan than any other state.
Reaction to the IRS statement was split along party lines. Sen. Bob Menendez, a Democrat, said the Trump administration was using the IRS "as a political weapon to target New Jerseyans," according to the report.
Menendez's likely challenger in the November election, Republican Bob Hugin, said on Twitter that the state needs to take concrete steps to help its citizens.
"New Jerseyans don't need gimmicks, they need real action," said Hugin.
Quote of the Day: "We are not the problem." — Patrick Colligan, president of the New Jersey State Policemen's Benevolent Association, who points out most of his members are contractually barred from ecessively large sicktime payouts being targeted by proposed legislation.
Republicans Might Be Able to Boot Menendez and Pick Up a Senate Seat in New Jersey
New Jersey hasn't sent a Republican to the U.S. Senate since 1972, which was the last time Sen. Clifford P. Case won re-election (he was first elected in 1954). Since then, two Republicans have been appointed to the Senate to finish vacated terms, but they didn't run to hold their seats.
Ashe Schow, Observer Read more
New Jersey Lawmakers Advance Bill Capping Sick Leave Payouts
The issue of sick leave payouts has long angered New Jersey taxpayers, who have seen headlines about public workers receiving six-figure checks upon their retirement.
Christian Hetrick, Observer Read more
Steve Sweeney Urge States to Reject Sports Betting 'Integrity Fee'
Sweeney accused the sports leagues of attempting "extortion" by asking for payments to help cover the cost of protecting the integrity of their games.
Christian Hetrick, Observer Read more
Massive sick time payouts for public workers may come to an end. Here's why
Top Democratic lawmakers are lining up behind strict new limits on sick time payouts for public workers, angering unions and reigniting a debate that raged during the administration of Gov. Chris Christie.
The Record Read more
New IRS rules target New Jersey attempt to take sting out of Trump tax reform
The Internal Revenue Service said Wednesday it will issue new rules that could thwart efforts by New Jersey and New York officials to get around a provision of the new federal tax code that hurts their states more than most other states.
The Record Read more
Murphy: Raising Gas Tax Again Not Popular, But Necessary
It's not the news New Jersey drivers wanted to hear.
This week we got word that gas tax collections have fallen behind expectations in the Garden State, which means the gas tax could be increased by 3 or 4 cents a gallon this fall.
NJ101.5 Read more
New Jersey utility bills to increase with Phil Murphy's sign off on nuke subsidy bill
More than 2 million New Jersey households and businesses will pay a bit more on their power bills to bail out two nuclear power plants in Salem County that have been undercut by cheap natural gas.
Asbury Park Press Read more
Clean Sweep For PSEG
It is turning out to be a very good week for Public Service Enterprise Group.
Public Service Electric & Gas, the company's utility, won approval yesterday from state regulators to spend $1.9 billion over the next five years to replace much of its aging gas-pipeline system.
NJSpotlight Read more
Top NJ Lawmaker Wants to Sue Sports Leagues, Attacks Intergrity Fee
A top New Jersey lawmaker is urging all 50 states to reject so-called "integrity fee" payments to professional sports leagues in any sports betting legislation they enact.
NJ101.5 Read more
How a New Jersey Sports Bar Made a $3 Million Bet and Won
It was a weekday night, and some of the regulars were perched in the sports bar at Monmouth Park, a struggling racetrack near the Jersey Shore. A few members of the town council had rolled in after their weekly meeting for some beer and popcorn. Others were there to bet on horse races around the country, their eyes trained on a row of flat-screen televisions along a back wall showing horses barreling down the homestretch.
Nwe York Times Read more
Gun Safety Begins at Home, Rutgers Study Finds
A study from the Rutgers School of Nursing finds that gun safety programs to deter kids from randomly handling firearms did not prevent this dangerous activity. Researchers say there is a better answer.
NJ101.5 Read more
Lawmakers Seek Another Route to Raise Pay for Home Healthcare Workers
State lawmakers are advancing new legislation to ensure better pay for all homecare assistants serving Medicaid clients, a longtime goal supporters thought they had already achieved, but learned would not be fully funded under Gov. Phil Murphy's budget proposal.
NJSpotlight Read more
New Jersey Supreme Court: Release bidder names in disputed memorabilia auction
The list of buyers, who purchased sports memorabilia from a Bergen County Prosecutor's Office auction four years ago, should be released, according to a state Supreme Court ruling.
The Record Read more
Judge apologizes for conduct in Teaneck traffic stop.
A municipal court judge for Belleville, Bloomfield and East Orange on Wednesday apologized for his words to state troopers, which he uttered during his 2016 highway police stop in Teaneck.
The Record Read more
Councilman in Cemetery Sex Bust Tells Cop 'I'm a Major Figure'
A Jersey Shore councilman who was once arrested on charges of hiring a prostitute in a cemetery is facing expulsion from the Borough Council after his colleagues censured him over a more recent arrest.
NJ101.5 Read more
NJ beach bacteria: The Shore can't dodge NYC's sewage
Flare-ups of bacteria connected to human and animal feces have long plagued certain beaches on the Jersey Shore, threatening to sicken swimmers and scare away tourism dollars.
Asbury Park Press Read more
Will New Jersey keep state parks open if there's another government shutdown?
Stay the hell on the beach!
A new bill that would keep New Jersey's state parks, beaches and other state-run attractions open during a government shutdown is advancing through the state Legislature as lawmakers look to prevent another 'Beachgate.'
NJ.com Read more
Condo Board Owes Thousands for Banning Support Animals
Two pet owners who say they were discriminated against because they were not allowed to have their support animals live with them scored victories after a state watchdog agency sicced attorneys on their condo boards.
NJ101.5 Read more
Lacey Superintendent Craig Wigley retires two years into his contract
The superintendent of Lacey Township Public Schools announced his retirement this week after having served two years of his four-year contract.The superintendent told The Press his decision had nothing to do with public contention between school officials and a group of parents and Second Amendment advocates following the suspension of two students who allegedly posted pictures of weapons on social media during a legal firearms training.
Asbury Park Press Read more
Newark Chooses One of Its Own For Super
In its first big act after 22 years of state control, the Newark school board last night picked one of the city's own as the next superintendent.
NJSpotlight Read more
NJ marijuana legalization: Medical marijuana sent New Jersey family to Colorado
Seven-year-old Vivian Wilson answered the door smiling and waving at the two journalists on her doorstep before leading them by hand into her family's play room.
Asbury Park Press Read more
Acreage has big plans for marijuana in South Jersey and the nation
Acreage Holdings, the marijuana company that recently added former House Speaker John Boehner to its advisory board, has big plans for South Jersey and for cannabis patients across the United States.
Inquirer Read more
How Resorts, Atlantic City's first casino, is still in the game
Eydie Gorme slept in.
But it seemed everyone else was there, or now claims to have been, when Gorme's husband, Steve Lawrence, presided over the first roll of the dice on May 26, 1978, at Resorts Hotel and Casino, ushering in a rocky four decades of legalized gambling in Atlantic City.
Inquirer Read more
MacArthur camp: emails prove Kim lying about NJTV spot
Citing emails, Rep. Tom MacArthur's campaign on Wednesday challenged rival Andy Kim's claim that appearances the two will make on an NJTV program next week were always meant to be independent of one another.
New Jersey Globe Read more
This hip N.J. beach is second best in the U.S., magazine says
As beach season approaches, the Jersey Shore is getting its due in the national spotlight.
NJ.com Read more
Plastic or paper? Not a choice anymore under N.J. Shore town ban
In a sweeping measure to address a growing environmental threat along the Jersey shore, Monmouth Beach officials voted unanimously Tuesday to ban single-use plastic bags, straws and food containers, as well as take-out Styrofoam boxes.
NJ.com Read more
Ex-cop who gunned down ex-wife has a nearly 700-page internal affairs file
A former Neptune Township police sergeant who gunned down his ex-wife as she sat helplessly in the driver's seat of her car had an internal affairs file that is nearly 700 pages – and was asked to stay on the force even after he offered to retire prior to the 2015 slaying.
NJ.com Read more
School business manager accused of 48 false entries to cover up $186K in purchases
A former business manager for three Bergen County private schools allegedly made 48 false entries in a Catholic school's ledger system to scrub $186,306 to pay for her credit card bills, according to court documents.
The Record Read more
Here's to the losers: ex-candidates share stories of campaign losses
Mo Kinberg knew she was toast when a Facebook poll showed her behind one month before Election Day.
NJ.com Read more
EPA to use more stringent standard to monitor noxious fumes from Edgewater Superfund site
Air will be monitored 24 hours a day at a more stringent standard in the apartment complexes surrounding the Quanta Superfund site, where residents have complained about noxious fumes for months, federal officials said Tuesday.
The Record Read more
Yes, you can get arrested for braiding hair and N.J. Senate's vote could change that
Melek Ustunluk is a hair braider based out of Clifton who makes a living off of creating unique designs on her clients' heads. So when officers came into her Passaic shop four years ago and Ustunluk was arrested by an officer whose hair she had recently braided, she was stunned.
NJ.com Read more
N.J. school board trustee hit with defamation lawsuit over mock newspaper
A local business owner and his wife are suing a Board of Education trustee for allegedly publishing defamatory statements about them, including accusations of "anti-American" sentiment, voter fraud, and even treason.
Jersey Journal Read more
Editorial: Grewal, New Jersey take a DACA stand in Texas
Exit Eric Schneiderman. Enter Gurbir S. Grewal.
Actually, both the former New York attorney general and the present New Jersey attorney general have a track record of using the powers of their offices to punch back against the Trump administration's worst tendencies, and against other national policies that would have particularly devastating effects in our corner of the Northeast.
The Record Read more