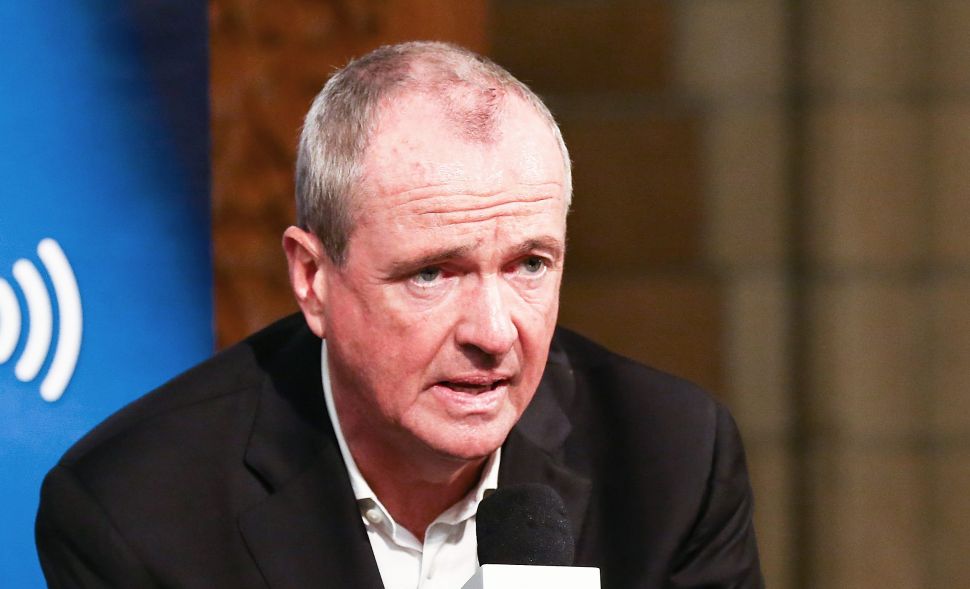 April can be the cruelest of months, particularly if you're a New Jersey Democrat trying to implement the governor's progressive agenda without having to agree to his proposal for a variety of tax hikes.
Democrats had been hoping that strong revenue collections in April and May could blunt the need for some of Murphy's proposed tax increases, but The Record reports that April's figures were disappointingly stagnant. The paper reports the state collected $2.3 billion in revenue from income tax receipts, a 1 percent drop totaling $23.1 million from last year's April collections. Overall, tax revenue for month climbed a mere 0.3 percent, according to the report. April is the largest month for tax collections in New Jersey, according to the paper.
It's unclear how the U.S. Supreme Court's decision Monday striking down the federal ban on sports betting will impact state budget calculations. But there is already talk among Trenton watchers of an intraparty budget battle brewing that could equal last year's showdown between then-Republican Gov. Chris Christie and Democrats in the legislature that resulted in state government being shut down over the Independence Day weekend.
Murphy's budget calls for more than $1.5 billion in new taxes. His plan includes raising the state sales tax, imposing a millionaires tax and approval of new taxes on electronic cigarettes, ride- and house-sharing services. He also wants to legalize and tax the sale of recreational marijuana.
Murphy wants to use the money to provide additional community college aid for low-income students, increase school funding and aid for New Jersey Transit and increase state payments into its underfunded pension system.
But Senate President Steve Sweeney has spoken out against the millionaires tax and Assembly Speaker Craig Coughlin said he doesn't favor raising the sales tax.
Quote of the Day: "Congress can regulate sports gambling directly, but if it elects not to do so, each state is free to act on its own." — U.S. Supreme Court Justice Samuel Alito.
New Jersey Prevails in Supreme Court Sports Betting Case
In a major victory for the state of New Jersey, the U.S. Supreme Court struck down a federal ban on sports betting on Monday, paving the way for states to legalize wagering on professional and collegiate sports.
Christian Hetrick, Observer Read more
Sports betting coming to Monmouth Park, as SCOTUS rules in favor of NJ
The seven year legal battle is finally over, and sports betting is coming to New Jersey.
Asbury Park Press Read more
Old rivals Christie and Lesniak cheer their victory on sports betting
Chris Christie and Raymond Lesniak often found themselves at odds when they served in Trenton
NJ.com Read more
Popper: With sports betting cleared for New Jersey, the winner is not you
With sports betting cleared for New Jersey, the winner is not you
The Record Read more
Edelson: NJ sports betting: Supreme Court saved New Jersey racing industry
Thank you, Supreme Court of the United States.
Because with Monday's ruling that the antiquated Professional and Amateur Sports Protection Act is unconstitutional, you literally saved an industry in New Jersey that employs more than 13,000 people in jobs relating to it, accounts for well over $1 billion in positive economic impact, and is responsible for hundreds of thousands of acres of open space.
Asbury Park Press Read more
Dip in tax revenue could pressure New Jersey lawmakers to raise taxes
A disappointing month for New Jersey tax revenue appears to throw cold water on the idea that a growing economy could reduce or even eliminate the need for Gov. Phil Murphy's proposed tax increases.
The Record Read more
How Phil Murphy's newest adviser may help make New Jersey a model of gun lobby resistance
Four months after 20 schoolchildren were gunned down at Sandy Hook Elementary School, Bill Castner met with Mark Barden, who gave him a wristband and two photographs of his slain 7-year-old son. Although Castner had been deeply involved in gun violence issues before then, the meeting in Trenton "felt different," he said.
The Record Read more
Glen Ridge, Montclair mayors sign petition for gun control
Mayor Stuart Patrick, of Glen Ridge, and Mayor Robert Jackson, of Montclair, signed a petition circulated by a Michael Bloomberg-backed non-profit that seeks to keep guns away from criminals and others who use the weapons irresponsibly.
The Record Read more
'Epicenter' of N.J.'s opioid epidemic may be getting better
Monmouth and Ocean counties are two Jersey Shore neighbors that are part of what has been called the "epicenter" of the state's opioid epidemic.
NJ.com Read more
NJ and Legalized Marijuana, National Model or Petri Dish
New Jerseyans should "assume" legalization of marijuana is coming and sooner than most think, according to experts and lobbyists at an NJ Spotlight roundtable on Friday. Right now, most of the discussion has been behind closed doors, as legislators count votes and visit other states that have already taken the plunge. Although Gov. Phil Murphy ran on a promise to legalize marijuana, and even assumed millions in tax revenues in his 2018–2019 budget, the discussion in Trenton has so far been pretty quiet.
NJSpotlight Read more
New crackdown on N.J. women's prison pushed amid sex abuse claims
New Jersey lawmakers on Monday advanced a package of bills aimed at cracking down on the sexual abuse of inmates at New Jersey's women's prison at the hands of corrections officers sworn to keep watch over them.
NJ.com Read more
Safe Haven Law, Sexting Warnings May Be Taught in NJ
Lawmakers are advancing a pair of bills requiring lessons on sexting and the state's Safe Haven Infant Protection Act to be added to New Jersey schools' curriculum standards.
NJ101.5 Read more
Want to vote in June 5 primary? Tuesday is your last chance to register.
New Jerseyans who want to cast ballots in the June 5 primary have until Tuesday to register to vote.
NJ.com Read more
This N.J. Republican is in big trouble because of Trump. Here's what he's doing about it.
Longtime Rep. Leonard Lance is in for the fight of his life as New Jersey's most vulnerable Republican lawmaker in a state that clearly doesn't like President Donald Trump.
NJ.com Read more
College Democrats seek Hugin apology for 'couch' comment
Republican U.S. Senate candidate Bob Hugin owes an apology to the Rutgers Class of 2018 after a graduation day tweet says that parents of graduates should "dust off their couch," suggesting that college grads are more likely to move back home with their parents than find a job, says New Jersey College Democrats chair Megan Coyne.
New Jersey Globe Read more
Stile: GOP Congressional candidate channels Trump with attack on NJ aid to undocumented students
Veteran state Assemblyman Jay Webber is now a Republican candidate for Congress in the Age of Trump, which helps explain his attack last week on the the first major benefit Gov. Phil Murphy bestowed on immigrants.
The Record Read more
Some Congressional Primary Cadidates Argue Party Line Politics Are Unfair
The slogan next to a candidate's name on the ballot can sum up their platform or political bent, but when it reads "Regular Democrat" or "Regular Republican Organization" or some other official name, it can carry real power.
NJSpotlight Read more
Public Employees Guilty of Sexual Assault, Harrassment Would Forfeit Pensions
Inspired by the nationwide campaign against sexual harassment known as the #MeToo movement, lawmakers in New Jersey are proposing a costly new punishment for elected officials and public workers who use their positions to commit a sexual assault or related offense.
NJSpotlight Read more
Chorus of boos meets officials at unveiling of plans to move WWII statue
An attempt to publicize a Kumbaya moment between Jersey City and Polish officials over the controversial relocation of the Katyn monument took a left turn Monday when a crowd of protesters met the announcement of a truce with boos and taunts.
NJ.com Read more
North Jersey dumping ground lingers more than a decade after state inspection
More than a decade after state environmental officials inspected the area, a large industrial dumping ground still remains untouched in southern Pompton Lakes with no funding yet secured for a cleanup.
The Record Read more
North Bergen football coach was paid $74K for unused sick time, but his family wants more
The family of a former North Bergen High School football coach will have to wait to find out if a payout for unused sick time will happen after a hearing was rescheduled Friday, according to court documents.
The Record Read more
Toms River man in hiding runs for Congressional seat in Portland
A marijuana advocate from Toms River is challenging an incumbent Oregon congressman for his seat, but the fact that Eric Hafner has never been to Oregon is only the beginning of his unusual candidacy.
Asbury Park Press Read more