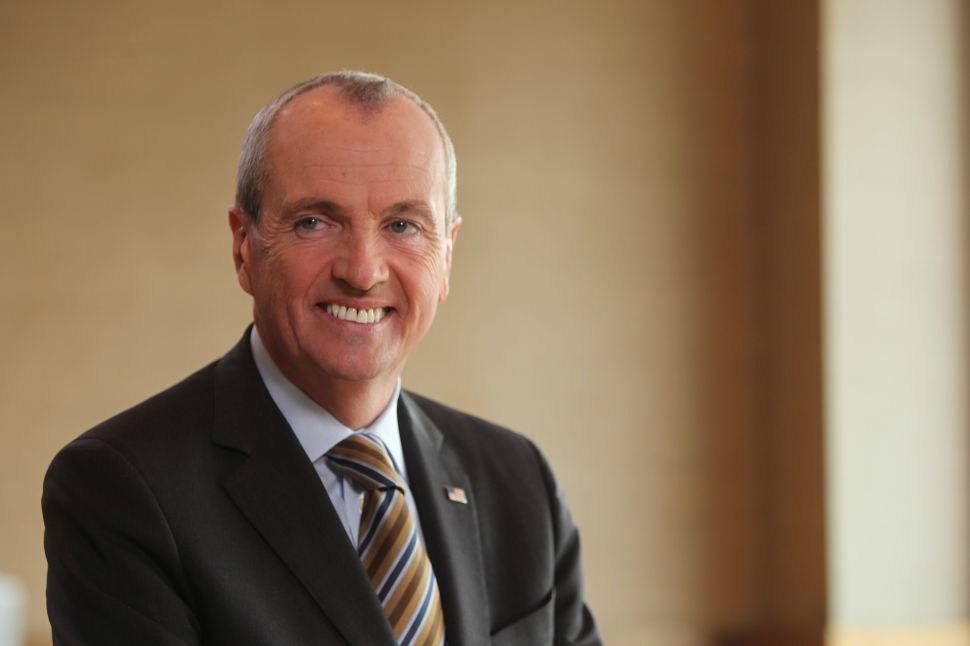 Trust him.
Gov. Phil Murphy says that once he raises the state sales tax and imposes new taxes on sharing services, and marijuana purchases, he won't raise any more taxes on the state's middle class.
In an interview with The Record, Murphy touted his progressive agenda and said he hopes economic growth in future years will help pay for his plans to expand programs without needing to raise taxes on middle-income residents.
Murphy, who campaigned on a promise to grow New Jersey from the middle out, is facing push back from the legislative leaders in his own party on his plans to raise more than $1.6 billion in new taxes in his proposed budget. This includes opposition to raising broad taxes—such as the sales tax—and even hikes targeting some of  New Jersey's wealthiest.
Some Democrats say Murphy's plan for a millionaires tax, combined with Republican changes to the federal tax law that capped deductions for state and local taxes, could push high-earners out of the state. Murphy, however, contends that a competing plan by state Senate President Steve Sweeney to increases taxes on corporations earning more than $1 million in New Jersey would make the state less competitive.
Murphy contends that tax weary residents are willing to pay more if they feel they are getting their money's worth from shouldering one of the highest tax burdens in the country. Murphy's plan increases aid to New Jersey Transit and could help cut property taxes by increasing school aid.
But the spending plan falls short on other Murphy promises to help the middle class.
The budget, for example, does increase community college aid for low-income residents. Murphy says this is a "down payment," and that he hopes to some day fulfill his promise to also pay the tuition for middle class students, too—a promise critics say is far too expensive for the state to ever afford. Critics also contend that Democrats' plan to extend financial aid to immigrants in the country illegally will also reduce the pool of aid available to students who are legal residents of the state.
Murphy's also facing criticism from opponents for his failure to support a re-extension of the state salary arbitration cap—which some claim saved taxpayers $530 million between 2011 and 2018 by curbing salary increases for police and firefighters. The cap expired in January, and Murphy defended his inaction by saying he hasn't seen signs of significant salary increases in the ensuing three months.
Murphy's plan to raise the sales tax had come as a surprise to some after campaign officials said in an August interview with Observer that such a hike was "not part of our proposal."
Quote of the Day: "If you're in the middle class, the answer is no, that's just not going to happen. And we're being as explicit about that as possible."  — Gov. Phil Murphy, who wants to raise the sales tax and add taxes on electronic cigarettes, internet purchases and ride- and home-sharing services, promising that after those taxes are adopted, he won't impose any more new taxes on the state's middle class. The Murphy campaign also said prior to his election that, if he became governor, he would not to raise the sales tax.
NJ Bill Would Regulate Sports Betting If US Supreme Court Sides With State
With the U.S. Supreme Court expected to rule soon on New Jersey's case to legalize sports betting, state lawmakers have introduced a bill that would regulate and tax that wagering.
Christian Hetrick, Observer Read more
New Jersey Now Has 20,000 Medical Marijuana Patients
New Jersey has added 4,200 patients to its medical marijuana program since Gov. Phil Murphy took office, the state Department of Health (DOH) announced on Tuesday.
Christian Hetrick, Observer Read more
New Jersey Schools Stuck in Limbo: Districts Unsure Whether They'll Gain or Lose Funding
For the second year in a row, competing visions over how to fund public education has left New Jersey's roughly 600 school districts in limbo as they face crucial May deadlines to finalize their budgets, set tax bills and make hiring decisions for the coming school year.
The Record Read more
Murphy Against More Middle Class Taxes … Except for All These
Gov. Phil Murphy wants you to read his lips: No new taxes for the middle class. But not just yet.
NJ101.5 Read more
New Tax Hikes for Middle Class? Phil Murphy Says No as He Pushes His Tax Increases
Gov. Phil Murphy is now pledging to shield the "middle class" from future tax hikes as he tries to drum up support for record state spending that relies on a range of tax increases so he can pursue his progressive policy agenda for New Jersey.
NJ.com Read more
Comic Michelle Wolf: No One Complained That I Made Fun of Chris Christie
Comedian Michelle Wolf says no one seemed to mind when she told jokes about Chris Christie at the White House Correspondents Dinner—as she defending against criticism of her one-liners targetting Sarah Huckabee Sanders.
NJ101.5 Read more
Is Long Wait For Offshore Wind Financing Mechanism Over?
The state is finally moving to adopt crucial regulations to spur development of offshore wind farms of along the Jersey coast, a top priority of the Murphy administration.
NJSpotlight Read more
From 'Sex Slave' Suit to Politics: Joseph Ferraina in Long Branch Spotlight
Joseph Ferraina, the former school superintendent who unapologetically cost the city $600,000 in a sexual harassment settlement, said it's "sad" that some are trying to make his past an issue in this the upcoming city elections.
Asbury Park Press Read more
State Workers Get Raises, Back Pay in Contract With Murphy, But Cost to New Jersey Unclear
About 35,000 state employees will get a pair of across-the-board pay raises plus back pay in an agreement ratified Tuesday with the Murphy administration, a major victory for the largest workers union after years of acrimony under Gov. Chris Christie.
The Record Read more
Q&A With David Socolow, the New Executive Director at HESAA
wo years ago, the New Jersey Higher Education Student Assistance Authority came under fire for lending practices that lawmakers deemed "predatory." Since then it's put some new programs in place—either voluntarily or to comply with new state laws—intended to help borrowers pay off their loans. It also has a new executive director, David Socolow, appointed three months ago by Gov. Phil Murphy.
NJSpotlight Read more
Menendez Admonishment Gives New Jersey Republicans a Lifeline
Some New Jersey Republicans, staring down an electoral cliff, think they've spotted a branch to hold onto in Sen. Bob Menendez's ethical troubles.
Politico Read more
These Are the Salaries of NJ Transit Execs, Ranked From Lowest to Highest
The question is whether their pay running an agency that Gov. Phil Murphy called a "national disgrace" is worth the headaches, when compared to what others get paid at transit systems elsewhere.
NJ.com Read more
NJ Victims Rally Pushes for Tighter Gun Control in Pennsylvania
Team 26 is heading to the Garden State this coming weekend. The 26-rider bicycle team from Newtown, Connecticut, will arrive in Trenton at noon on Sunday to honor the memory of the 26 people killed six years ago at the Sandy Hook Elementary School as well as others who have perished in gun violence incidents around the world.
NJ101.5 Read more
Hackensack Meridian Executive Jose Lozano to Lead Business-Backed Choose New Jersey
Jose Lozano, the Hackensack Meridian Health executive who led Gov. Phil Murphy's transition, will soon take over the business-backed non-profit Choose New Jersey and carry on a quasi-government program that attracted controversy during former Gov. Chris Christie's tenure for its blending of business and politics.
The Record Read more
Jersey Shore Not Biggest Contributor to State Tourism
New Jersey's tourism industry brought in record numbers once again in 2017.
The latest figures show the Garden State has much more to offer outsiders than just beaches and boardwalks.
NJ101.5 Read more
PCCC Changes 3K Passwords After 'Suspicious Activity' on Server
Passaic County Community College administration had to change as many as 3,000 passwords after "suspicious activity" was detected on the server that hosted the college's online portal, a school official confirmed.
The Record Read more
NJ's Legal Weed Market Poised to Explode, Investors Told as Medical Marijuana Expands
Even though New Jersey lawmakers have yet to approve legal marijuana for use in the state, investors need to jump into the nascent cannabis market now or risk being frozen out of a multi-billion-dollar opportunity, the state's legalization advocates said at a conference.
The Record Read more
Buying a Gun in NJ? What You Need to Do… and Should Think About
So, you want to buy a gun. Maybe you've always been interested in owning a firearm. Maybe this isn't your first time buying, but your first time buying in New Jersey. Maybe the recent flood of news stories about gun rights and gun control—cue protesting high school students—kick-started a rush to purchase.
Asbury Park Press Read more
Newark Wants to Guarantee a Free Lawyer for Low-Income Residents Facing Eviction
In what would be a momentous gain for city renters, Newark said Tuesday it planned to introduce legislation guaranteeing a free lawyer for every low-income resident facing eviction.
NJ.com Read more
Will a Robot Steal Your Job? NJ Workers Most at Risk by Automation
George Jetson saw this day coming—when it was more likely a robot would be doing your taxes than a human accountant.
Asbury Park Press Read more
No More Escorting Celebs (Like Funkmaster Flex) to Private Parties, Judge Tells Newark
Newark cannot provide police escorts for celebrities or anyone else for private purposes, a judge ruled Tuesday, before dismissing a lawsuit filed by residents against the city and Mayor Ras Baraka for hiring officers to escort radio personality Funkmaster Flex to the mayor's birthday party.
NJ.com Read more
Jersey Shore Town Wants to Ban Plastic Bags
Point Pleasant Beach could be the latest Jersey shore town to ban plastic bags, under an ordinance scheduled for a preliminary vote Tuesday night by the Borough Council.
NJ.com Read more
Ocean County Courts: Like Father, Like Son—Two Turnbachs Honored
When Terrance Turnbach was a young law clerk in 2002, working down the hall from him at the Ocean County Courthouse was someone considered to have one of the most brilliant minds in the county's legal community.
Asbury Park Press Read more
Top Court to Decide on Grants to Lakewood Yeshiva, Princeton Seminary
The state's highest court is expected to rule Wednesday whether taxpayer funds awarded to religious higher education institutions violate the New Jersey Constitution.
Asbury Park Press Read more
Could Unauthorized Immigrants in New Jersey Get Driver's Licenses?
Immigrants and advocates are canvassing train and bus stations across the state in hopes of mustering support for a bill that would let unauthorized immigrants and others without documentation apply for driver's licenses.
Asbury Park Press Read more
Bergmann: Pedal to Metal on Driver's Licenses for Undocumented Immigrants
During Phil Murphy's campaign for governor, he pledged to support allowing undocumented immigrants to obtain driver's licenses in New Jersey. On Tuesday, Murphy's inauguration day, about 100 people marched in Trenton demanding that he keep his promise.
Asbury Park Press Read more
Long Branch Election: Pallone Outspending Schneider, Grant
Councilman John Pallone is both raising and spending more money in the city's mayoral race than his two opponents.
Asbury Park Press Read more
Caldwell-Wilson to Murphy: Restore State Aid to City, Implore Staff to Dine in Trenton
The instant North Ward Councilwoman Marge Caldwell-Wilson—a former CWA labor leader—seconded the nomination of Carpenter Tony Verrelli over then-Trenton Councilwoman Verlina Reynolds-Jackson, she felt that shovel-on-the-back-of-the-neck stare.
InsiderNJ Read more
Former Bloomfield High School Teacher Accused of Sex Assault Has License Suspended
A former Bloomfield High School teacher and coach accused of sexual assault of two teenage boys had his teaching certificates suspended in April.
The Record Read more
Opinion: Permanently Extend Cap on Interest Arbitration Awards
County and municipal officials from across the state are growing increasingly alarmed that state leaders have failed to act on renewing the 2 percent cap on binding interest arbitration awards, which has helped save over $2.9 billion in property taxpayer dollars since 2011.
Asbury Park Press Read more